Learn how to make a DIY apple pie body scrub with honey! This easy brown sugar scrub recipe smells like autumn, leaving your skin smooth and glowing.
The homemade body scrub for glowing skin comes together in under 5 minutes, and you only need 4 ingredients. The homemade exfoliating scrub can be used on the entire body, is suitable for sensitive skin, and makes a wonderful DIY holiday gift!
If you like my beauty recipes, join my Facebook group 🎉 This is the best place for broader DIY beauty stuff, behind-the-scenes, what I'm working on in real-time, and more!
💡 Do you dream of a perfect skincare routine (and products) but feel it's impossible since your budget is limited? Grab the recipes I'm using to craft 100% natural DIY beauty products that give top beauty brands a run for their money!  ❤️ HOMEMADE BEAUTY MADE SIMPLE ❤️
Disclosure: This post contains affiliate links, meaning, at no additional cost to you, we will earn a small commission if you click through and make a purchase. Learn more
DIY apple pie body scrub recipe
If you follow my blog, you already know I like all sorts of fall scents – pumpkin and pumpkin spice, apples, and apple spice.
And I'm also all for homemade sugar scrubs. My bathroom is full of all sorts of natural body scrubs. I like keeping the ingredients simple, like coconut oil, white or brown sugar, spices and essential oils, and other ingredients I'm sure you have in your kitchen pantry. If you want a stronger apple pie scent, add a few drops of cinnamon essential oil or a little apple extract to get that great apple scent.
Please note that you can still make this scrub with basic pantry spices if you don't have cinnamon essential oil or apple extract.
Ingredients for homemade apple pie exfoliating scrub
This easy brown sugar scrub recipe is a natural fall skincare routine staple. Here are the ingredients needed to make a DIY apple pie body scrub at home:
brown sugar: Brown sugar acts as an exfoliator in the scrub. Molasses contain a little moisture, which makes them an excellent ingredient for dry skin.
coconut oil: Coconut oil with scrub is an effective exfoliation to remove dead skin cells gently. Sugar particles are less abrasive than salt particles. As a result, they thoroughly cleanse your skin, open your pores, encourage the creation of new skin cells, and eliminate all traces of makeup.
honey: Honey is known for its anti-inflammatory and antimicrobial properties, making it a great addition to the sugar scrub. Since it's also a humectant, honey attracts moisture to your skin.
apple pie spice – I used my homemade apple pie spice blend (see the recipe below), but this apple pie mix is wonderful, too.
How to make apple pie spice at home
You can make apple pie spice at home for just 5 minutes. You need only five ingredients to make your own homemade apple pie spice.
4 tsp cinnamon
1.5 tsp allspice
1 tsp nutmeg
1/2 tsp cardamom
Add it to a small mixing bowl and whisk well.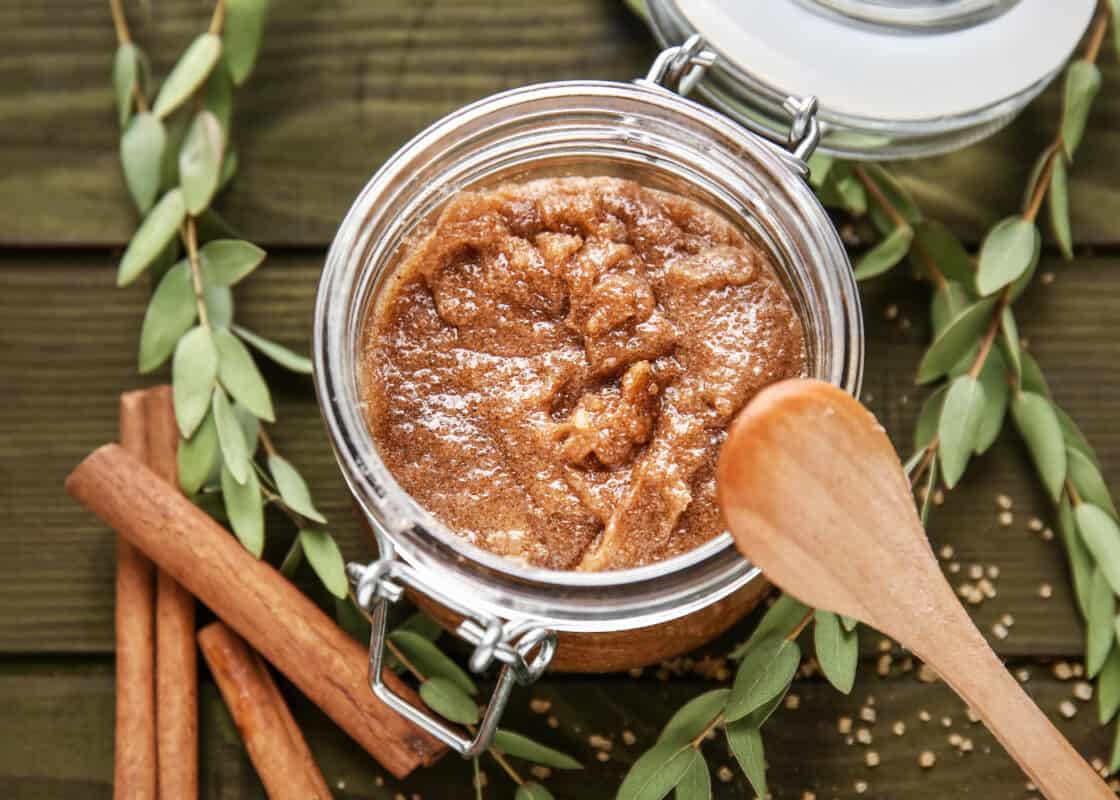 Essential oils for apple pie sugar scrub
You'll want to use about 1 tablespoon of apple pie spice for this apple pie body scrub. That will give you a pleasant but not overwhelming pumpkin spice fragrance. Adding essential oils can further enhance the apple pie spice scent and skincare benefits.
Here are the essential oils I use for m my DIY apple pie sugar scrub:
I included bergamot and lemongrass to give the apple pie scrub a fruity note.
This sugar scrub smells fantastic, even without essential oils. If you are pregnant, react sensitive to essential oils, or want to use the scrub for small children, make the apple pie sugar scrub without essential oils. You will still get an amazing homemade sugar scrub with apple pie spice.
How to make apple pie body scrub with honey
First, warm the coconut oil and honey in a small sauce flame of low heat. Gently stir until the honey has dissolved. Set aside to cool for a few minutes.
Next, stir in the essential oils, if using.
Put the brown sugar and apple pie spice into a medium mixing bowl.
Add the honey oil mixture and stir well to combine.
Transfer the sugar scrub into clean, sterilized jars.
How to use apple pie body scrub
This apple pie body scrub feels like a spa treatment and will fill your bathroom with the sweet smell of fall treats. Here are some tips for using the scrub:
How to use: Using a spoon or clean fingertips, apply scrub to wet skin. Massage the scrub over your body in gentle, circular motions. Then rinse away and towel dry. I recommend using the scrub during a shower or a bath.
Where to use: Rub the product on your hands, legs, elbows, feet, and upper body. You can use the scrub 2 to 3 times per week. If you have sensitive skin, limit yourself to one weekly treatment.
How to store apple pie body scrub
This body scrub recipe stores well and can be kept for a year. If the scent lessens before then, top it up with essential oils.
More sugar scrub recipes & pumpkin spice crafts
Can't get enough fall crafts and homemade fall beauty products? Try some of these natural DIY beauty recipes:
whipped pumpkin spice body butter – This homemade whipped body butter recipe is perfect for your fall skincare routine and made with skin-loving ingredients.
pumpkin spice bath salts – You'll love this pumpkin spice latte inspired bath salts recipe.
DIY pumpkin spice soap – One of my favourite DIY soap recipes!