This homemade whipped pumpkin spice body butter will quickly become your favorite treat this fall. It smooths and moisturizes silky skin and can heal dry, cracked skin.
If you like my beauty recipes, join my Facebook group 🎉 This is the best place for broader DIY beauty stuff, behind-the-scenes, what I'm working on in real-time, and more!
💡 Do you dream of a perfect skincare routine (and products) but feel it's impossible since your budget is limited? Grab the recipes I'm using to craft 100% natural DIY beauty products that give top beauty brands a run for their money!  ❤️ HOMEMADE BEAUTY MADE SIMPLE ❤️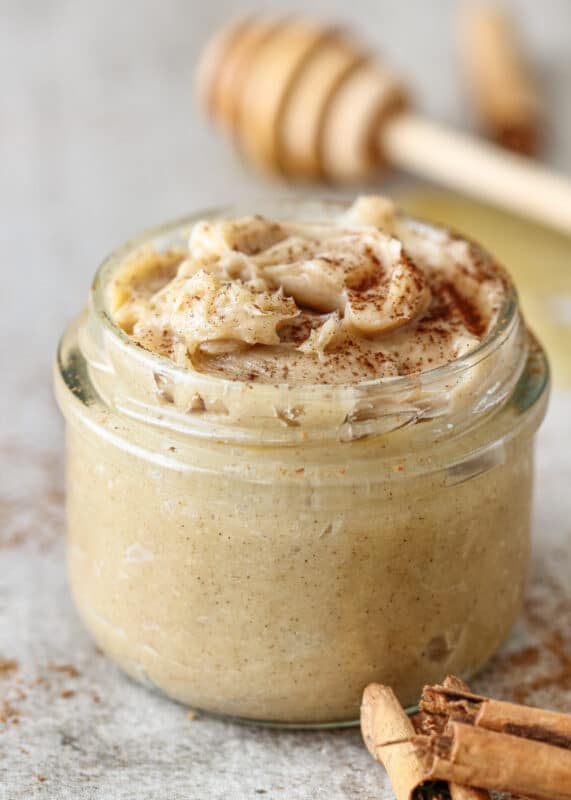 Disclosure: This post contains affiliate links, meaning, at no additional cost to you, we will earn a small commission if you click through and make a purchase. Learn more
DIY Pumpkin Spice Body Butter
Fall is one of my favorite times of the year. I love the changing colors of the leaves, the crisp smell, the cute leggings, and the cozy hoodies. And I really enjoy the season's popular flavors–including pumpkin!
Many people get dry skin in autumn and winter and a looking for ways to moisturize the skin. It's hard to find an all-natural, organic body butter, and so expensive! Making your whipped body butter at home is much more affordable (and fun).
I love making my own natural skincare, and this DIY whipped pumpkin spice body butter recipe is one of my favorites. It's made with all-natural ingredients to keep your skin silky and smooth.
This DIY pumpkin body butter is packed with ingredients your skin will love as the weather cools down, and it has the nice scent of pumpkin spice to fit this fun time of year.
Pumpkin has amazing skin benefits and is a great addition to my homemade body butter.
Pumpkin contains enzymes, antioxidants, and AHAs, that help to smooth, brighten, and soften the skin. It contains vitamins A, C, and E and antioxidants, and it helps fight sun damage and wrinkles.
For this homemade pumpkin spice body butter recipe, I also added some fall-inspired essential oils that give it that pumpkin spice scent.
Not only does this homemade pumpkin spice body butter smell amazing, but it also moisturizes very well.
The DIY pumpkin spice body butter is simple and only calls for 4 simple ingredients. It's light and fluffy!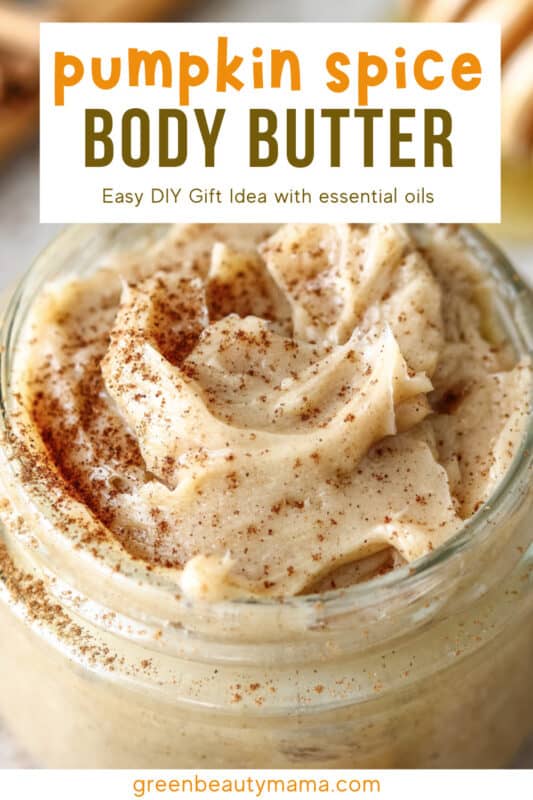 Homemade whipped pumpkin spice body butter ingredients
This homemade pumpkin spice body butter includes shea butter, pumpkin seed oil, jojoba oil, and a pumpkin spice essential oil blend.
Shea butter is an excellent moisturizer that melts on contact with the skin. This plant-based butter protects the skin against water loss and outside weathering (sun, snow, rain, and wind). Shea butter pampers the skin and is perfect for natural skincare.
Since it's pumpkin season, I thought, why not make body butter with pumpkin seed oil. This oil contains omega fatty acids, vitamins, and minerals, deeply nourishing and moisturizing skin.
Balancing, softening, soothing. It balances sebum production, so great for oily skin, acne, or dry skin. Anti-inflammatory may be used to treat eczema and psoriasis. Light and well absorbed.
Pumpkin Spice essential oil blend
Inspired by this grateful time of year, I created a pumpkin pie spice essential oil blend for some of my fall skincare. The flavor of this blend is pretty much equal to that of the powdered spice version, and it's a cinch to make.
I decided to stick to the classic pumpkin pie spices for this autumn-inspired body butter with essential oils: cinnamon, nutmeg, ginger, clove, and allspice.
Mica (optional)
I mixed a small amount of bronze mica into the whipped body butter recipe to give a subtle color. The mica won't be visible on your skin.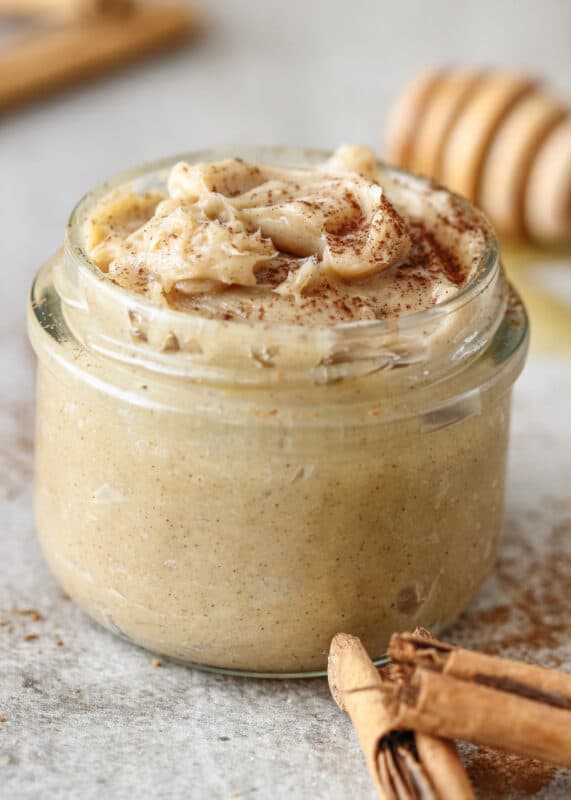 How to make DIY Pumpkin Spice Whipped Body Butter
1. Whisk together the jojoba, pumpkin seed, and essential oils.
2. Melt the shea butter in a double boiler. Stir occasionally to help the melting process, and be careful not to overheat.
3. Transfer the melted shea butter to a clean and cold mixing bowl and chill in the freezer for 5-10 minutes. The shea butter shouldn't freeze completely but cool enough to be whipped.
4. Beat the chilled shea butter to fluffy peaks. Still whipping with the mixer, slowly pour the oil mixture. (don't dump it all at once, or you'll end up with an oily mess). Optionally, add 1/2 teaspoon bronze mica and whip until well incorporated.
5. Fill the pumpkin spice whipped body butter in airtight storage jars or cosmetic containers.
More fall beauty recipes with essential oils
Can't get enough homemade pumpkin spice beauty products? Try some of these natural DIY beauty recipes:
Pumpkin spice sugar scrub: This easy homemade sugar scrub recipe smells like pumpkin pie, perfect in the fall!
Pumpkin spice soap: This easy homemade soap recipe smells like everything you love about fall and makes a perfect gift for friends and neighbors for autumn and the holiday season.
NOTES:
How to keep your body butter from hardening and staying whipped?
Keep your body in an airtight jar or container in a dry place, away from moisture, sunlight, and heat sources. Store it at room temperature to keep your body butter whipped and soft.
I don't recommend storing your pumpkin spice body butter in the refrigerator. (it'll harden fast)
How long does homemade body butter last?
The shelf life of pumpkin spice whipped body butter is six months.