Learn to make the easiest chocolate sugar scrub that smells like Belgium chocolate with roses. Hear me out! That's the best homemade flavoured sugar scrub you'll ever try.
Lately, I've been obsessed with roses. Is it because spring's coming up or something else? I can't wait to smell my roses in the garden soon.
When I had the idea to make a chocolate sugar scrub, I ran it to my bestie, and she was even more excited than me.
I also had a gut feeling about this one. And I'm glad I did! 
If you like my beauty recipes, join my Facebook group 🎉 This is the best place for broader DIY beauty stuff, behind-the-scenes, what I'm working on in real-time, and more!
💡 Do you dream of a perfect skincare routine (and products) but feel it's impossible since your budget is limited? Grab the recipes I'm using to craft 100% natural DIY beauty products that give top beauty brands a run for their money!  ❤️ HOMEMADE BEAUTY MADE SIMPLE ❤️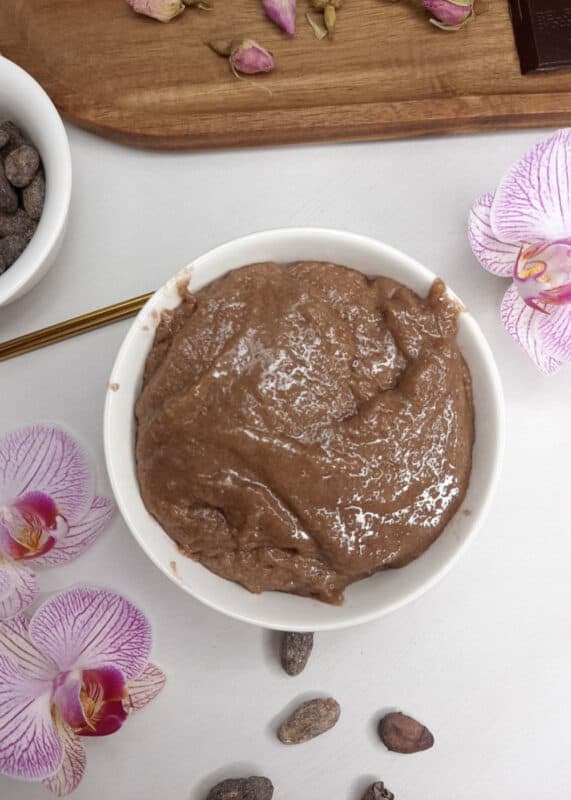 Disclosure: This post contains affiliate links, meaning, at no additional cost to you, we will earn a small commission if you click through and make a purchase. Learn more
DIY Chocolate Sugar Scrub with Roses
I'm so excited to share this post with you! Since I published my chocolate body butter a few years back, I have dreamed about a scrub version. Today, I feel excited to present you with this Chocolate sugar scrub recipe.
Homemade body scrubs are my thing. I love creating fun sugar scrub recipes and playing with different scents and color combos. 
This DIY chocolate scrub recipe is made with natural ingredients and only takes up to 5 minutes. What I love most about making DIY sugar scrubs is that you know precisely what'swhat's in your homemade body scrub. Creating sugar scrubs at home allows you to customize the recipes to your skin care needs and preferences.
For this homemade cocoa scrub, I don't use any specific tools. All you need is a glass bowl and a spoon. I buy organic sugar online, which has a coarser texture than the extra refined sugar in the pink bag at the grocery store. I like it better for scrubs because it feels more "scrubby" to me.
Homemade Cocoa Scrub Benefits
What does a sugar scrub do for your skin? Let's talk about sugar scrub benefits for a moment! The primary purpose of a sugar scrub is to exfoliate and remove dead skin cells, revealing new skin. My homemade chocolate sugar scrub is easy to spread and will leave your skin cleansed, exfoliated, soft, and moisturized.
Ingredients for homemade chocolate sugar scrub
Refined sugar – Sugar is one of the best natural beauty ingredients to exfoliate your skin. Sugar is a natural humectant, drawing moisture from the environment and locking it into the skin.
Coconut oil – Fractionated coconut oil is lightweight, odorless, and inexpensive. Coconut oil is very hydrating and will give your skin a silky feel and healthy glow.
Cocoa powder – Cocoa powder is rich in antioxidants that help remove harmful free radicals and repair your skin. Cocoa powder can improve the skin's natural hydration.
Vitamin E oil – Vitamin E is one of the best ingredients to nourish, hydrate, and rejuvenate the skin. Another benefit is that the antioxidant properties of vitamin E also protect the carrier oil from oxidation (= going rancid) and help to prolong the shelf life of the DIY sugar scrub.
Essential oils – Essential oils lend a natural fragrance to the body scrub recipes and provide different skincare and aromatherapeutic benefits. I use rose absolute essential oil.
How to use the Chocolate sugar scrub

Here's the lowdown on using sugar scrub for smoother, brighter skin:
Let warm water run over your skin for 5 to 10 minutes to soften the skin and open the pores.
Then pause the water and apply a small amount of scrub (1/4 cup or so) all over your body. You can go from your feet to your neck.
Massage the scrub into the wet skin with circular motions and gentle pressure.
Rinse the scrub thoroughly.
Dry your skin and follow up with body oil, lotion, or body butter.
I hope you feel inspired to create this Chocolate scrub for yourself or as a sweet gift for your friends, neighbors, or your kids' teachers.