This cocoa butter lotion bars recipe is for everyone, especially those with dry and cracked skin. This is the easiest homemade lotion bar recipe, making a perfect handmade gift.
Sharing several of the ingredients with my whipped non-greasy body butter, I came up with these homemade lotion bars with beeswax made with all-natural ingredients that are soothing and nourishing to the skin.
If you like my beauty recipes, join my Facebook group 🎉 This is the best place for broader DIY beauty stuff, behind-the-scenes, what I'm working on in real-time, and more!
💡 Do you dream of a perfect skincare routine (and products) but feel it's impossible since your budget is limited? Grab the recipes I'm using to craft 100% natural DIY beauty products that give top beauty brands a run for their money!  ❤️ HOMEMADE BEAUTY MADE SIMPLE ❤️
Cocoa butter has many health benefits, like moisturizing dry skin or reducing eczema. It also creates a barrier to protect your skin from moisture loss. Rich in vitamin E, it improves skin elasticity, having an anti-aging effect. It can add an extra layer of protection, and it soothes sunburns. Cocoa butter is truly amazing, and this cocoa butter lotion bars recipe is a perfect way to apply cocoa butter to your skin. 
Disclosure: This post contains affiliate links, meaning, at no additional cost to you, we will earn a small commission if you click through and make a purchase. Learn more
The Easiest Homemade Lotion Bars with Essential Oils
Today I'm sharing a recipe for making the Best Cocoa Butter Lotion Bars. This recipe for lotion bars is great for everyone, especially those living in warmer areas and not wanting their moisturizer to melt! These DIY lotion bars are easy to make and only have three ingredients! These make great holiday gifts and are always a favorite when I've gifted them to friends and teachers.
The cocoa butter lotion bars keep their shape with the added beeswax but melt slightly and soothe dry, cracked skin when rubbed on warm skin.
These lotion bars homemade are perfect for the cold winter months; you can use them in the summertime after being out in the sun.
Learning to make lotion bars is easy and may become one of your favorite homemade beauty recipes. DIY cocoa butter lotion bars can be made in less than an hour.
What are Lotion Bars?
Lotion bars, or facial or body melts, are the easiest beauty products to make. Free from water and therefore no need to add preservatives, they allow you to use creative but environmentally friendly packaging that avoids plastics. The only limitation when making facial or body melts might be your imagination, as the sky is the limit!
If you already make soaps at home, you have many soap molds. If you do not have any soap molds, don't worry; you can use cookie molds, ice cube molds, or even up-cycle a small tetra pack carton for your first trials. After you're familiar with the technique, you'll become obsessed with facial/body lotion bars.
You can prepare these homemade lotion bars in any size, and I prefer small sizes for ease of handling and better hygienic performance.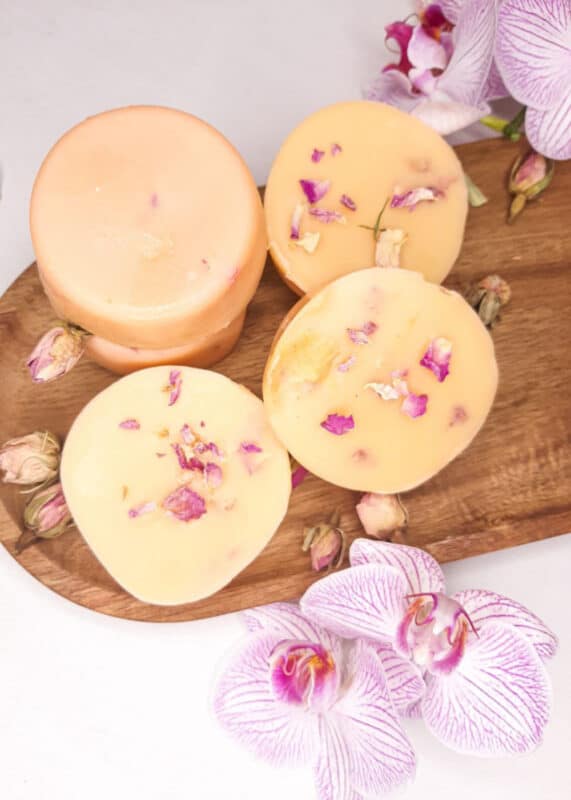 How Do You Make Lotion Bars Less Greasy?
How do you make lotion bars less greasy? This question comes up a lot. One answer is to use a lotion bars recipe without coconut oil. Coconut oil is very oily and will make the DIY lotion bars greasy.

For my lotion bars DIY, I used less oily ingredients. The base of this easy homemade lotion bar is cocoa butter, which is significantly less greasy than coconut oil. You can also add a little lanolin, arrowroot powder, and silk powder, which improve the texture greatly and make the lotion bars DIY less greasy.
Okay, now let's learn more about the materials we need to make this non-greasy lotion bars recipe.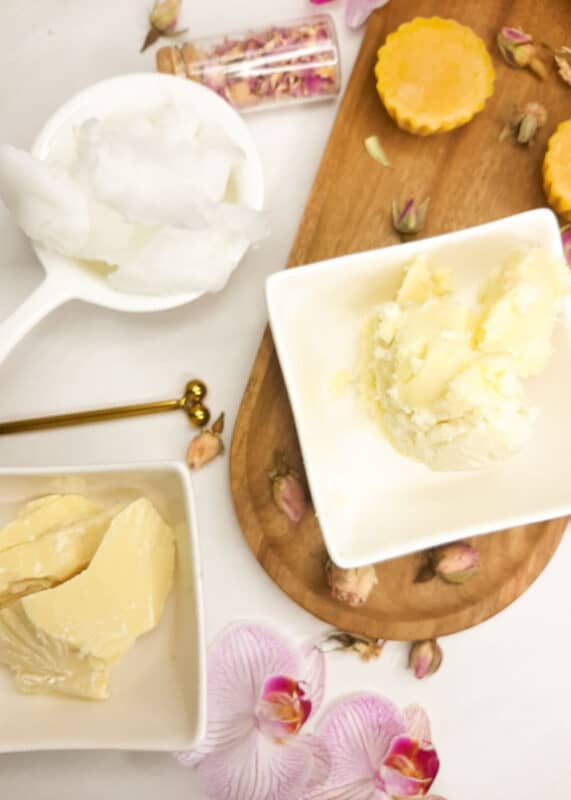 Solid Lotion Bar Ingredients
The right ingredients are essential when making this cocoa butter lotion bar recipe. I recommend using high-quality materials so that your lotion offers the best skincare.
Let's discuss the ingredients for this mango butter lotion bar recipe. I want to explain each of these ingredients of cocoa butter lotion bars so you understand the skincare benefits of cocoa butter and the other materials. The amounts you need are in the DIY card below.
Cocoa butter sounds familiar because it is. If you're a baker, you have some living in your kitchen's pantry. Or, if you aren't so much a baker but rather a lover of sweets, you can find it in your favorite decadent desserts such as cakes, chocolate bars, and even ice cream!
Cocoa butter has excellent moisturizing qualities, rich in essential fatty acids that nourish and protect the skin and heal dry, chapped skin.
Cocoa butter helps stop dark spots, skin aging, and dullness. Think of it as the key to halting wrinkles and age spots.
It makes the lotion smells like chocolate, and you may be tempted to eat it! (Don't worry, cocoa butter is edible and used to make delicate chocolates.)

You'll be surprised to learn how mango butter improves the elasticity and texture of the skin!
Like cocoa butter, mango butter is an excellent moisturizer that may help soften your skin. Mangos are rich in vitamins E and C that may help protect your skin from environmental stressors like sunlight and pollution.
I love using beeswax in my skincare products as it has many skin benefits. Beeswax protects the skin against moisture and irritants. It works as a natural sunscreen, protecting the skin from the sun's harmful rays. Beeswax may help to reduce the appearance of pores. Lastly, it also includes Vitamin A, which can help reduce age spots, and scars and help with collagen too.
Beeswax helps deliver hardness to the bar overall while providing some benefits for your skin.
Mica (optional)
I mixed a small amount of pink mica into the cocoa butter lotion bars recipe to give a subtle color and slight shimmer. The mica won't be visible on your skin, and I listed this ingredient as optional. You can omit it and still have amazing moisturizing cocoa butter lotion bars.
Many essential oils have healing properties for the skin. I like using rose and geranium in my lotion bars because of the soothing benefits these oils have for the skin.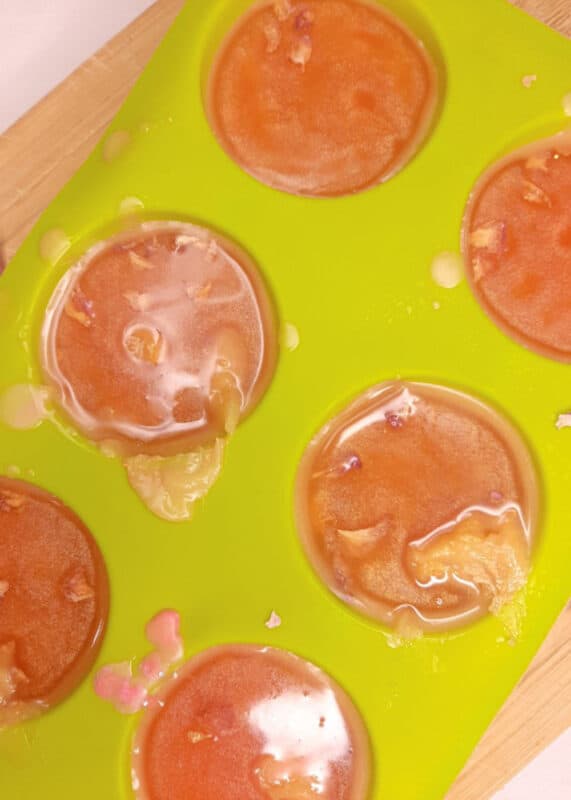 How to Make Cocoa Butter Lotion Bars

To make this body butter bar recipe, you will need cocoa butter, mango butter or shea butter, beeswax, and essentials.
Melt the butter and beeswax in a double boiler or a heat-safe bowl over a saucepan of water. Once all the ingredients are melted, remove them from the heat and let them cool for a few minutes.
Now, add in the essential oils and stir. I counted 15 drops of Rose Absolute, which was perfect for me. You may add more or less. Just smell as you go! Other scents for lotion bars are peppermint, geranium, lavender, or your favorite essential oil.
Allow the mixture to cool completely, then pop the bars out of the molds.
Store in an airtight container for up to one year.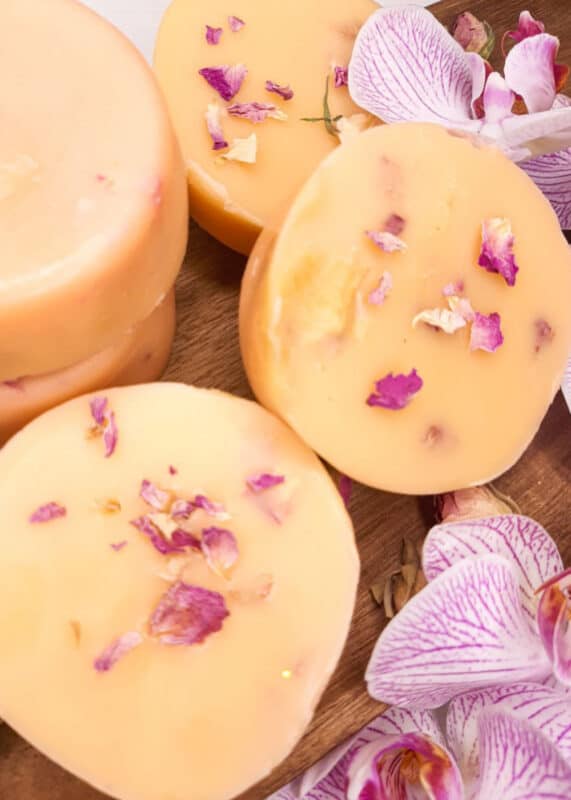 DIY Cocoa Butter Solid Lotion Bar Recipe
63g / 70% Organic Cocoa Butter
19g /  20% Mango Butter
8.1g / 9% Beeswax
0.9g / 1% Essential Oils
How to store lotion bars
These cocoa butter lotion bars have a shelf of 1 year. Be sure to store the lotion bars in a dark, cool place, a room temperature, away from heat and sunlight. Putting the lotion bars in the refrigerator may be best in a hot environment, as heat can melt them. If that happens, put the lotion bars in the fridge and wait until it's solid again.
How to Use Lotion Bars?
Use your body temperature to warm the cocoa butter lotion bars by first rubbing it in your hands. Then, apply it on your skin like regular lotion. I like to use hard lotion on my knees and heels since those are the areas where I have very dry skin that needs extra nourishment. Store the lotion bars out of direct sunlight to prevent them from melting.
What Can I Use Instead of a Cocoa Butter?

Shea butter and coconut oil are great substitutes for cocoa butter in this solid lotion bar recipe.
Alternatives for beeswax in homemade lotion bars
If you want to make a lotion bar recipe without beeswax, here're your options:
Candelilla wax – Candelilla wax is probably the best-known beeswax substitute. This plant wax is excellent for stabilizing homemade lip balm recipes and helps to lock moisture in the lips.
Carnauba wax – Carnauba wax comes from the carnauba palm leaves. This wax gives a glossy finish.
Jojoba wax – Jojoba wax is softer and more hydrating than other plant-based waxes. In my opinion, it's the best substitute for beeswax in DIY lotion bar recipes.
Best Essential Oil Blends for Homemade Lotion Bars
Lavender + Geranium
Chamomile + Rose
Lemon + Lavender
Rose + Patchouli
About the Essential Oils
Rose essential oil can regenerate the skin, reduce scars, and help the skin regain natural color and tone.
Studies have shown that even scars over 20 years old showed improvement after using rose topically on the area of concern.
Roses are high in vitamin C and encourage your body to produce more collagen.
It balances and nourishes the skin.
Lavender reduces the appearance of skin imperfections, and it can soothe occasional skin irritations.
It can also help soothe and heal burns, making it a great essential oil to add to the lotion bar during summer after extended sun exposure.
Lavender is a very soothing and relaxing oil that can calm the nervous system. Add this to the lotion bar and use it before bed, especially on kids, to help wind down and promote a healthy night's sleep.
Geranium reduces the appearance of wrinkles and is often used to treat aging signs and/or dry skin. It can also help soothe and calm skin irritations. It fights against skin affected by harsh weather conditions or prone to acne.
Geranium is a soothing and purifying oil that can calm the nervous system. Add this to the lotion bar and use it before bed, especially on kids, to help wind down and promote a healthy night's sleep.
For those suffering from oily skin, geranium oil has been shown to reduce excess oil and help the skin to maintain a healthy natural balance.
Patchouli reduces redness and irritations. It helps in managing eczema, dermatitis, acne, or dry skin.
Patchouli essential oil is hailed for its use in skin cell regeneration.
A 2014 study treated mice with patchouli oil for two hours and then exposed them to ultraviolet radiation, which can age and damage the skin. Using a variety of tests, they assessed the potential protective effects of patchouli oil.
Another essential oil that has excellent properties for the skin is Roman chamomile. This floral oil is gentle and a great option if making this for a baby or child.
Roman chamomile pairs well with lavender and together makes a calming lotion bar that can be used as part of the bedtime routine.
If you enjoyed this recipe, check out my favorite DIY recipes below! In the meantime, make a few extra bars for the perfect stocking stuffer or birthday gift.
Whipped Non-Greasy Body Butter
Rose Body Lotion
Crunchy Orange Massage Bars
Do You Use Lotion Bars Mold?
Yes, I have used several different molds to make my lotion bars. Get creative with the types of mold you decide to use! If you are making these for Christmas gifts, you can use Christmas molds and make these bars in the shape of snowmen or snowflakes. Use heart-shaped molds for Valentine's Day.
Do Lotion Bars Need Preservatives?
For those concerned about the sanitary risks of making your own lotion bars, they offer a good alternative. They're made entirely from oils and waxes, with no water or preservatives required. They will last longer and stay nice and clean.