See how to make a nourishing, non-greasy shea butter lotion recipe with lavender water and other natural ingredients. This homemade shea butter lotion recipe is non-greasy, cost-efficient, and provides long-lasting moisturization. The easy homemade lotion without beeswax can also be turned into a lavender body butter. 
If you like my beauty recipes, join my Facebook group 🎉 This is the best place for broader DIY beauty stuff, behind-the-scenes, what I'm working on in real-time, and more!
💡 Do you dream of a perfect skincare routine (and products) but feel it's impossible since your budget is limited? Grab the recipes I'm using to craft 100% natural DIY beauty products that give top beauty brands a run for their money!  ❤️ HOMEMADE BEAUTY MADE SIMPLE ❤️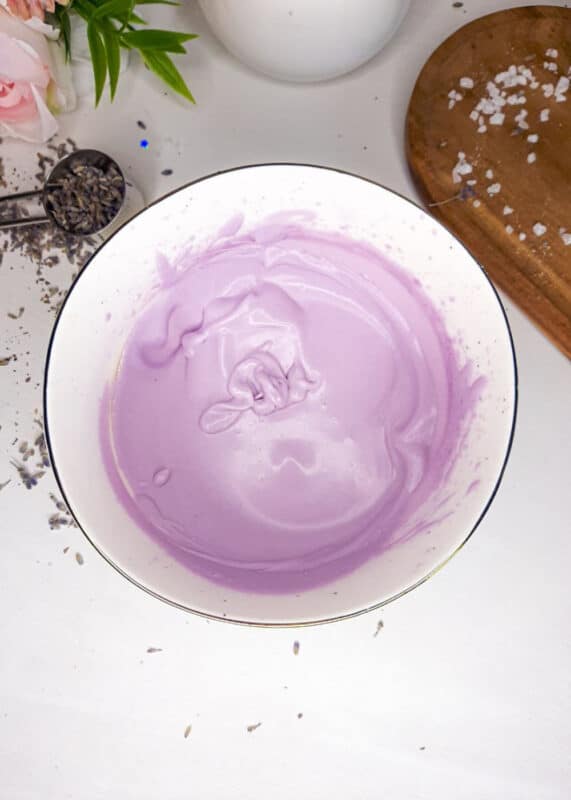 Disclosure: This post contains affiliate links, meaning, at no additional cost to you, we will earn a small commission if you click through and make a purchase. Learn more
Shea butter has many benefits for the skin, and this shea butter lotion is my favorite body moisturizer and will only cost a few cents per use. Making your homemade beauty products is the most cost-efficient option. And the best part is that you know what it is inside. Using the purest ingredients will leave your skin healthy and clear.
Being careful with what you put on your skin is essential. The skin is our body's largest organ, and it absorbs fast everything that is put on it. 
And that's one of the main reasons I've started making my beauty products at home. Cleaning up my skincare routine was the best thing I've ever done. Not only it's much cheaper, but you can customize each product for your skin type and needs.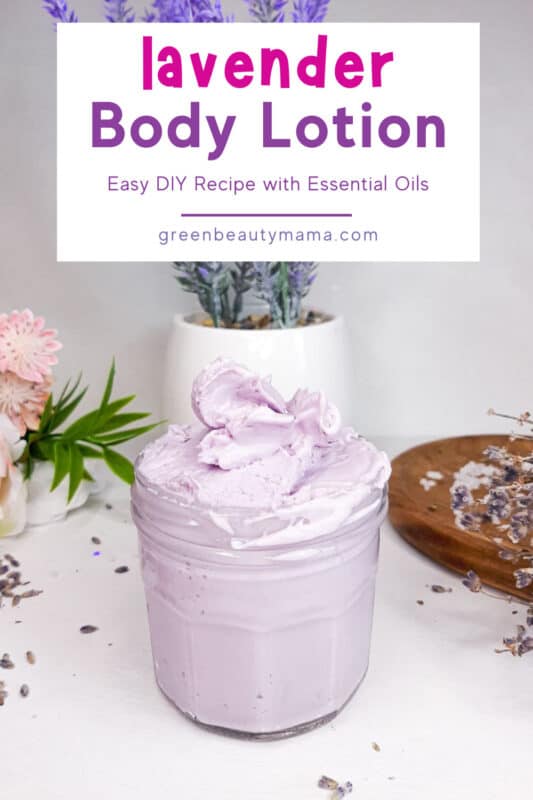 Easy Shea Butter Lotion with Lavender Water
I've always wanted to make my version of a Lavender Body lotion. After many trials and errors, I came up with my lavender non-greasy shea butter lotion recipe. This shea butter lotion went through a few iterations as I was testing different ingredients and formulations.
Whether you have been looking for a homemade lotion without beeswax or a body lotion for glowing skin – you're in the right place! This non-greasy shea butter lotion recipe is moisturizing, lightweight, non-greasy, and absorbing fast. I also show a neat trick to turn the lotion into a lavender whipped body butter.
What are the benefits of homemade body lotion?
A homemade lotion is perfect for moisturizing and hydrating the skin. DIY non-greasy shea butter lotion recipe also helps to smooth and soften, as well as to restore and protect the skin.
Another benefit of making a non-greasy shea butter lotion recipe is that you can control and customize the ingredients and know what is in your product.
Why is this important? Many skincare products contain silicones that make your skin feel smooth without actually helping. On the contrary, silicones can cause acne and skin congestion and dehydrate the skin, resulting in dull, dry skin.
Want to learn how to make natural skin care products that are good for your skin? Keep on reading!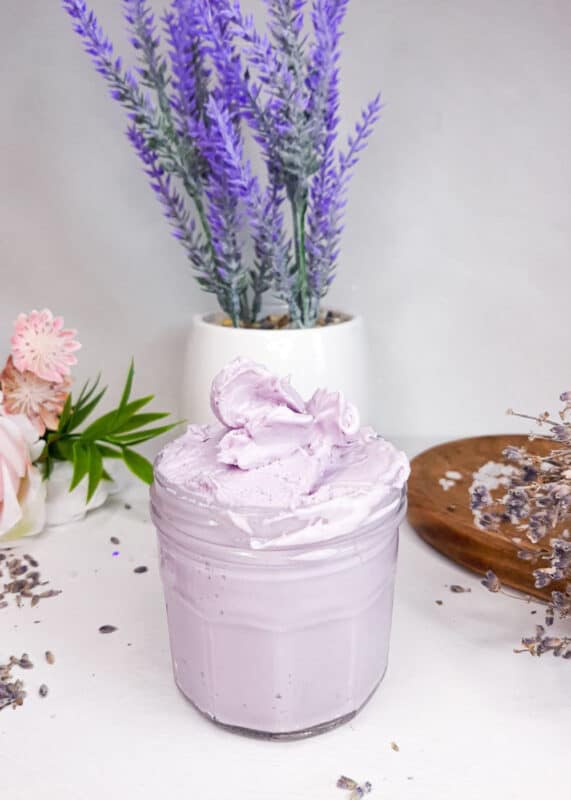 What is body lotion?
A body lotion is an emulsion – a combination of water and oil. Oil and water do not naturally mix together, therefore in order to make a homemade lotion (or a cream), you need an emulsifier.
Emulsifiers bind the oil phase and water phase of an emulsion together. They contain a hydrophilic (water-loving) element and a lipophilic (oil-loving) element. This means they are attractive to both oil and water which allows them to bind the two together in a stable mixture.
As lotions contain water you must use a broad-spectrum preservative.
Please note that beeswax is not an emulsifying wax and grapefruit seed extract is not a preservative. These are common misconceptions!
Every lotion consists of 3 phases:
water phase = water-solvable ingredients (lavender water, rose water, glycerin)
oil phase = oil-soluble materials (jojoba oil, argan oil, mango butter, shea butter, babassu oil, Olivem)
cooling phase = heat-sensitive materials (lavender essential oil, preservative, vitamin E)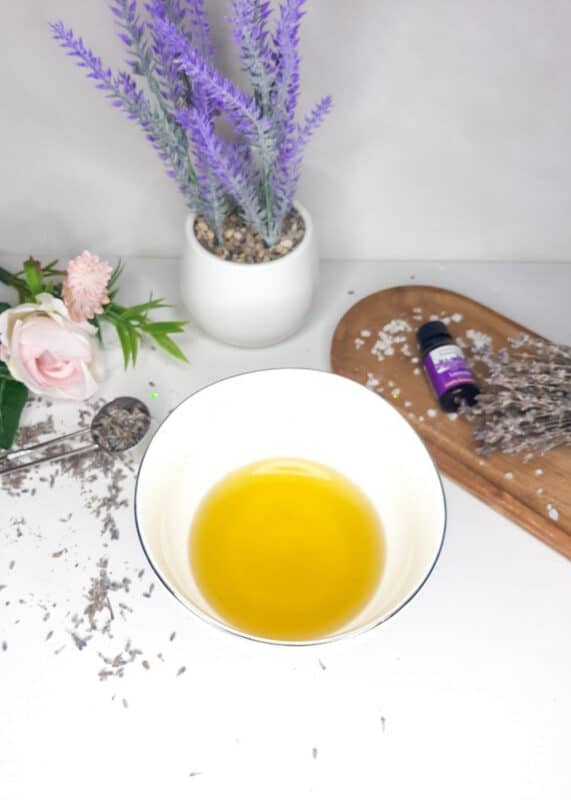 Ingredients for DIY lotion with shea butter
Argan oil
Argan oil is made from the kernels that grow on the argan trees native to Morocco. It's a fantastic oil for use in skincare as it protects from sun damage because of its high antioxidant content. It moisturizes the skin and helps to treat psoriasis and rosacea. It balances sebum production and is very beneficial for oily and acne-prone skin. It has anti-aging properties, improves wound healing, and soothes irritated itchy skin.

Shea butter
Shea butter is an excellent moisturizing agent that melts on contact with the skin, protects against water loss and outside weathering (sun, snow, rain, and wind), and boosts the protective layer and barrier repair function of the skin. It hydrates, moisturizes, softens, and smooths dry, dehydrated, and damaged skin.
Olive emulsifier
This emulsifier comes from natural olive chemistry. It is an emulsifier and thickener that is compatible with a wide variety of cosmetic and active ingredients over a wide pH range (3 to 12).
Safe and clinically tested to be hypoallergenic, it provides creams with an excellent moisturizing effect and spreadability with a creamy, non-oily, cool touch. Accepted by Ecocert and most organic certifiers.
Lavender essential oil
Lavender essential oil is suitable for all skin types. It is beneficial for mature skin as it has powerful skin-preserving qualities (cicatrisant) and helps regenerate the cells. The lavender essential oil has soothing and anti-inflammatory properties and balances the skin.
That makes it perfect for dermatitis, eczema, psoriasis, and acne. It helps the skin heal faster and with less scarring. Avoid in the first trimester of pregnancy.

Lavender water
Lavender water (hydrosol) is a byproduct of lavender essential oil distillation. It has very similar properties to essential oil but it's much gentler on the skin. It has soothing benefits that make it ideal for dry and sensitive skin.

Vitamin E
Natural vitamin E is an oily and thick liquid that contains a mixture of tocopherols. It protects oils and other fatty ingredients from oxidation.
Apricot kernel oil
Apricot kernel oil nourishes the skin to decrease the appearance of fine lines and wrinkles, improves skin tone, and increases skin radiance. It also has antiseptic, antibacterial, and antioxidant effects, which can help to heal blemishes and protect against environmental damage.
Preservative
As the DIY lavender non-greasy shea butter lotion recipe contains water, a preservative is needed to inhibit bacteria and mold growth. I used Preservative Eco, an eco-certified broad-spectrum preservative,  which is easy to find in the UK. You could also use Linatural or Optiphen Plus.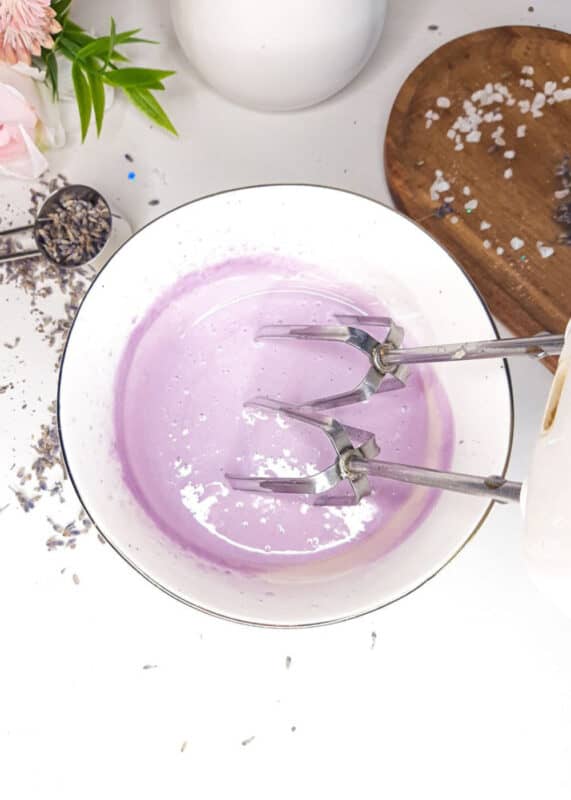 Non-greasy shea butter lotion recipe
what do I need to make lavender body lotion:
1 cup / 230 g lavender water
1/2 Tbsp / 7 g vegetable glycerin
1/2 cup / 70 g apricot kernel oil
3 Tbsp  / 30 g Argan oil
1 Tbsp / 10 g Shea butter
1 tsp / 5 g Olive emulsifier
70 drops / 2 g preservative
40 drops / 2 g Vitamin E oil
20 drops / 1 g Lavender essential oil
purple mica (optional)
You'll also need:
Digital scale
Bowl or container for weighing ingredients
Small saucepan or water bath
Silicone spatula or spoon
An immersion blender (AKA stick blender)
Jars or containers for packaging your non-greasy shea butter lotion recipe
Prep step: Sanitize all of your tools by washing them in very hot, soapy water. You may also run through a hot setting in your dishwasher.
how to make a non-greasy shea butter lotion recipe with lavender
1. Weight all the ingredients.
2. Pour the lavender water and glycerin into a deep and heatproof jar.
3. Add the apricot kernel oil, argan oil, shea butter, and Olivem into another heatproof jar.
4. Melt butters and oils in a water bath. The temperature should be about 65-70°C to fully melt all solid ingredients.
5. After all ingredients are melted, take the oil and water phase out of the water bath. Be careful the jars may be hot.
6. Blend lavender water and glycerine: Prepare a glycerine/gum slurry, and set aside.
7. Mix the phases together and emulsify using a stick blender. It takes a moment to emulsify the ingredients, so don't be alarmed if you see the phases separating.
Keep blending until the two phases are combined and a homogenous emulsion has formed. It will be thick and creamy. This process takes approximately 3 to 5 minutes.
8. If you want to tint the lotion (as I did), add a small amount 91/2 tsp) of purple mica powder and mix again.
9. Add the preservative, vitamin E oil, and Lavender essential oil.
10. Whisk again.
11. Cool the emulsion in a cold water bath, and stir during cooling down.
12. When the temperature reaches 40°C add phase C ingredients, mix
thoroughly.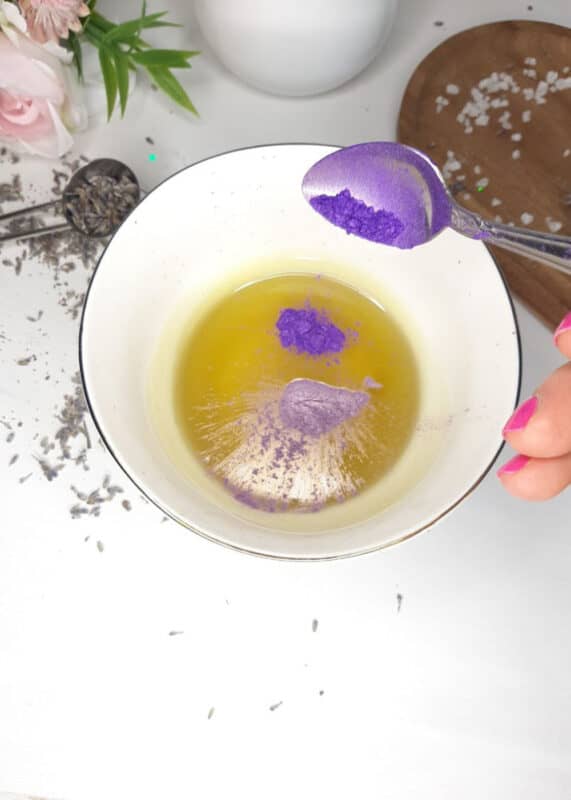 DIY Lavender Body Butter Recipe
When making this recipe, I found an easy way to turn the shea butter lotion into a rich, lavender whipped body butter. The instructions and measurements are the same. You should triple the amount of Olivem 1000 and prepare the body butter recipe with 3 tbsp / 15 g / 0.5 oz Olivem 100-. That's it!
Benefits of Shea butter
Shea butter is one of my favorite ingredients when it comes to DIY beauty recipes. Shea butter has many skin benefits, it's a very gentle ingredient suitable for children and babies.
It boosts skin moisture
It has anti-inflammatory properties
It helps fight breakouts
Helps to reduce signs of anti-aging
Improve skin tone
May soften scar tissue
Has antibacterial properties
Is shea butter good for the face?
Using shea butter on your body, especially your face, can condition, tone, and soothe your skin. If you have acne-prone skin, you may want to do a small test patch first to be sure it doesn't cause breakouts.  Shea butter has anti-inflammatory properties making it great for acne and reducing redness on the face. It can also help with anti-aging by reducing fine lines, wrinkles, and crow's feet.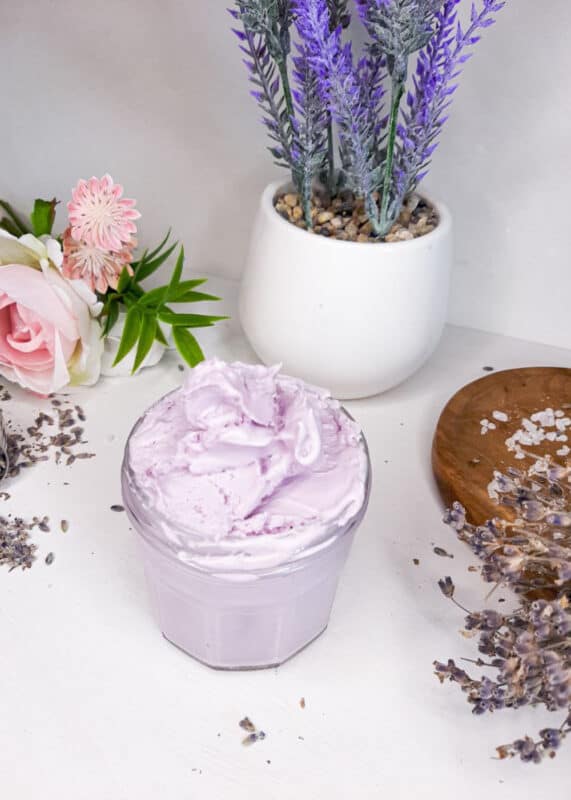 Homemade shea butter lotion with essential oils
Using essential oils in your skincare recipes is entirely up to you. Adding essential oils to your beauty formulations has many benefits for your skin. They can provide cleaning, purifying, and anti-aging properties, moisturize the skin and boost the immune system.
When using citrus essential oils, be careful because they can cause the skin to sunburn or develop a rash when going outside in direct sunlight. The amount of essential oils you add depends on the intended recipient. If you're making the lotion for an adult, add 10-15 drops of essential oil and for a child, add 5-10 drops.
best essential oils for skincare
lavender
chamomile
sandalwood
clary sage
rosemary
frankincense
geranium
neroli
lemon
lemongrass
cinammon
tea tree
rose
More Homemade Body Lotion & DIY Lavender Skincare
Homemade Body Lotion for Glowing Skin