This DIY foaming sugar scrub recipe is perfect for exfoliating, making dry skin feel and look smooth, soft, and supple. The quick exfoliating body sugar scrub recipe requires only four ingredients and takes about 15 min to make. This DIY chocolate sugar scrub feels like a luxury product but is pretty cheap to make.
If you like my beauty recipes, join my Facebook group 🎉 This is the best place for broader DIY beauty stuff, behind-the-scenes, what I'm working on in real-time, and more!
💡 Do you dream of a perfect skincare routine (and products) but feel it's impossible since your budget is limited? Grab the recipes I'm using to craft 100% natural DIY beauty products that give top beauty brands a run for their money!  ❤️ HOMEMADE BEAUTY MADE SIMPLE ❤️
Disclosure: This post contains affiliate links, meaning, at no additional cost to you, we will earn a small commission if you click through and make a purchase. Learn more
You'll love this Lavender Body Scrub because:
It's very creamy and feels pleasant on the skin.
It cleanses the skin like soap.
It removes dead skin and moisturizes at the same time.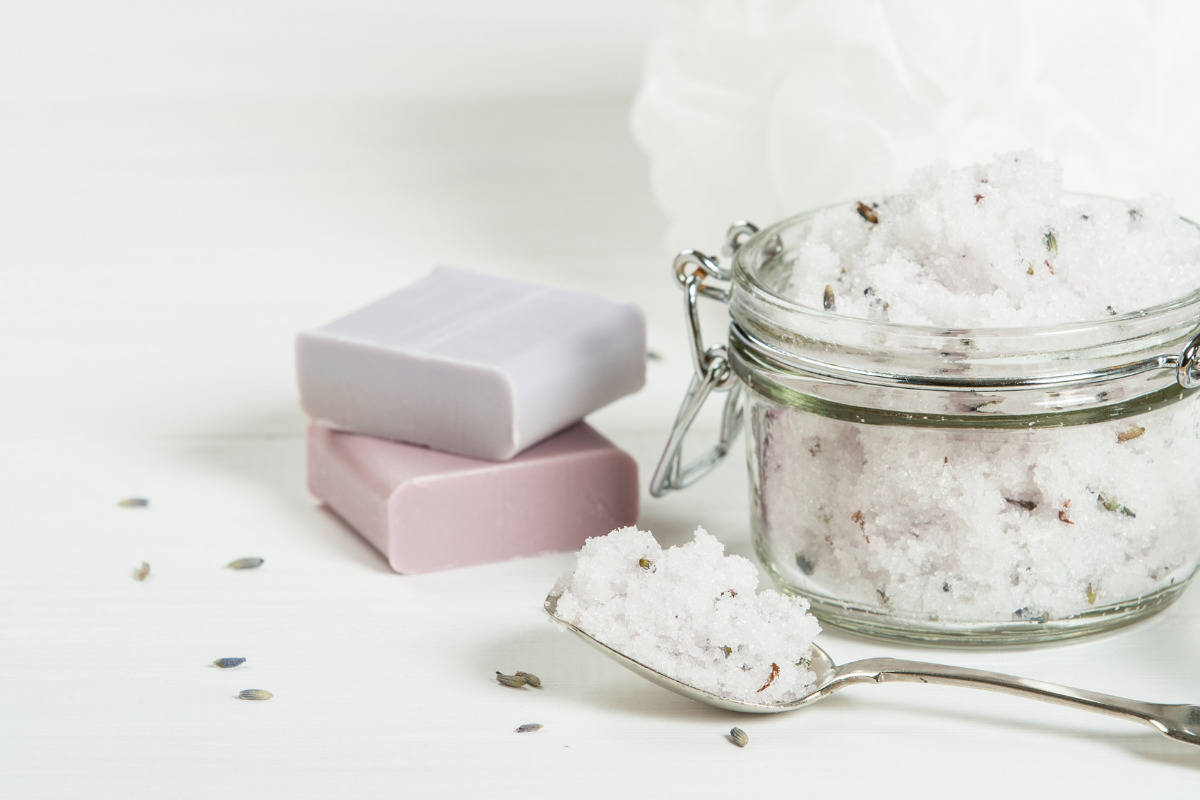 Easy DIY Lavender Foaming Sugar Scrub Recipe
The body scrub contains foaming bath butter to moisturize and soften your skin. And the lavender scent will bring the summerly spirit to your skin care.
The scrub is perfect for those who prefer a lightweight product. The Foaming Bath Butter is light and fluffy. The sugar exfoliates while shea butter and shea oil moisturize the skin.
Because the sugar is a gentle exfoliant, the scrub can be used on both the face and body.

How do you make a homemade foaming scrub?
Are you wondering how to make your own foaming sugar scrub recipe? This is so simple, you'll love it! All you have to do is whip foaming bath butter with coconut oil, and then mix it with a bit of sugar and ground, and add the lavender essential oil.  The whole process doesn't take longer than 10 minutes.
How do I exfoliate my skin?
Begin your shower routine by running the shower for 5-10 minutes and letting the warm water soften the skin. Pick up a small amount of foaming lavender scrub with your fingertip, wet it, and rub it between the palms. The DIY body scrub will start foaming, making it easy to apply all over your body. Massage it all over your body with gentle and circular motions.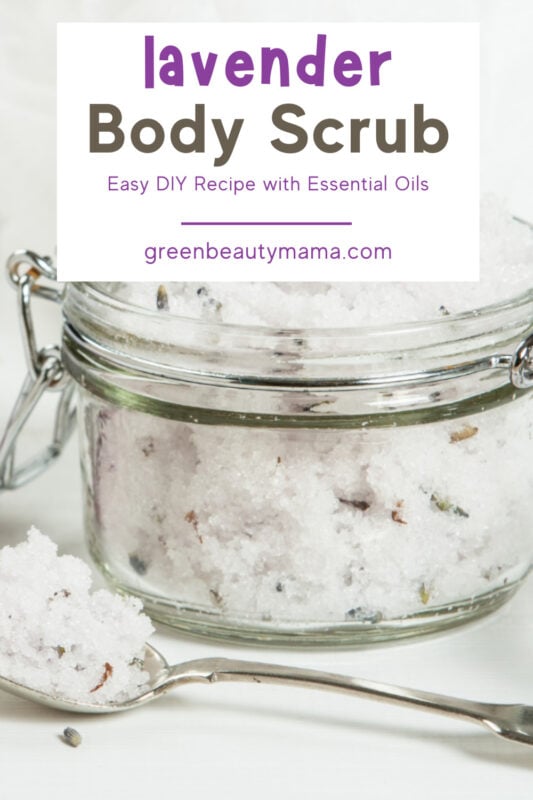 What materials do I need to make DIY Lavender Foaming Sugar Scrub at home?
Coconut oil hydrates deeply and is said to strengthen the skin's elasticity. I like coconut oil because it's solid at room temperature and makes the scrub creamier. And I love the way it smells.
Foaming Bath Butter is a foaming, soap-like product base designed for whipping. It can be used to make bath, shower, and facial products, like whipped foaming bath butter, shaving soaps, frosting for bath bombs, body scrubs, and much more.
Sugar
This is a sugar lip scrub DIY, and you can use almost any sugar, depending on how strong you want the exfoliating effect. Brown sugar, demerara sugar, and cane sugar have coarser crystals.
Lavender essential oil boasts powerful anti-inflammatory, antimicrobial, antioxidant, and antibacterial properties that, when working together, offer substantially more benefits for your skin than you probably ever realized.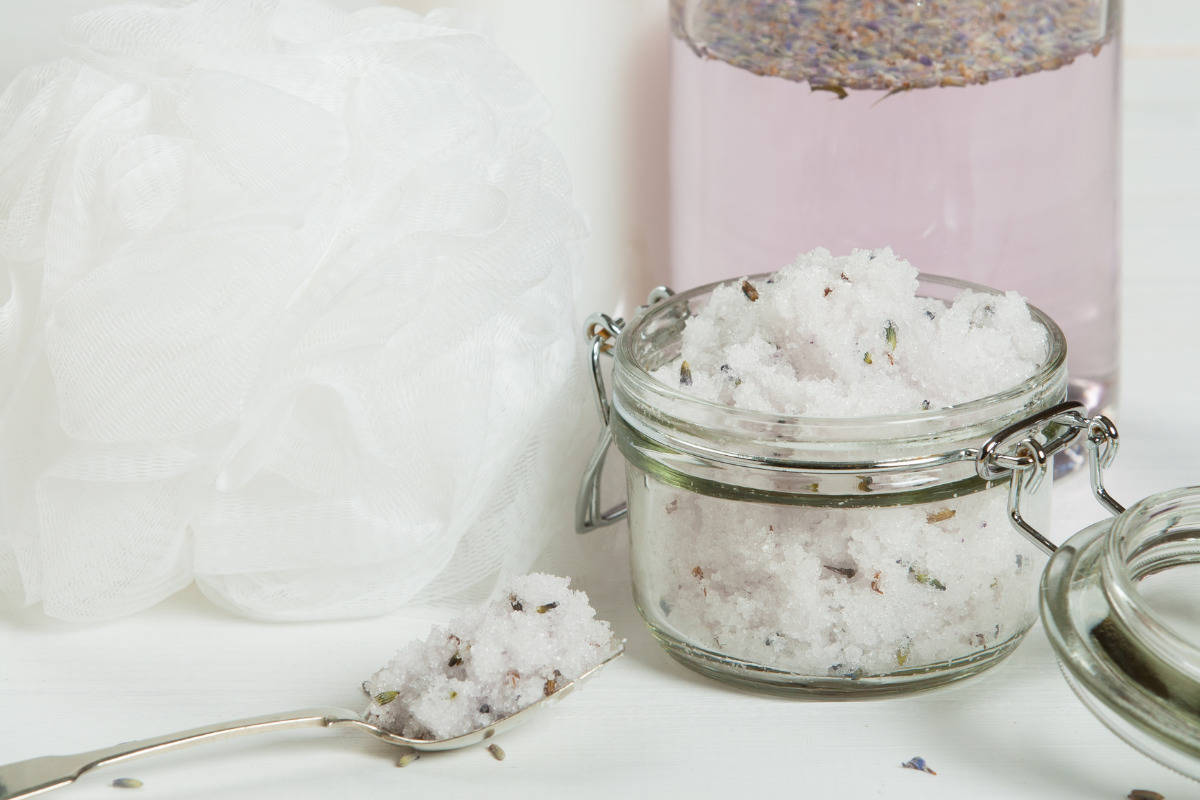 More Homemade Scrub & Exfoliating Recipes
exfoliating scrub with Himalayan salt
Foaming Lavender Sugar Scrub
This DIY foaming body scrub recipe is perfect for exfoliating, making dry skin feel and look smooth, soft, and supple.
Notes
In a large mixing bowl, add the Foaming Bath Butter and whip with a handheld mixer until smooth. You can also use a stand mixer if you prefer.
Add the coconut oil and use the mixer to whip until the mixture is completely blended.
Add the lavender essential oil and whip again. 
Add sugar to the mixture, and blend until smooth.