I'm back this week with a beauty recipe. As you beauties already know I love a good body scrub. Nothing makes my body feel better than a good scrub down. This leads me to my DIY Coffee and Honey scrub.
This honey and coffee scrub for cellulite without coconut oil will help slough away dead skin cells, deeply nourish your skin, and will leave you with a radiant, glowing complexion. My face and body feel so smooth and soft. I love that I can use this scrub year-round.
This article contains affiliate links. If you purchase a product through one of them, I will receive a commission (and no additional cost to you). I only ever endorse products that I have personally used and benefited from personally. Thank you for your support!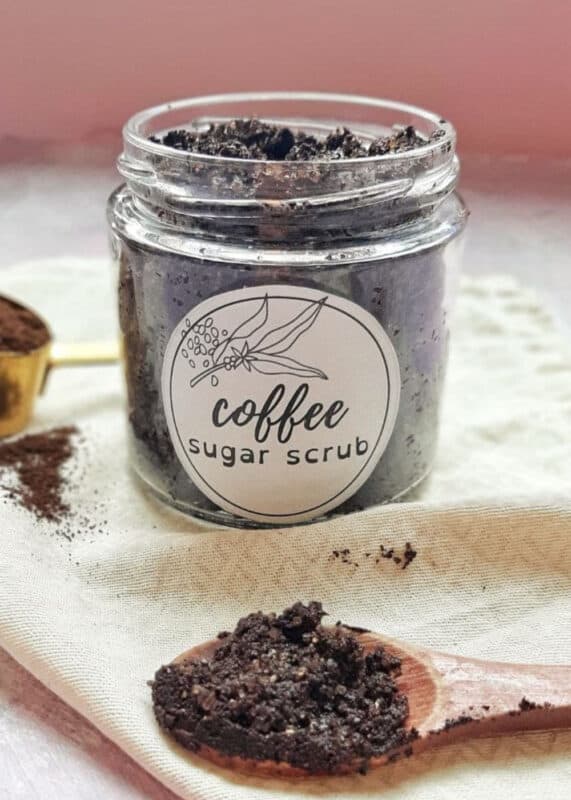 Can I use olive oil instead of coconut oil for the coffee scrub?
Usually, when I create my body scrubs, I like to create them with sugar and coconut oil as a base instead of honey and olive oil. That's because I like the smell better when your sugar scrubs are created with coconut oil.
Both honey + olive oil and sugar + coconut oil are good for you, so I'd say you aren't missing out if you're using one over the other.
Scented with a fresh fragrance blend of cinnamon, my DIY honey and coffee scrub recipe contains naturally emollient olive oil, anti-inflammatory cinnamon essential oil, brown sugar, and ground coffee to promote glowing, youthful
This homemade coffee honey scrub exfoliates the skin, helps reduce the appearance of cellulite, and moisturizes the skin with olive oil. Never mix with used coffee grounds from your coffee maker — these have already been damaged. To gain the potential benefits of caffeine, you also want to be sure you select traditional coffee, not decaf.
As coconut oil has a fairly high comedogenic rating of 4 – meaning it can clog pores and cause acne when used – I chose to create a DIY coffee scrub recipe without coconut oil. Instead, I used olive oil. Olive oil has a comedogenic rating of 2, which is moderately low and contains essential fatty acids as well as vitamins A and E.
So not only will it not cause acne, but it's also an effective emollient for moisturizing skin. Plus, olive oil is quickly and easily absorbed by the skin.
The first reason why I started making my own body scrubs was to avoid harmful substances. One of my favorites is this anti-cellulite ginger body scrub.
Don't forget to pin this coffee scrub!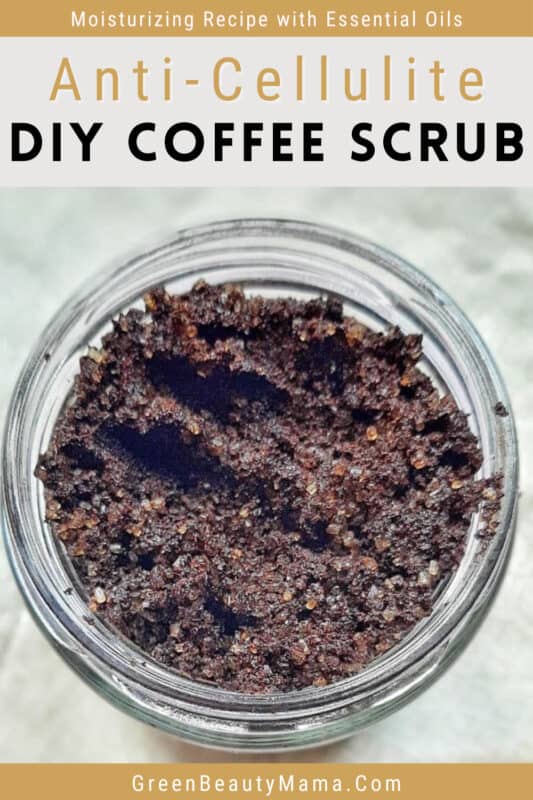 Benefits of coffee and olive oil scrub
In addition to swapping out the coconut oil in my DIY coffee scrub recipe, I also chose to use cinnamon essential oil. I chose this natural essential oil for several reasons. Not only does cinnamon essential oil offer uplifting aromatherapeutic benefits, but it also has anti-inflammatory skincare properties. And it has been proven effective at preventing acne and moisturizing skin. It can also aid in clearing up existing acne breakouts and further promote healing. So skin looks healthy and feels amazing.
This gentle DIY coffee and honey scrub is perfect for sloughing off dead skin cells leaving behind radiant and soft skin – and it smells heavenly too!
The easy recipe below will make enough to ensure you get the desired result over time. I am a bit of a coffee addict, so naturally, this coffee sugar scrub is one of my favorites that we have made so far!
More benefits of this DIY coffee scrub recipe
Why Coffee?
The caffeine in coffee grounds has potent antioxidant properties that can help protect the skin from sun damage, reduce cellulite, and stimulate the blood vessels.
Coffee does an amazing job at exfoliation which makes it a natural choice for body scrubs, but outside of its ability to slough off dead skin cells what can coffee do?
Now we all know caffeine is coffee's secret weapon when it comes to waking us up in the morning, but caffeine is also a secret weapon for your skin.
Caffeine helps tighten the skin, which can help reduce cellulite.
Caffeine is also loaded with antioxidants, which help battle dark spots, fine lines, swelling, and inflammation. There are so many reasons to love coffee.
Personally, I love it when I'm drinking it 3-4 times per day (judgment-free zone, okay?)
Exfoliating your skin with body scrub has many benefits. Not only does exfoliating make your skin look more lively and rejuvenated, it removes those dead skin cells that clog your pores.
This DIY honey coffee scrub is perfect for you because it:
Exfoliates skin to remove dead skin cells.
Smooths skin so it looks & feels more youthful.
Brightens dull skin to give it a healthy-looking glow.
Fights the visible signs of aging. It helps to prevent acne.
Reduces the appearance of cellulite and stretch marks.
Targets and fights inflammation that can make skin look puffy.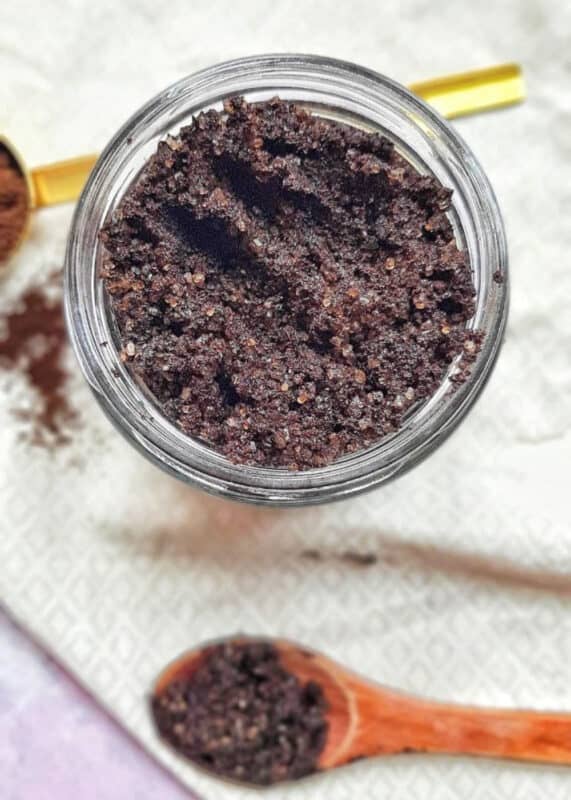 How to make coffee and honey body scrub
Exfoliating coffee and honey body scrub made with organic coffee, sugar, and olive oil. Body scrubs are a great product to help your skin feel moisturized and nourished.
You can spend $12 to $25 for a quality scrub or just a few dollars making it home with organic ingredients.
When making body scrubs you can choose from sugar, salt, oats, grains, and coffee for the base. They all exfoliate and offer different properties to the skin.
Homemade scrubs are a great way to soothe and heal hard-working hands. Maybe you don't garden, but as a busy mom, I bet there are other things you're doing that take a toll on your skin.
This coffee and honey body scrub is an excellent way to help your hands and pamper yourself a bit. It's so relaxing to use, and you won't believe how soft and smooth your skin feels after using it. After massaging for a few minutes, rinse clean.
Ideally, you want to complete this process in the shower to prevent messes and stains from the coffee grounds. Massage the scrub onto the skin in a circular motion before rinsing. Repeat every time you shower for the best results.
Ingredients:
½ cup coffee
¼ cup olive oil
2 tbsp honey
2 tbsp brown sugar
Instructions:
Mix all ingredients in a mixing bowl and whisk until well combined.
Store in a mason jar or other airtight container when not in use.
How to use DIY coffee scrub for cellulite
The main purpose of a body scrub is to exfoliate and remove dead skin cells, revealing new skin. My homemade body scrub recipes are easy to spread on and will leave your skin cleansed, exfoliated, soft, and moisturized.
There are several ways to use this easy coffee scrub recipe. Here are some tips for how to use a body scrub to exfoliate your skin:
Shower: Exfoliating in the shower is the best way to exfoliate your entire body. Wet your skin with warm water. Then massage small amounts of scrub on your skin. Rinse off with plenty of water.
Lip scrub: These sugar scrub recipes are also excellent lip scrubs. Just pick a small amount with your fingers and massage it all over your lips. You can leave it on for two-three minutes, then wash it away.
Face scrub: Scrubbing the face with coffee grounds can help to clear away dead skin cells and unclog the pores. The chlorogenic acids in coffee may also reduce inflammation and protect against some strains of bacteria.
How to store this DIY coffee and honey scrub
Store your homemade coffee honey scrub recipe in an airtight jar or container in a cool, dark place.
How long does DIY coffee scrub last?
If stored correctly, the coffee scrub can be kept for up to 6 months.
Homemade Coffee Scrub FAQ
Can you use old coffee grounds for body scrub?
Yes, old coffee grounds make an excellent body exfoliant, and you may reuse your old coffee grounds in my scrub recipe.
Is coffee scrub good for skin?
Yes, a coffee scrub is good for your skin! The anti-inflammatory properties coupled with polyphenols and hydrocinnamic acid present in coffee can help reduce inflammation and soothe red, inflamed breakouts.
If you scrub your body with coffee, the caffeine present in it acts as a stimulant which improves the circulation of blood that moves through your veins.
In case you didn't know, the anti-oxidants found in coffee are good for the skin. It can instantly give you glowing, fresh, and youthful skin.
Does coffee scrub reduce cellulite?
Scrubbing coffee grounds on your skin can reduce the appearance of cellulite temporarily.
While scrubs made with coffee grounds cannot eliminate cellulite altogether, they have been found to visibly reduce the appearance of cellulite.
Can I use a coffee scrub every day?
No, it is not advisable to use a coffee scrub every single day. For the most benefit, you want to use the coffee scrub a few times a week. This is the same rule of thumb that applies to other scrubs, masks, and the like. It may also take a few weeks or longer of regular use to see any significant results.
For the most benefit, you want to use the coffee scrub for cellulite a few times a week. This is the same rule of thumb that applies to other scrubs, masks, and the like. It may also take a few weeks or longer of regular use to see any significant results.
Excessive scrubbing and rubbing, as well as exfoliating, can damage the skin, so one should not do so on a daily basis.
You can use this DIY coffee scrub once or twice per week. Anything more than that isn't safe for the skin.
Can I use coffee scrub on my scalp and hair?
Coffee scrub isn't just limited to your body, you can use it for all kinds of beauty applications. If you're looking for a way to use this powerhouse in your hair, a scalp treatment is an excellent idea.
Coffee can be used as scalps exfoliate, a hair scrub, and a hair rinse each helping by stimulating hair growth.
The best way to use coffee scrub for your scalp is by adding it to your favorite conditioner and massaging the mixture into your scalp using circular motions. You can also leave it for around 5-10 minutes, then rinse it out with warm water.
Can coffee scrub clog the drain?
Yes, using a body scrub can clog the drains in your shower. You may find this occurs more during warmer months of the year when you are more likely to take more than one daily shower. That being stated, there are ways to prevent your shower drain from becoming clogged from your body scrubs.
"Coffee scrubs are one of the worst things you can put down your drain," says Jim Steine, the president of Atomic Plumbing in Virginia.
Here's what you can do:
Use a shower drain catcher.
Use a mesh trap.
Clean your shower drains weekly.
Apply a drain cleaner once a month.
So, if you're using a coffee scrub, be sure you use a drain filter to avoid getting your drain clogged. You can find these drain filters on Amazon or in home improvement stores.
Let's connect!
I created a fun little group on Facebook and I'd love for you to join in! It's a place where you can ask questions, share your ideas, and see what's new with Green Beauty Mama! If you'd like to check it out, you can request to join HERE.
Be sure to follow me on Instagram and tag #lorascleandiy so I can see all the wonderful recipes YOU make from this site! You can also Subscribe to my Newsletter so you never miss a beauty recipe again!
xo,
Lora
Yield: 1
Coffee and Honey Body Scrub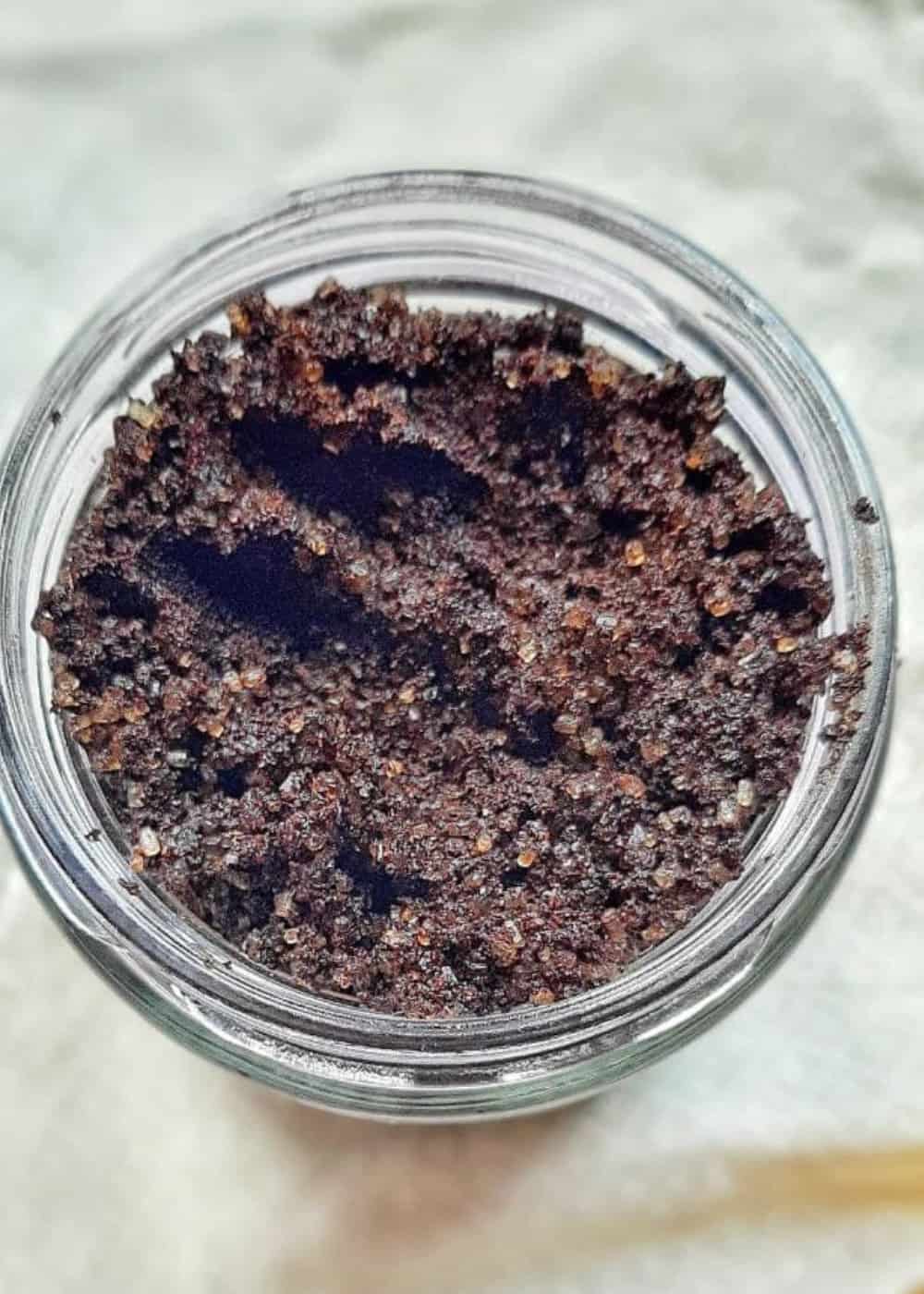 This honey and coffee scrub for cellulite without coconut oil will help slough away dead skin cells, deeply nourish your skin, and will leave you with a radiant, glowing complexion.
Ingredients
1/2 cup Coffee
1/4 cup Olive Oil
2 Tbsp Honey
2 Tbsp Brown Sugar
Instructions
Mix all ingredients in a mixing bowl and whisk until well combined.
Store in a mason jar or other airtight container when not in use.