If you ever wanted to know how to make sugar scrub at home, you're in for a treat. Making your own homemade sugar scrub is easy and costs pennies. Included are 4 simple and natural body scrub recipes for lemon, peppermint, rose, and cellulite-busting ginger sugar scrub. The skincare tutorials contain tips for using and storing homemade body scrub recipes.
If you like my beauty recipes, join my Facebook group 🎉 This is the best place for broader DIY beauty stuff, behind-the-scenes, what I'm working on in real-time, and more!
💡 Do you dream of a perfect skincare routine (and products) but feel it's impossible since your budget is limited? Grab the recipes I'm using to craft 100% natural DIY beauty products that give top beauty brands a run for their money!  ❤️ HOMEMADE BEAUTY MADE SIMPLE ❤️
Disclosure: This post contains affiliate links, meaning, at no additional cost to you, we will earn a small commission if you click through and make a purchase. Learn more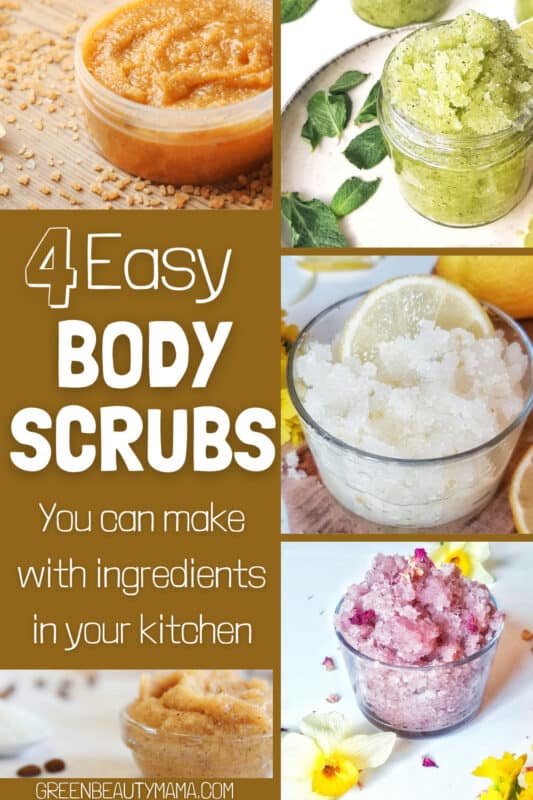 Disclosure: This post contains affiliate links, meaning, at no additional cost to you, we will earn a small commission if you click through and make a purchase. Learn more
Homemade Sugar Scrub
I enjoy homemade skincare, but making a homemade body scrub is what I like the most. Sugar scrubs were one of the first DIYs I got started with. And today, I have 4 different exfoliating scrubs for you!
The easiest way to have glowing skin is by using body scrubs. Because exfoliating will help you to achieve soft, smooth, and silky skin.
Exfoliating is good for you.
Did you know that you can make your own natural body scrubs for glowing skin?
Yes, that's right!
A homemade body scrub is inexpensive and extremely easy to prepare.
Making your own DIY body scrub will save much money (and your body) from chemicals.
You Will Love These 4 Homemade Sugar Scrub Recipes because:
they exfoliate and moisturize all at once
your skin will feel brand new
your skin will become incredibly soft and luxurious
they are super simple to make
it takes about 5 minutes to make them
they are much less expensive than store-bought sugar scrubs
they are a great holiday gift
Can I Use Sugar to Exfoliate my Body?
Yes, yes, and YES!
Sugar may not be the perfect ingredient for your health and diet, but a homemade sugar scrub can be very good for your skin.
And I'm not talking about those expensive scrubs in department stores and luxury cosmetic shops. They really cost pennies to make.
I'm talking about simple beauty recipes with all-natural ingredients.
I use sugar scrubs on my face, body, and especially my feet. Because using sugar is the best way to moisturize and exfoliate your skin.
It's so easy to make your own sugar scrub at home.
Glycolic acid occurs naturally in sugar and helps cleanse the skin and dissolve dead skin cells. It's also a humectant and will not strip your skin of its precious natural oils.
Sugar Scrub Benefits
Dead skin cells might lead not only to dull and unhealthy-looking skin but also to some skin problems. Dead skin cells can stay trapped in our pores, causing dark spots, acne, clogged pores, wrinkles, inflammations, dryness, and much more.
The main purpose of a sugar scrub is to exfoliate and remove dead skin cells, revealing new skin. Because exfoliation improves blood circulation, improving oxygenation and delivers more nutrients into the skin. 
Which Sugar is Best for Body Scrub?
Choosing the best sugar for your homemade sugar scrub is simple. There are three main types of sugar you can add to your homemade scrub:
If you have dry or flaky skin, then you will want to use coarse sugar. You can choose between brown sugar and raw sugar.
The large grains of coarse sugar exfoliate your dry skin while simultaneously infusing it with moisture from the air around you.
Brown sugar is the least abrasive making it a good choice for those with sensitive skin and a good choice when making a face scrub. Since it is the gentlest, it can be used up to 4 times a week.
2. Fine Sugar for Radiant Skin
Fine sugar is ideal when you want to restore your skin's healthy glow.
helps to turn over the cells in your skin,
doesn't break away dry skin,
infuses natural moisture
3. One of the best fine sugars for your DIY scrub is pure white sugar—similar to what you use for baking.
Turbinado sugar (raw) is naturally the coarsest due to its large granules and makes for a great body scrub. It is the least processed of the three and holds the most essential minerals. A homemade sugar scrub made with raw sugar can be used up to 2 times weekly.
What types of oil are best for a homemade sugar scrub?
When I first started making my own exfoliating body scrubs, I used extra virgin olive oil but have since changed to jojoba and coconut oil. I recommend trying different oils or mixing and matching to see what works best for you.
Olive oil – is one of my favorite oils when it comes to natural skincare. Actually, olive oil has so many skin benefits. It protects and hydrates even the most sensitive skin. Olive oil helps to repair damaged skin tissues and revitalizes and strengthens skin tonicity.
Jojoba oil – has anti-inflammatory properties, which help to tame chaffing and chapping, reduce redness caused by drying, ease the effects of eczema and rosacea, and keep skin calm and comfortable. It's odorless, non-greasy, and penetrates quickly. This is a good moisturizing conditioner and nourishes all skin types. It's odorless, non-greasy, and penetrates quickly. This is a good moisturizing conditioner and nourishes all skin types.
Sweet Almond oil – can be used to calm your skin in times of need. Almond oil is both a moisturizer (provides hydration) and emollient (smooths the skin). Non-irritating and light, it is safe for sensitive skin. Almond oil is rich in vitamins E and K, which helps skin regenerate and maintain elasticity.
Apricot oil – is emollient and high in vitamin E; it absorbs easily into the skin and is appropriate for all skin types, including sensitive skin. Apricot oil absorbs well, is non-greasy, and works as an enriching emollient perfect for soothing skin and preventing dryness.
Avocado oil – like most oils, avocado is known for its moisturizing and nourishing properties. It is an excellent source of enrichment for dry, damaged, or chapped skin. Avocado oil is heavy in texture yet soothing and leaves no greasy residue.
Coconut oil – is good for your skin because of its natural antibacterial properties, but it may increase breakouts in acne-prone skin. The lauric acid found in coconut oil gives it antimicrobial properties to kill bacteria on the skin and reduce inflammation. Look for unrefined coconut oil. Or try Fractioned Coconut Oil, as it is non-greasy.
Hemp Seed Oil – is high in omega acids 3, 6, and 9, all of which help repair the skin barrier and form a seal over the skin to keep moisture trapped inside. It reduces skin aging and is anti-inflammatory. Hemp seed oil penetrates the skin quickly, some describe it as a dry oil. An opened container should be used within 2 to 4 weeks.
Hazelnut oil – with a high level of vitamin E, Hazelnut oil works to prevent damage from harmful sun rays while also working as an antioxidant. This oil is beneficial for oily skin because of its astringent qualities.
Walnut oil – has good moisturizing, anti-aging, regenerative, emollient, and toning properties.
Other materials and supplies for the sugar scrub recipes
essential oils – Essential oils not only lend a natural fragrance to the homemade body scrub recipes but also provide different skincare and aromatherapeutic benefits.
vitamin E oil is one of the best ingredients to nourish, hydrate, and rejuvenate the skin. Another benefit is that the antioxidant properties of vitamin E also protect the carrier oil from oxidation (= going rancid) and help to prolong the shelf life of the DIY sugar scrub.
botanicals and other exfoliants – Some of the homemade sugar scrub recipes use botanicals, such as rose petals, citrus zest, and grated ginger.
colorants (optional) – Some ingredients, such as citrus zest, mint leaves, and rose petals, will naturally color your sugar scrub recipe.
Uses for sugar scrub
Sugar scrubs are easy to make and versatile. A homemade body scrub is an excellent way to exfoliate and moisturize your skin and eliminate all the dead skin at once. Tier skin will feel brand new and incredibly soft and luxurious. You can use your natural body scrub on your face, feet, and body – anywhere, really.
Use it on your face a couple of times a week. A sugar scrub does an amazing job exfoliating, and your skin will feel super-hydrated and soft.
How to make an easy sugar scrub recipe
Equipment:
Mixing bowl
whisk or hand mixer food processor (optional)
Jars or mason jars
Ingredients:
1 cup white sugar, brown sugar, or coconut sugar
1/4-1/2 cup of carrier oil (I used coconut oil)
15-20 drops of essential oils
1 teaspoon dry herbs (optional)
I always use a food processor to blend my natural body scrub recipes. (It's way faster and easier). But you can definitely use a bowl and a spoon. 
Just throw in the carrier oil, sugar, and other add-ins (like essential oils….or….colorant). It buzzes it up really quickly. 
Then buzz it around for just a few seconds until it looks creamy. Like this…
Again, you don't need a food processor for this. You can mix it up in a large bowl.
1. The oil phase – Choose your carrier oil, and mix it with essential oils (if using) and vitamin E into a jar or a small mixing bowl. Stir to combine.
2. Prep the sugar base. If you use only botanicals like me, place the sugar and botanicals into a food processor and blend until combined and the botanicals are well dispersed.
Mix the sugar scrub. Pour the oils over the sugar and combine.
Store the sugar scrub. Transfer the sugar scrub into airtight glass jars or storage containers and store sealed until ready to use.
This simple process is the same for all of the following four DIY sugar scrub recipes.
4 Easy Homemade Sugar Scrub Recipes
Now that we know how to make skin scrub at home and its benefits let's explore 4 homemade sugar scrub recipes!
The exact measurements are in the DIY box at the end of the post!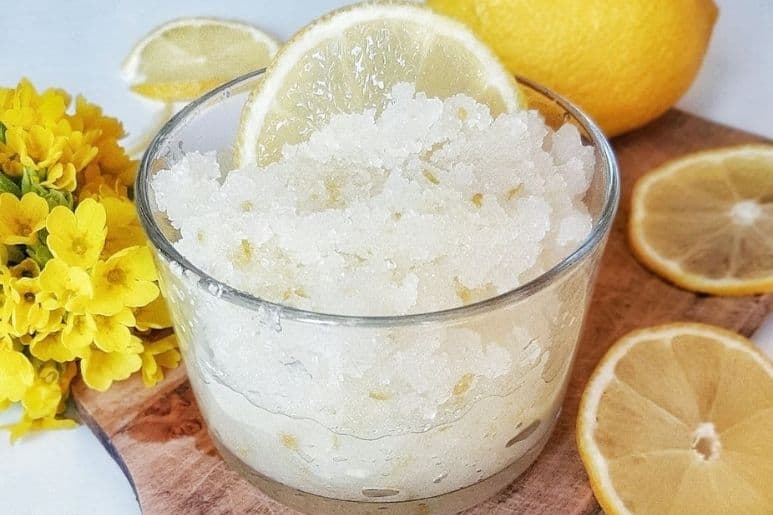 Lemon Sugar Scrub for Summer Brightening
This lemon sugar scrub leaves skin soft and silky. This exfoliating homemade sugar scrub with lemon essential oil is ideal for normal to oily skin types. It's also a great hand scrub for washing dishes!
Lemon sugar scrub benefits
In a scrub, lemon nourishes, cleanses, and exfoliates the skin and clears up skin issues such as oiliness, acne, and cellulite. Lemon body scrub lightens and evens out the skin tone.
How to make homemade lemon sugar scrub
Grate the zest of one organic lemon and mix it with the sugar. Blend in the food processor. Then combine it with the oil phase, and you're done!
Cellulite Busting Ginger Sugar Scrub
This Ginger Cellulite Scrub is incredibly easy to make and takes only a few household ingredients. Plus, if you like the smell of ginger, you will LOVE LOVE LOVE the way it smells! This recipe makes enough for 10 uses but can easily be doubled or tripled and stored in the refrigerator.
Ginger Sugar Scrub Benefits
Ginger increases circulation, makes skin elastic, and helps prevent and reduce cellulite. It also has great anti-inflammatory properties.
How to make homemade ginger sugar scrub
Grate the ginger root and mix it with the sugar. Blend in the food processor. Then combine with the oil phase and lemon juice, and you're done!
Refreshing Mint Sugar Scrub
If you need a fresh morning start, then this mint sugar scrub is for you. This homemade sugar scrub will leave your skin supremely soft and refined, and it's also perfect for sloughing away dead skin cells. This DIY sugar scrub should be part of your morning routine; the minty scent revitalizes and will help you wake up!
Mint Sugar Scrub Benefits
A DIY mint scrub is tough enough to remove oil, dirt, and dead skin cells. It's perfect for acne-prone skin because of its antimicrobial and anti-fungal properties. Peppermint oil is also known to control excess oils and prevent clogged pores.
How to make homemade mint sugar scrub
I use fresh mint leaves and lime zest, but you can add both – fresh and dried. Fresh mint leaves give the scrub a soft green hue and a wonderfully fresh scent.
You can fragrance the homemade sugar scrub with peppermint and lime essential oils.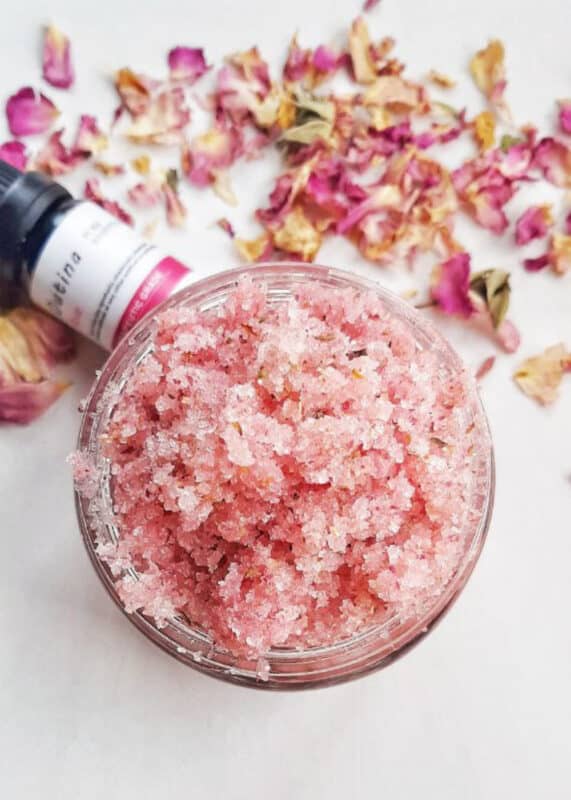 Rose Sugar Scrub
This DIY rose sugar scrub has a delicate rose fragrance and is a great addition to your natural skincare routine.
DIY rose scrub benefits
Roses have antibacterial and anti-inflammatory properties, which are great for reducing redness on the skin and treating any blemishes. Rose petals have antibacterial properties and work as natural skin toners. They can help tighten your pores and hydrate your skin!
How to make homemade rose sugar scrub
Pulse the petals and sugar in a food processor until they become teeny tiny flakes. Mix with the oil blend. Mix well and then spoon into a storage container.
Can I use essential oils in sugar scrub?
Adding your favorite essential oils is the perfect way to create a DIY sugar scrub with a unique scent. 
Always use high-quality essential oils for your homemade sugar scrub recipes. Feel free to experiment with different brands till you find what you like the most. I REALLY love Plant Therapy oils. They are high quality and affordable. 
Just be aware of the potency of certain essential oils (like cinnamon and clove oils) because they can irritate your skin.
If you don't want to use essential oils, try citrus zest, herbs, and extracts. 
How to use the sugar scrub recipes
These moisturizing sugar scrub recipes will keep your skin radiant and glowing! There are several ways to use the easy sugar scrub recipes. Here are a few tips for how to use sugar scrub to exfoliate your skin:
As I mentioned before, you can use these natural body scrub recipes on your face, body, hands and feet.
Exfoliating in the shower is my favorite way to exfoliate arms, legs, and body. Wet your skin first with warm water and massage small amounts of the scrub on your skin. Rinse off with water and then mositurize with your favorite homemadde body butter.
Hands and feet: You can use sugar scrub recipes to exfoliate certain body parts, like your hands or the bottom of your feet. Apply in the area you want to treat, massaging in circular motions.
Shower: Exfoliating in the shower is the best way to exfoliate your entire body. Wet your skin with warm water. Then massage small amounts of scrub on your skin. Rinse off with plenty of water.
Lip sugar scrub: These sugar scrub recipes are also excellent lip scrubs. Just pick a small amount with your fingers and massage it all over your lips. You can leave it on for two-three minutes, then wash it away.
How to store the sugar scrub recipes?
Any lidder container works fine. Just don't store your DIY body scrub in the shower cause it will get melted and separated.
I prefer to use glass jars because they are easy to clean and reuse. the short squatty half-pint jars because it's easy to get all the scrub out when you're using it. Plus they're cute.
Essential oil sugar scrub recipes are a beautiful and inexpensive gift for many occasions, for example, Mother's Day, birthdays, DIY Christmas gifts and other holidays. I packaged the scrub in small glass jars, these 4 oz quilted mason jars or these adorable weck jars are great options too.
How long will sugar scrub last?
If made with new ingredients, these sugar scrub recipes can be stored for up to a year. Sugar and coconut oil have a long shelf life of several years, but some essential oils last shorter than that. So use the best-before date of the essential oils as a guide.
Do you make your own bath and body products? Please share! And if you make this DIY sugar scrub recipe, let me know how you like it by dropping a comment below.
I also made some Homemade Holiday Sugar Scrub variations for Christmastime! Candy Cane and Gingerbread scrubs have become some of my favorite. (They're edible and delicious, too, in case you were wondering…)
I also did a Chocolate Sugar Scrub for Valentine's Day! (Also edible. *wink*)
More DIY Sugar Scrub Recipes
Yield: 4
4 DIY Sugar Scrub Recipes
Learn how to make the best sugar scrub recipes for glowing skin. Included are 4 easy and natural recipes for lemon, ginger, mint, and rose sugar scrub.
Materials
Lemon Sugar Scrub
Mint Sugar Scrub
Ginger Body Scrub
Rose Sugar Scrub
Tools
small jars
sugar scrub labels
Instructions
Add the carrier oil, essential oils, and vitamin E into a jar or small mixing bowl and stir to combine.
Put the sugar and dry ingredients (e.g. rose petals) into a food processor and blend until combined and the botanicals are well dispersed.
Pour the oils over the sugar and combine.
Transfer the sugar scrub into airtight glass jars or storage containers and store sealed until ready to use.