Summer is the time for cookouts, beach trips—and sunburn. If your skin is unprotected, it can take only a few minutes to burn. But don't worry, today I'll show you how to make your own DIY after-sun lotion with simple ingredients.
If you have ever suffered from a bad sunburn, you know how miserable it can be! I use a few handy home remedies when someone in my family gets a sunburn, along with whipping up a batch of this homemade after-sun lotion!
If you like my beauty recipes, join my Facebook group 🎉 This is the best place for broader DIY beauty stuff, behind-the-scenes, what I'm working on in real-time, and more!
💡 Do you dream of a perfect skincare routine (and products) but feel it's impossible since your budget is limited? Grab the recipes I'm using to craft 100% natural DIY beauty products that give top beauty brands a run for their money!  ❤️ HOMEMADE BEAUTY MADE SIMPLE ❤️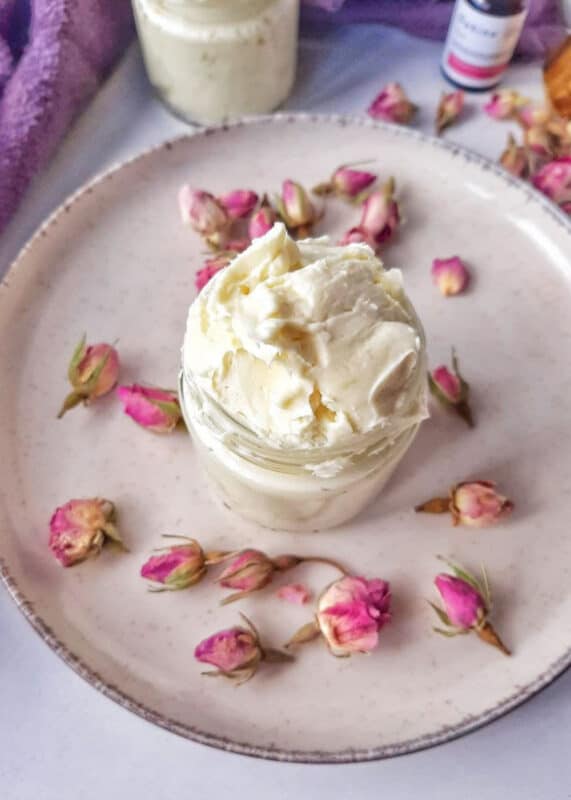 Disclosure: This post contains affiliate links, meaning, at no additional cost to you, we will earn a small commission if you click through and make a purchase. Learn more
Why DIY After Sun Lotion
I love making my own skincare products. That way, I know exactly what it is inside. Clean and all-natural DIY beauty is the best you can do for your skin.
Let's be honest, an after-sun lotion can't perform miracles and won't be able to undo the damage you may have done to your skin when already sunburnt. But it can help provide some relief and replenish the lost moisture.
This DIY after-sun lotion will allow your skin to recover faster naturally. The after-sun cream will hydrate your skin and keep it healthy.
To help increase that hydrating effect, especially if you have been out in the sun for a long time, apply the lotion after you've rinsed off your skin in a cool shower with your skin still wet.
DIY After Sun Moisturizer to Heal Sunburn: The Secret Ingredients Nobody Tells You About
When you get a sunburn, your skin turns red and hurts. If the burn is severe, you can develop swelling and sunburn blisters.
Inflammation is the body's way of "cleaning up" the cells that are no longer working properly so they don't become dangerous. (source)
That's why we peel after a sunburn, to shed those damaged cells before they affect the surrounding cells.
When it comes to natural sunburn relief, one ingredient works the best.
Okay, okay!
I'm more than happy to share with you this super secret ingredient.
Aloe vera is a tropical medicinal plant that has been used for thousands of years to treat skin conditions such as wounds and burns. Aloe vera is so effective at soothing burns that it's sometimes referred to as the "burn plant."
Because of its strong antioxidant properties, aloe vera gel is one of the best natural sunburn treatments. However, you cannot use aloe vera alone because it's mostly water. When applied topically, it evaporates quickly from the skin, and you won't absorb most of the medicinal properties.
You need to mix it with something that will provide a barrier to keep in moisture. I use shea butter for this recipe because it's nourishing and provides mild UV protection.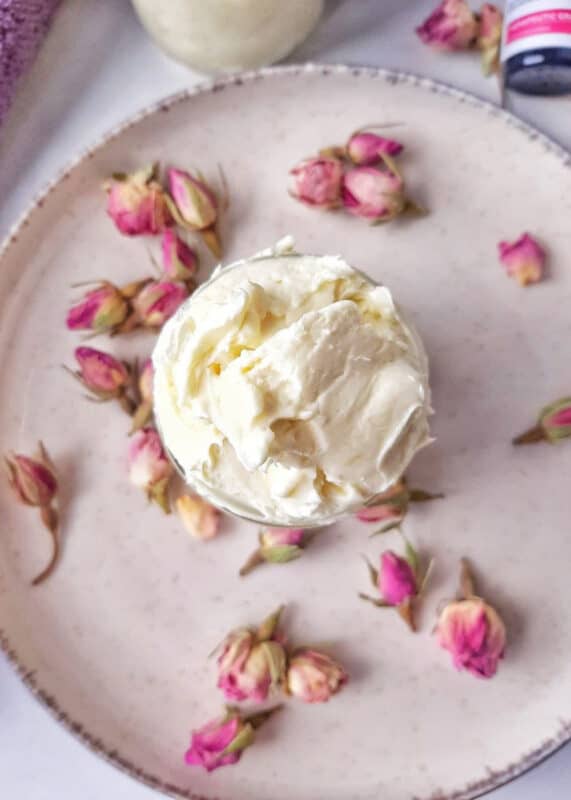 How to make DIY Sunburn Cream That Works
Before making your own after-sun cream, you should know that you can't heal a moderate or severe sunburn overnight. Anyway, using the right ingredients will heal your skin damage much faster.
A good after-sun lotion will provide hydration, seal in that moisture, and provide ingredients that can help heal the skin.
After Sun Moisturizer Ingredients
Shea butter has more beautiful uses than you might think.
Shea butter has been a go-to in many DIY beauty recipes – especially for lotions and butters. That's because, besides being super moisturizing, while also provides many other noteworthy benefits.
If you have dry, dull skin, shea butter may become your new best friend. It helps retain moisture by performing a protective barrier on the skin's surface, reducing water loss and keeping the skin hydrated.
Some experts say that shea butter is even better for your skin than coconut oil (yes, really). Joshua Ross, the celebrity aesthetician of SkinLab, recommends opting for facial oils or other natural products made with seed-derived oil, such as shea butter.
The vitamin A and E in shea butter can do more than soothe skin. They can also make you appear more youthful, and who doesn't want that?
Shea butter also helps promote cell regeneration, reducing the appearance of fine lines and wrinkles.
Aloe Vera Gel
Aloe Vera is a must-have ingredient for DIY after-sun moisturizer. Aloe Vera is nutrient-dense and helps our skin heal faster from sunburn.
If you are lucky enough to have a plant in your house, you can cut the leaves in half, scoop out the insides, and use the fresh gel in your lotion. If you aren't a plant lady, check out this aloe vera gel. It is organic, non-GMO, and has no preservatives, dyes, or emulsifiers like other brands on the market.
Coconut oil helps cool and soothe sunburned skin and relieves symptoms such as itching and peeling. Coconut oil is high in saturated fats, which are great for moisturizing your skin.
According to NYC-based board-certified dermatologist Dr. Michele Green, coconut oil is great for the skin because it aids in every aspect of a sunburn. From soothing the feel of the burn and lessening the appearance to deeply hydrating skin to repair crisped damage, it's pretty much a godsend. Of course, it's only so beneficial if it's applied with care.
Rosehip Oil is high in Vitamin C and also contains vitamin E. Research shows us that when Vitamin C and E are combined, it can prevent sunburn from getting worse.
Lavender Essential Oil is great for calming down the sting of a sunburn and is gentle enough to be applied directly on top of damaged skin. Lavender is effective as a local anaesthetic due to being high in linalool and linalyl acetate, so it will help reduce the pain of a severe sunburn. (source)
The lavender essential oil's antifungal, antibacterial, and carminative properties are extremely useful in healing sunburn and treating other skin problems.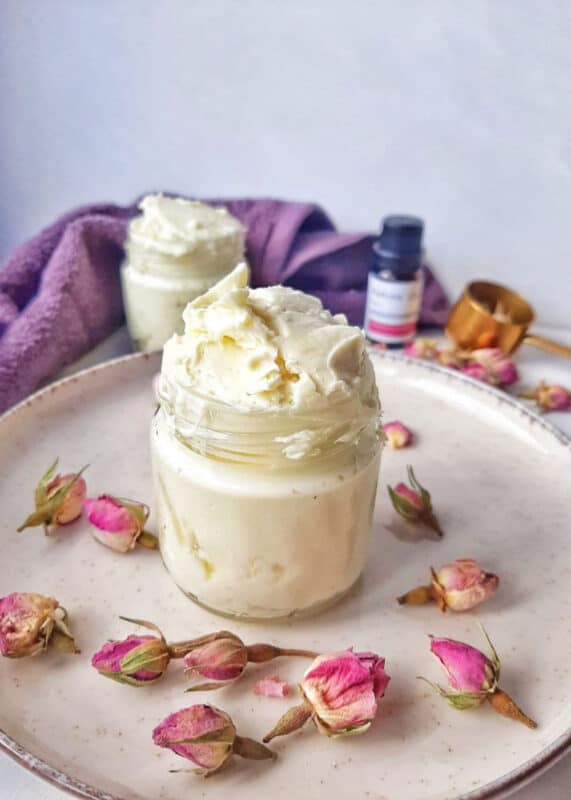 After Sun Lotion Recipe
Gather up all your ingredients. You can find them at a local health food store, but I will link here to some reputable brands that I trust on Amazon.
You will need a stand mixer or hand mixer to make this recipe.
Break shea butter into chunks and place in the mixer. Whip on high for 20 seconds. It will stick to the sides.
Scrape the shea butter from the sides. Add coconut oil and whip for 20 seconds.
Scrape sides again and add aloe vera gel. Whip for 20 seconds.
Repeat this process for the rosehip oil and lavender essential oil, adding them one at a time and mixing them well.
The after-sun lotion should be creamy and easy to remove with a spatula.
Store in a mason jar with an airtight lid.
Store in a cool, dark place, and this lotion should last for the summer. But I suggest storing it in the refrigerator because it will feel that much better on scorched skin.
Of course, the best way to prevent sunburn is to always slather on the sunscreen BEFORE you head out in the sun. But if you or someone you love forgets, try this super soothing AFTER-sun remedy.
More DIY Summer Recipes
How to Use Your After Sun Lotion
Even if you don't have a sunburn, this after-sun lotion recipe is a summer necessity to rehydrate and soothe sun-kissed skin. Apply it after a good scrub in the shower to remove sunscreen residue. Slather on this DIY sunburn cream, and your skin will drink in the oils and butters, dealing with sun-damaged skin while you sleep.