Summer is approaching, it has me thinking about sun protection.
Making homemade waterproof sunscreen isn't hard, and it works great. It even passed the "all day at the beach" test, and I have the sandy sunscreen recipe to prove it.
Regular sunscreen you buy from the store has a few questionable ingredients you will want to avoid. As usual, buying all-natural organic brands can be expensive, so making your own is the best option.
If you are looking for a light homemade waterproof sunscreen recipe for everyday use, I have the perfect one for you!
This homemade sunscreen recipe is easy to make, waterproof, and works great.
If you like my beauty recipes, join my Facebook group 🎉 This is the best place for broader DIY beauty stuff, behind-the-scenes, what I'm working on in real-time, and more!
💡 Do you dream of a perfect skincare routine (and products) but feel it's impossible since your budget is limited? Grab the recipes I'm using to craft 100% natural DIY beauty products that give top beauty brands a run for their money!  ❤️ HOMEMADE BEAUTY MADE SIMPLE ❤️
Why DIY natural sunscreen for summer?
For me, one such personal belief is that most sunscreen does not help avoid skin cancer and may actually increase the chances of it! This is one of the reasons I've been making DIY natural sunscreen for years (even though I rarely use it).
Sound crazy?
Sunburn is dangerous!
Sunburn is harmful!
It should absolutely be avoided!
But luxury and expensive sunscreen isn't the only way to avoid it.
We need a little sun on our bodies daily to keep the old Vitamin D levels up.
I like to get a little sun every morning because it gives me energy and makes me feel great.
I absolutely do not like to roast out in the sun all day.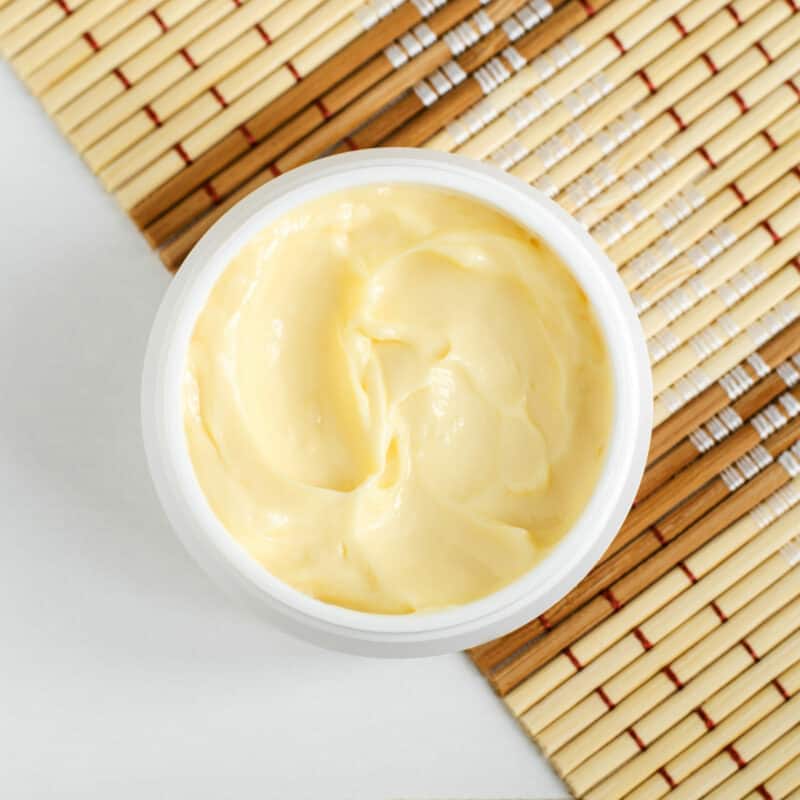 Why Homemade Sunscreen?
Avoid Hormone-Disrupting Chemicals
Over the past few years, I've been reading a lot about sunscreens. Lately, I've discovered that skin cancer rates have risen in the years since sunscreen use began.
In fact, many reports show that most sunscreens actually raise skin cancer risk.
In my opinion, the answer is simple: many sunscreens contain endocrine-disrupting chemicals such as oxybenzone.
Oxybenzone is a known hormone disruptor that is not recommended for use in children. It has been banned in many locations worldwide.
2. Protect the Coral Reefs
Recent research shows compounds in many types of sunscreen harm ocean life, especially coral.
Researchers estimate that "over 5,000 metric tons of sunscreen wash off of swimmers each year. This "swimmer pollution" threatens a large part of the coral life in the ocean and indirectly many other ocean species as well. This is because these compounds may awaken dormant viruses in symbiotic algae called zooxanthellae, which provide food and color to the coral".
Some sunscreen ingredients have even now been banned in some places due to their negative environmental effects on the coral reefs.
This homemade sunscreen recipe avoids all such ingredients.
Is DIY Sunscreen Safe?
Don't get me wrong. It's really difficult to make your own effective natural sunscreen – and how important it is for your sunscreen to work.
If you search online, you will find many articles claiming homemade sunscreens are harmful and that you should never use them. NEVER! The main reason is that you can't verify the SPF with homemade sunscreens, so the chance of burning is higher.
I agree with that!
Homemade sunscreens don't have the lab testing that conventional sunscreen products do. But, you know what else they don't have?
Endocrine disruptors and coral-killing compounds.
So while it may be true that we shouldn't use homemade sunscreens in the same way we use conventional ones, I'd also argue that we shouldn't use conventional sunscreens in the way we normally do, either!
Always get safe sun exposure! We are all different, so the amount and safety will vary by person. If you are unsure what is safe for your skin, do your own research and talk to a knowledgeable naturopath or dermatologist to figure out what works best for you!
How to Make a Natural Sunscreen That Is Safe for Your Skin
You've been wondering how to make a natural sunscreen for some time. And you really want to make your skin to be healthier and glowing.
Making natural sunscreen alternatives is not difficult at all. And this one is the easiest homemade sunscreen recipe ever.
What you will love about this all-natural sunscreen recipe is that it's simple. This homemade sunscreen recipe uses ingredients that are already shelf-stable.
As such, you can store yours for about six months. You won't believe how easy this is to make!
This is a homemade sunscreen recipe with coconut oil (around SPF 4-6). I'm a HUGE fan of coconut oil. I love slathering it on after a hot bath or shower. I have really dry skin, especially in the summer, and my skin just loves to soak up the coconut oil.
You will love this homemade waterproof sunscreen recipe because it is:
non-greasy
super easy to make (no fancy tools–just melt, stir and pour)
smells great
has flexible ingredients (so you can pretty much use what you have on hand)
Ingredients for Homemade Waterproof Sunscreen
Coconut oil – contains natural SPF properties. Be aware that it blocks only an estimated 20 per cent of the sun's damaging rays.
Aloe Vera – is a good active ingredient to reach for in your homemade sunscreen arsenal. It's been proven to both treat and prevent burns on your skin.
Shea Butter – naturally protects skin, making it perfect for use in homemade sunscreen.
Raspberry Seed oil – contains powerful anti-oxidants and vitamin E to help fight free radicals, renew skin cells and improve tone/elasticity. It has an SPF against UVB rays of 28-50 and an SPF against UVA rays of around 8.
Zinc oxide (non-nano) – a non-toxic, effective broad-spectrum sunblock. The particles sit on the outermost layer of your skin, scattering and absorbing UVA and UVB rays, protecting the skin below.
How to Choose your DIY Sunscreen SPF
With plenty of homemade sunscreen recipes, it's difficult to find one that will protect your skin from cancer-resulting UVB and UVA rays.
I chose to work with aloe vera gel for this homemade waterproof sunscreen because it's a good active ingredient. It's been proven to both treat and prevent burns on your skin.
Different amounts of zinc oxide are needed depending on what SPF you would like your DIY sunscreen to be. Be aware that the zinc oxide must be a certain percentage of the weight of your ingredients (before adding the zinc oxide).
2-5 SPF: Use 5% zinc oxide
6-11 SPF: Use 10% zinc oxide
12-19 SPF: Use 15% zinc oxide
>20 SPF: Use 20% zinc oxide
Homemade Waterproof Sunscreen Recipe
You will need:
Method
Combine all the ingredients except zinc oxide and aloe vera gel in a medium saucepan.
Let the shea butter and oils melt together at medium heat.
Let cool for several minutes before stirring in aloe vera gel.
Cool completely before adding zinc oxide. Mix well to make sure the zinc oxide is distributed throughout. You may want to add some beeswax or another waxy substance for a stickier consistency.
---
More DIY Summer Beauty Recipes