See how to make easy homemade Christmas body scrub recipes. The natural holiday body scrubs are great DIY gift ideas. Included are instructions for a peppermint mocha, orange spice, chai spice, and vanilla cookie exfoliating scrubs.
This is a great DIY holiday gift too, it's easy to make and package up in a cute little jar with some ribbon.
If you like my beauty recipes, join my Facebook group 🎉 This is the best place for broader DIY beauty stuff, behind-the-scenes, what I'm working on in real-time, and more!
💡 Do you dream of a perfect skincare routine (and products) but feel it's impossible since your budget is limited? Grab the recipes I'm using to craft 100% natural DIY beauty products that give top beauty brands a run for their money!  ❤️ HOMEMADE BEAUTY MADE SIMPLE ❤️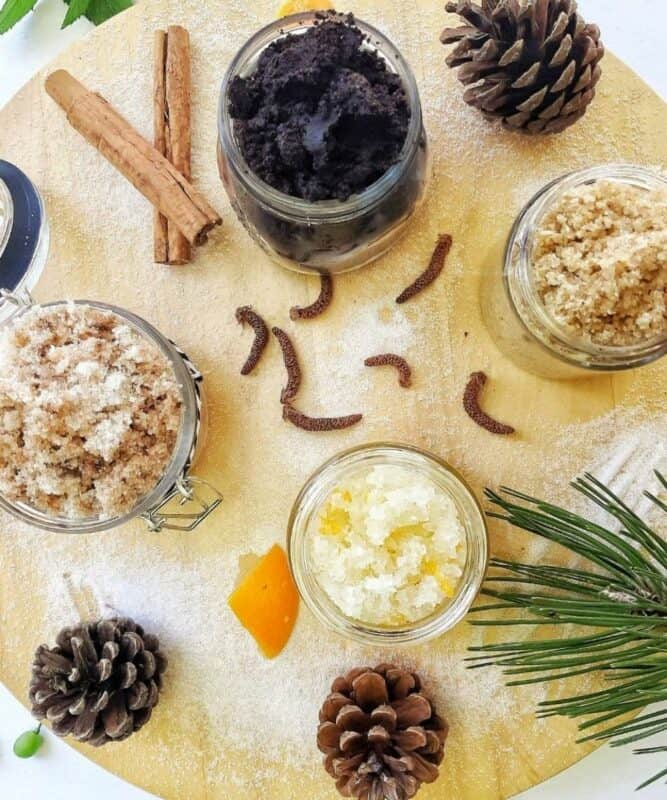 Disclosure: This post contains affiliate links, meaning, at no additional cost to you, we will earn a small commission if you click through and make a purchase. Learn more
How Do You Make a Christmas Body Scrub
Who's ready to crank up the holiday tunes and get in the kitchen? Since about all I can reliably cook up is pumpkin pie, I'll save my culinary creativity for homemade gift-giving. And beauty gifts are the best because the recipient gets the gift of soft, glowing skin.
The easiest way to have glowing skin during holidays is by using body scrubs. Because exfoliating will help you to achieve soft, smooth, and silky skin.
Exfoliating is good for you.
Did you know that you can make your own natural Christmas body scrubs for glowing skin?
Yes, that's right!
There is something special about homemade beauty products. They are made with love, and it feels as if they absorbed all the care and joy from your hands.
You can also customize your products to address the very skin issue that you have.
DIY body scrubs are inexpensive, yet they feel like a magic potion that transforms your skin into glowing and smooth.
By making your own all-natural body scrubs, you will save a lot of money (and your body) from chemicals.
You will notice that brown sugar body scrub is among the most popular ones in this kind of holiday season.
Brown sugar plays a role of an exfoliator, where it gently removes dead cells from your skin, leaving it silky and healthy.
You Will Love These 4 Holiday Sugar Scrub Recipes because:
they exfoliate and moisturize all at once
your skin will feel brand new
your skin will become incredibly soft and luxurious
they are super simple to make
it takes about 5 minutes to make them
they are much less expensive than store-bought sugar scrubs
they are a great holiday gift
Don't forget to pin these holiday sugar scrubs!
The best DIY holiday body scrubs
I'm so excited for you to try these Christmas sugar scrub recipes for the holidays (or anytime), for yourself, or as a gift. While these sugar scrub gifts are sure to impress, this homemade sugar scrub recipe is actually quite simple and made with ingredients you may already have in your (beauty) pantry.
For each of these scrubs, you can prepare them directly in the jar or mix the ingredients separately in a bowl and then pack them in jars. If mixing in the jars, adjust the amounts to fit the size of your container. You'll want to fill the jar about 3/4 of the way with the scrub element (salt, coffee, etc) and then add your oil until it covers the scrub.
As for the carrier oils, go with whatever light oil suits you, like almond, olive, safflower, etc. You can even use liquids like aloe or milk. Here's our no-fail scrub guide to give you some ideas!
4 DIY Holiday Sugar Scrubs Perfect for Gift-Giving
#1 Peppermint Mocha
Here's a natural peppermint mocha sugar scrub recipe that I know you'll love celebrating the holidays! This recipe is affordable and easy to make, making it perfect to use as special holiday gifts for friends, family, teachers, and more! It uses coconut oil, sugar, vanilla extract, coffee, honey, cocoa, and peppermint essential oil.
The benefits of the coffee grounds in the scrub are the antioxidants and caffeine. This scrub is supposed to be really good for cellulite.
Ingredients:
Instructions:
Mix coffee grounds, cocoa powder, and sugar in a medium bowl.
Add oils and honey and mix well.
Pour into a washed-out jelly jar.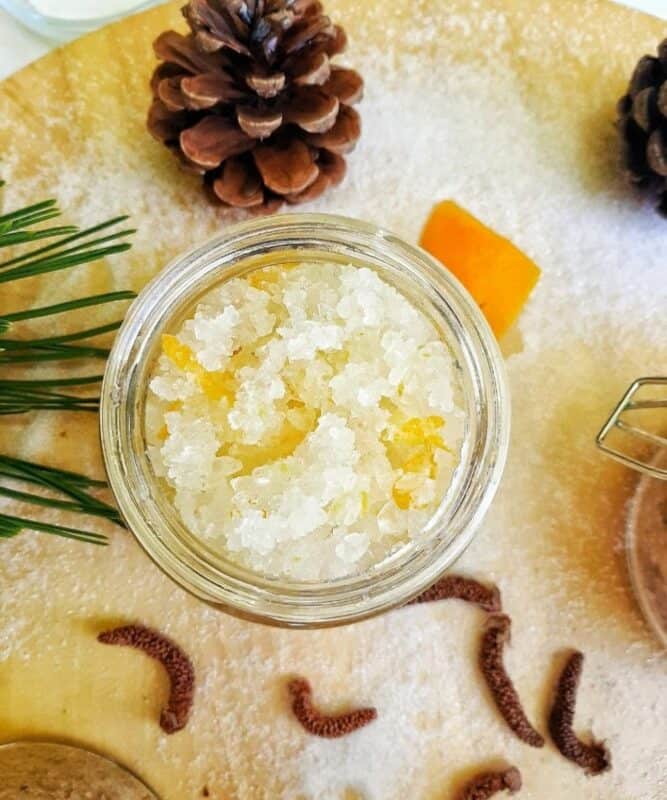 #2 Orange Spice
The scent of orange screams Christmas. Utilize the bright, refreshing scent of the popular Christmas stocking filler with this creamy whipped sugar scrub!
This luxe spiced orange sugar scrub brings a citrus grove and spa directly to your bathroom. The vitamin-rich DIY orange sugar scrubs slough deeply and brightens the skin while the invigorating scent uplifts your mind.
This Christmas body scrub is formulated with freshly grated orange zest, sweet orange essential oil, and cinnamon oil. Cardamom essential oil also pairs nicely with the orange fragrance.
Orange and Cinnamon Essential Oils are a beautiful combination – Orange is a happy oil that boosts mood and mentality, while Cinnamon Bark Essential Oil encourages healthy circulation and boosts the immune system. Paired together, it's a wonderful combination to use topically on the skin in the form of body scrub.
Ingredients:
Instructions:
Combine sea salt and the solid coconut oil in a medium bowl and beat together with a hand mixer (or a stand mixer). Beat together until smooth paste forms.
Add your orange essential oil, cinnamon, and orange zest, and mix well.
#3 Chai Spice Body Sugar Scrub
Chai spice is natural when it comes to sugar scrubs. It's a warm and yummy smelling scent, and the spices are actually beneficial to your skin.
Cardamom – Anti-aging, natural skin toner, great for acne.
Cloves – Wonderful for acne, blemishes, and scars.
Ginger – Increases blood flow, helps clear blemishes, evens skin tone, and has anti-aging benefits.
Nutmeg – Great for acne, eczema, and blemishes. Nutmeg also reduces redness and inflammation.
Cinnamon – Stimulates blood flow, is great for acne and eczema, and has anti-aging benefits.
Ingredients:
1 cup sugar
1 tsp cinnamon
1 tsp gingerbread
½ tsp clove
½ nutmeg
1-2 cups coconut oil
Instructions:
In a medium-sized mixing bowl, combine all of the ingredients with a fork until well blended. Transfer the sugar scrub to an airtight container until ready to use. If you decide to use essential oils, add only a few drops to the coconut oil after melting, slightly cooling, and before adding to the sugars, cinnamon, and spices. Mix, and store the same way.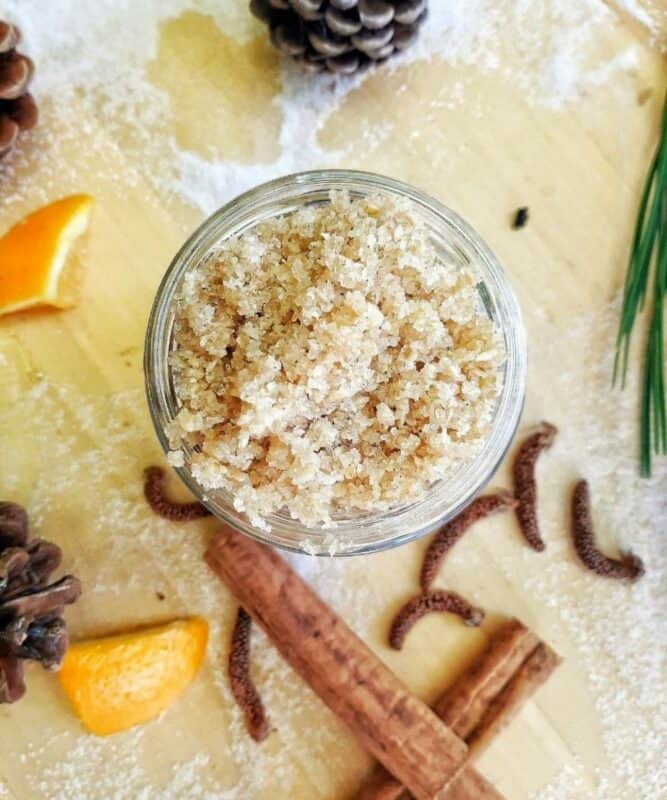 #4 Vanilla Cookie
This body scrub smells amazing, and though all ingredients can be found in your pantry and are edible, I wouldn't advise eating it, as it is mostly just sugar and oil. This easy DIY recipe is quick to whip up and only uses 6 ingredients. Also, a very frugal body scrub as it is a lot cheaper than many store-bought body scrubs out there.
Ingredients:
Mix all of the ingredients together in a small bowl. Once mixed, place in a container or jar with an air-tight lid.
Materials for making holiday sugar scrubs
The good news is that you don't need fancy equipment to make your sugar scrubs at home. And the tools you do need are probably already in your cupboard.
glass mixing bowl: Plastic and metal can react with some ingredients (e.g. clay, essential oils), so a glass mixing bowl is your best option.
spoon or whisk: You need a spoon or whisk to mix your sugar scrub and transfer the product into a storage container.
DO I NEED TO ADD A PRESERVATIVE?
No, since these Christmas sugar scrub recipes don't contain any water, you don't need to add any kind of preservatives.
How do you make holiday sugar scrub recipes?
How to make body scrubs for gifts? Let's do it together!
It's just 4 easy steps and 5 minutes of prep. Here is how to make your own Christmas scrubs:
1. The oil phase – Choose your carrier oil, and mix with essential oils, and vitamin E into a jar or a small mixing bowl. Stir to combine.
2. Prep the sugar base. If you use only botanicals like me, place the sugar and botanicals into a food processor and blend until combined and the botanicals are well dispersed.
Mix the Christmas scrub. Pour the oils over the sugar and combine.
Store the sugar scrub. Transfer the sugar scrub into airtight glass jars or storage containers and store sealed until ready to use.
This simple process is the same for all of the following four DIY scrubs for gifts.
More DIY Holiday Beauty Recipes
How much does the recipe make?
This essential oil sugar scrub recipe yields approximately 1 cup / 270 g / 9.5 oz product. If you need more holiday gifts, simply double or triple the recipe.
How to use DIY holiday body scrubs
The main purpose of a sugar scrub is to exfoliate and remove dead skin cells, revealing new skin. My homemade body scrub recipes are easy to spread on and will leave your skin cleansed, exfoliated, soft, and moisturized.
There are several ways to use easy sugar scrub recipes. Here are some tips for how to use sugar scrub to exfoliate your skin:
Hands and Feet: You can use Christmas scrub recipes to exfoliate certain body parts, like the bottom of your feet. Apply in the area you want to treat, massaging in circular motions.
Shower: Exfoliating in the shower is the best way to exfoliate your entire body. Wet your skin with warm water. Then massage small amounts of scrub on your skin. Rinse off with plenty of water.
Lip sugar scrub: These sugar scrub recipes are also excellent lip scrubs. Just pick a small amount with your fingers and massage it all over your lips. You can leave it on for two-three minutes, then wash it away.
Always use a spoon or spatula to remove body scrub from the jar. It's very important not to get water into the product during use.
Don't use the scrub on irritated or inflamed skin or open wounds.
Follow up with lotion or body butter afterward.
How often should you use the Christmas sugar scrub recipe?
Use these homemade beauty scrubs 2-3 times per week. If you use more you can irritate your skin.
How to store the sugar scrub recipes?
At room temperature, a homemade sugar scrub will last at least one to two months in an airtight container, like a mason jar with a lid. If you don't use it just store it in the fridge. Refrigerated, DIY sugar scrubs can last up to six months.
Let's connect!
If you like my beauty recipes, join my Facebook group 🎉 This is the best place for broader DIY beauty stuff, behind-the-scenes, what I'm working on in real-time, and more!
💡 Do you dream of a perfect skincare routine (and products) but feel it's impossible since your budget is limited? Grab the recipes I'm using to craft 100% natural DIY beauty products that give top beauty brands a run for their money!  ❤️ HOMEMADE BEAUTY MADE SIMPLE ❤️