If you're looking for a nourishing antioxidant homemade face mud mask that works to even skin tone, hydrate, improve elasticity, plump, brighten and reveal glowing skin, this recipe is right for you. This DIY matcha face mask is great for all skin types!
If you like my beauty recipes, join my Facebook group and sign up for my FREE 7-Day Skincare Challenge.
Disclosure: This post contains affiliate links, meaning, at no additional cost to you, we will earn a small commission if you click through and make a purchase. Learn more
The one piece of advice that changed my life
I have oily-combination skin with occasional flares of hormonal acne in the lower parts of my face.
Oiliness, redness, breakouts…
I've always had sensitive skin. Over the past few years, I've tried everything. Peroxides, harsh cleansers, restrictive diet, pills. If it was marked as acne, redness, etc… treatment, I tried it. No matter what products I used or how clean I ate—my skin would find a way to rebel.
So one day I just stopped using store-bought skincare products.
Then I picked up a book on natural skincare. It had advice on caring for skin at all ages, from natural products to use to attitudes towards caring for your complexion (Like, yogurt for blackheads and eggs for face lifting).
I didn't think anything gathered from my kitchen would be strong enough to make me feel at peace as a stood before the mirror, make-up-free.
Since my skin is also sensitive to many store-bought products, I often go the DIY route and create my own purifying DIY face masks with natural ingredients at home. And while I enjoy homemade skincare products with fresh ingredients (e.g. this rose face cream), the water content makes them highly perishable.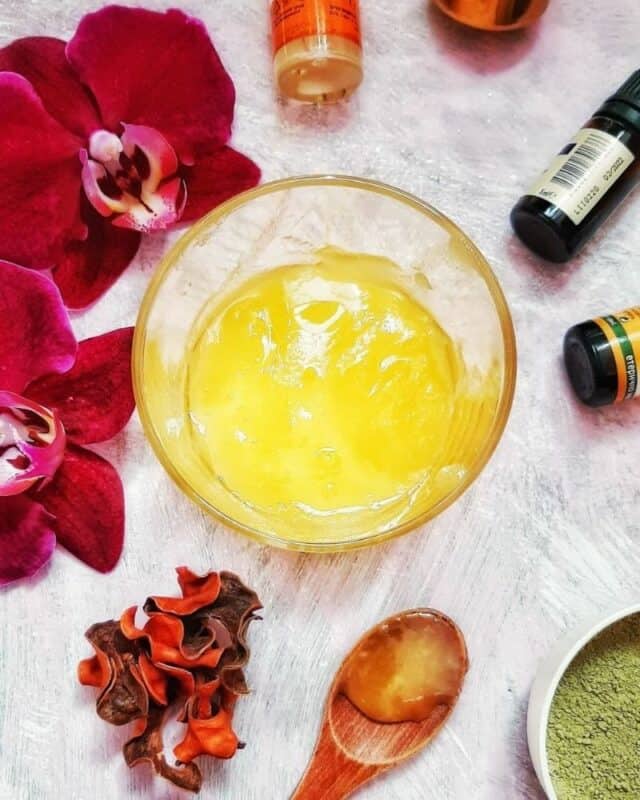 What ingredients are in this DIY matcha face mask
My all-natural homemade mud mask is formulated with aloe vera (gel, juice, or crapped from the plant), matcha, essential oils, and honey. Aloe vera is the queen of anti-inflammatory properties. It's very soothing, hydrating, and works to balance the skin's pH, while the other ingredients help to nourish and moisturize the skin. Here is everything you need to know about the ingredients in this detox mask and their benefits:
Honey
I've been using raw honey as a face mask for about two years now. I simply wet my face and spread raw honey over my skin and let it sit for 20 minutes. Raw honey alone improves skin hydration, protects against harmful bacteria, and supports the skin's natural acid mantle balance.
Honey has anti-bacterial and antiseptic properties that can soothe inflammation, while its anti-oxidants strengthen the skin and support cell regeneration.
Is Matcha powder good for your skin?
Matcha is a super potent antioxidant.
Green tea matcha also helps to plump and hydrate skin. It's rich in antioxidants that are well known for directly improving skin's elasticity by lowering oxidative stress compounds that would otherwise bind to collagen fibers and cause skin aging and fragility. Green tea also boosts healthy collagen production and improves skin hydration.
When applied topically, matcha is known to reduce puffiness and dark circles by improving blood circulation.
Aloe Vera
Aloe vera gel is the queen of anti-inflammatory properties. It's very soothing, hydrating, and works to balance the skin's pH.
You can use any aloe vera gel you have on hand. If you are looking to buy a bottle I like the Bader Aloe Vera Gel. However, nothing beats the potency of fresh aloe.
Unlike regular, market-bought moisturizers, Aloe Vera gel when used as a moisturizing gel doesn't leave a greasy film on the face and the skin. In fact, it does just the opposite – it unclogs the pores and softens the skin.
Aloe Vera gel has vitamin C and E, beta-carotene in abundance. Therefore, it has anti-aging properties. It also contains antimicrobial properties and is anti-inflammatory. It also helps to eradicate skin blemishes and diminish age lines. Additionally, it helps to increase the production of collagen in the body and skin elasticity.
Aloe vera gel absorbs easily, making it ideal for oily skin. However, it can help treat dry skin, too.
If you have your own plant, break off one of the leaves and scoop out the flesh. Some of the flesh can be chunky, try to aim for the more slimy bits that have a more homogenous consistency. You may have to scoop around a bit to get there. It will make for a smoother application and a better user experience.
Jojoba Oil
Jojoba oil offers luxurious hydration and smoothing — one of the world's most amazing natural beauty ingredients. Jojoba oil is very similar to our natural sebum (skin oil). For this reason, it's very effective at moisturizing skin and balancing natural oil production.
Essential Oils
I've also added a few essential oils I favor in skin formulations – calendula, rose, and geranium. This combo produces a lovely, intoxicating aroma (spicy, woodsy, floral). And these essential oils together help with puffy skin and are balancing without being aggravating.
To make this concoction simply mix everything together in a bowl with a spoon and store it in a sealed jar. Keep scrolling down to get the full DIY instructions.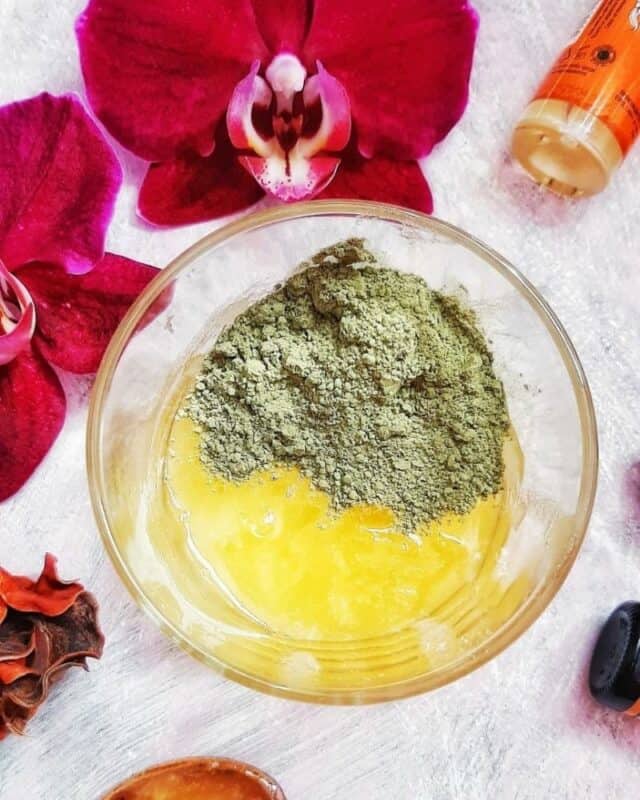 How do you make a Matcha mask?
Here's what you need:
1 tbsp matcha green tea powder
1/2 tsp aloe vera gel, juice, or scrapped from the plant
3 tsp raw, unrefined, honey
1 tsp jojoba oil
2 drops of rose essential oil
2 drops of geranium essential oil
3 drops of calendula essential oil
Mask brush (or fingers)
Mask bowl (or small bowl)
Small whisk or mixing device
Instructions:
In a small bowl combine the matcha green tea powder, aloe vera, raw honey, jojoba oil, and essential oils.
Stir together until you have a thick paste. For increased shelf stability you can optionally add 1/8 tsp vitamin e oil. Transfer to a clean, completely dry jar and store in a cool, dry place away from sunlight.
Using a mask brush or fingertips, gently apply the mask to the face and neck. If it's sticky and hard to apply, simply re-wet your face for a smoother application.
Leave on for 10 minutes.
Remove the mask with a warm/hot washcloth
Enjoy glowing skin!
Let's connect!
I created a fun little group on Facebook and I'd love for you to join in! It's a place where you can ask questions, share your ideas, and see what's new with Green Beauty Mama! If you'd like to check it out, you can request to join HERE.
Be sure to follow me on Instagram and tag #lorascleandiy so I can see all the wonderful recipes YOU make from this site! You can also Subscribe to my Newsletter so you never miss a beauty recipe again!
This gentle, all-natural DIY matcha face mask helps to cleanse and detoxify the skin, making you look radiant. Masking is an essential part of your battle against impurities such as acne, blackheads, or large pores. I love masking and usually apply quite a few different masks throughout a month.
xo,
Lora