These gingerbread sugar scrub cubes are the perfect holiday treat for your skin. They smell so delicious that you'll want to eat them. Double or triple the recipe for an easy under $5 Christmas gift idea.
If you like my beauty recipes, join my Facebook group 🎉 This is the best place for broader DIY beauty stuff, behind-the-scenes, what I'm working on in real-time, and more!
💡 Do you dream of a perfect skincare routine (and products) but feel it's impossible since your budget is limited? Grab the recipes I'm using to craft 100% natural DIY beauty products that give top beauty brands a run for their money!  ❤️ HOMEMADE BEAUTY MADE SIMPLE ❤️
Disclosure: This post contains affiliate links, meaning, at no additional cost to you, we will earn a small commission if you click through and make a purchase. Learn more
DIY Gingerbread Sugar Scrub Cubes
These easy gingerbread sugar scrub cubes are just as fun as a traditional scrub but with much less mess! Let's make adorable sugar scrub cubes.
They are made with a combination of shea butter soap base, oil, and sugar. The ingredients are quickly mixed together and poured into the mold. The soap base creates a texture that can be cut into small cubes. They're soft enough to break apart with your hands and apply. The cubes exfoliate, cleanse and hydrate the skin.
If you're unfamiliar with sugar scrub cubes, they're basically an easier, more convenient sugar scrub alternative. Sugar scrub cubes make individual uses easier to grab and scrub without worrying about getting water in your scrub, which would shorten its lifespan. These gingerbread sugar scrub cubes are adorable; they smell like a gingerbread cookie too!
You'll love this gingerbread sugar scrub cubes recipe because:
it's a great homemade remedy to remove dead skin
it exfoliates and moisturizes all at once
it's super simple to make
it has flexible ingredients (you have everything in your kitchen)
How to Make Gingerbread Sugar Scrub Cubes
Always prep your ingredients beforehand.
Once the melted soap, liquid oil, and sugar are mixed together, the mixture thickens very quickly. You have about 10 seconds to stir before the mixture becomes "gloopy" and more difficult to pour into the molds. Don't get crazy if it becomes too thick to pour. You can pop the mixture back into the microwave for about 5-10 seconds to melt the mixture and loosen it back up. Just be careful not to microwave it too much, or the sugar can start to melt!
Gingerbread Sugar Scrub Cubes Supplies
Rectangle Molds with Lids
Shea Butter Soap Base
Sweet Almond Oil
Brown Sugar
Cinnamon
Ginger
Nutmeg
Vitamin E Oil
Add the brown sugar and spices to a large mixing bowl.
Whisk to combine and set aside.
Melt shea butter soap base over a double boiler. Add almond oil and stir until completely melted.
Remove from microwave and stir.
Add almond oil and stir until completely melted.
Once the soap is melted, remove it from the stove and stir in vanilla extract. Allow cooling for one minute.
Next, add the Vitamin E oil and stir to mix it.
Combine soap with sugar mixture. Use your hands to press the mixture into the mold. You'll need to work quickly to avoid having the sugar harden. Once your mold is filled, you can place it in the freezer for 15 minutes or allow it to harden overnight. This recipe makes 15 gingerbread sugar scrub cubes.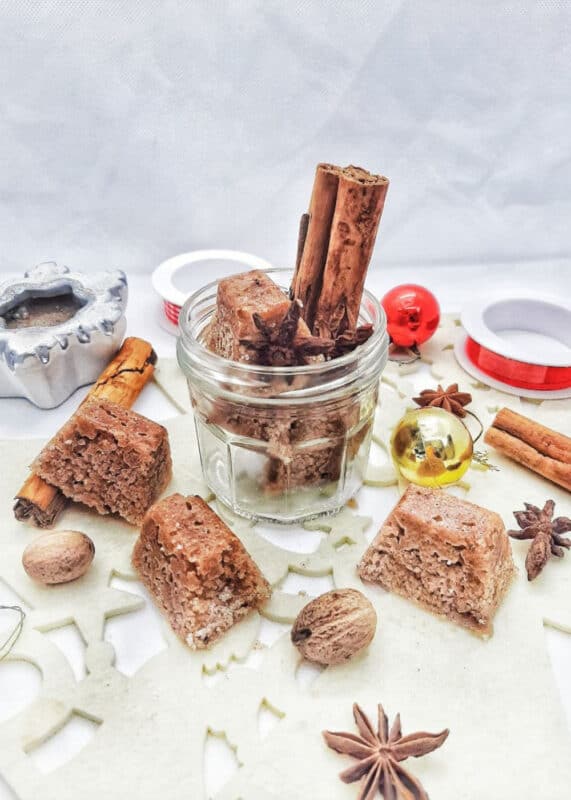 How to Store and Gift These Sugar Scrub Cubes
I probably make sugar scrub cubes every week, and my bathroom is full of all sorts of natural body scrubs.
You can store these gingerbread sugar scrub cubes in an airtight container. These hermetic jars are my favorites to store my solid sugar scrub recipes.
To use, bring 1-2 gingerbread sugar scrub cubes into the shower. Under the water, rub the cubes in a circular motion onto wet skin Rinse thoroughly, and follow up with your favorite moisturizer.
These cubes will be fresh for about 6 months.
More DIY Holiday Beauty Recipes
P.S. – I created a fun little group on Facebook, and I'd love for you to join in! It's a place where you can ask questions, share your ideas, and see what's new with Green Beauty Mama! If you'd like to check it out, you can request to join HERE