This DIY Gingerbread Body Butter recipe is a favorite idea for homemade Christmas gifts that are meaningful!
If you like my beauty recipes, join my Facebook group 🎉 This is the best place for broader DIY beauty stuff, behind-the-scenes, what I'm working on in real-time, and more!
💡 Do you dream of a perfect skincare routine (and products) but feel it's impossible since your budget is limited? Grab the recipes I'm using to craft 100% natural DIY beauty products that give top beauty brands a run for their money!  ❤️ HOMEMADE BEAUTY MADE SIMPLE ❤️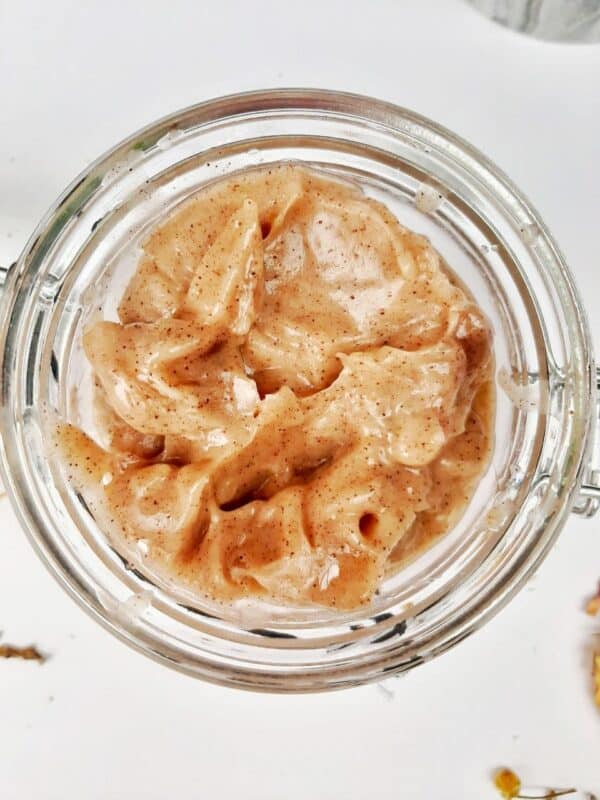 Disclosure: This post contains affiliate links, meaning, at no additional cost to you, we will earn a small commission if you click through and make a purchase. Learn more
If you're looking for the perfect gift for the gingerbread lover in your life or for some last-minute handmade gift ideas, you will definitely want to check out this Gingerbread Body Butter. It's the perfect gift for friends or family and to gift to yourself, too! Pair it with the Gingerbread Cookie Scrub I shared with you a couple of weeks ago.
Because Nothing says Christmas like Gingerbread Cookies, and this Gingerbread Body Lotion makes an awesome DIY Christmas or hostess gift. It literally smells like your Grandma's home when she would bake her famous Gingerbread Cookies. Seriously! I've long wanted a way to immerse myself in this delicious scent year-round, and now, thanks to this homemade body lotion recipe, I can!
This body lotion recipe for gingerbread body lotion is a guilt-free way to enjoy the tantalizing scents of fall and the holiday season. Instead of ingesting calories and padding your waistline, you'll get super soft skin that isn't at all phased by the drying effects of winter.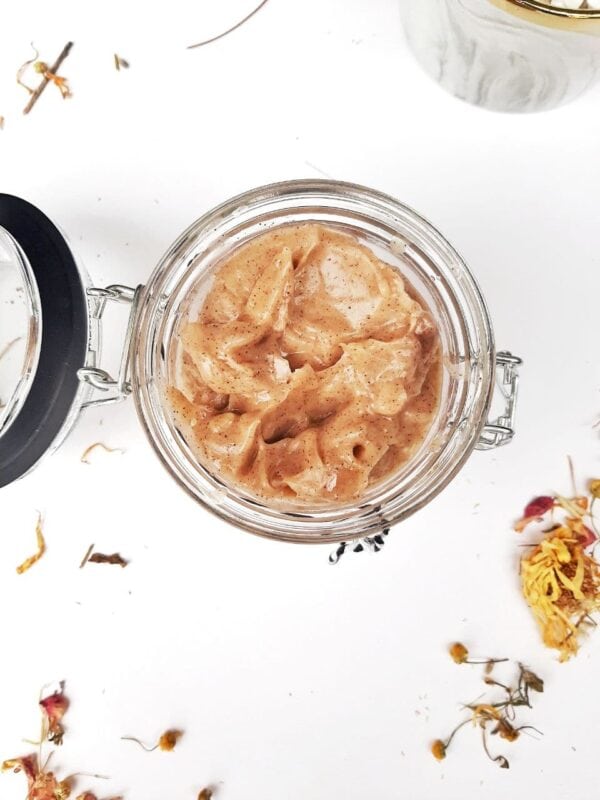 DIY Gingerbread Body Butter Recipe
Making a natural DIY gingerbread lotion recipe is not difficult at all.
What you will love about this DIY gingerbread body lotion recipe is that the recipe is easily customizable. This body lotion recipe uses ingredients that are already shelf-stable. As such, you can store yours for about six months.
Shea butter is indeed excellent for the skin. Its unique nutrition concentration works wonders on the skin. Shea butter is another moisturizer; however, it's also rich in vitamin A, which is your skin's BFF. Vitamin A helps reduce the appearance of blemishes, scars, stretch marks, wrinkles, and more.
Coconut oil helps bolster your skin's protective barrier layer, trapping moisture inside and keeping skin supple and hydrated. It contains lauric acid, which possesses antibacterial and anti-inflammatory properties to help prevent acne breakouts and soothe red, irritated skin.
Essential Oils
This easy DIY gingerbread body lotion uses essential oils. While they aren't necessary, adding them can turn your butter from simply moisturizing to something that really addresses what is going on with your skin.
Ginger essential oil offers several natural skincare and beauty benefits when used as an ingredient in your skincare formulations. A natural anti-inflammatory, ginger essential oil feels warm on the skin when you use it topically. It's antimicrobial, anti-inflammatory, and full of antioxidants to combat the signs of aging.
Cinnamon Essential Oil
Cinnamon oil has a high concentration of antioxidants, which means that it fights free radicals and combats signs of aging when used in skincare.
I also use cinnamon powder, ginger root (grated), and vanilla extract for this gingerbread body lotion recipe.
Here's the full list of ingredients and necessary equipment:
Ginger
Cinnamon
Cinnamon Essential Oil
Hand Mixer
Small Jars
As you can see, this DIY gingerbread body lotion recipe doesn't just smell good, it's good for you. If only the same could be said about actual gingerbread.
Ingredients:
Instructions:
Add the Coconut oil and the Shea butter to a small saucepan. Melt over medium heat, stirring frequently. Remove the saucepan from the heat and let sit until cooled to room temperature.
Scoop the mixture into a bowl and set it in the fridge for 20-30 minutes.
Remove from the fridge, and add ginger, cinnamon, essential oils, and vanilla extract.
Whip on high for 5 minutes or until the mixture is a creamy, fluffy consistency.
Scoop the body butter into an airtight container, such as a mason jar, and seal. Keep the body butter at room temperature for about 6 months. If you see a separation simply stir well.
More DIY Christmas Beauty Recipes