These DIY Herbal Bath Tea Recipes are easy to make with your favorite herbs and essential oils. I've been making a herbal bath for over a year, and it is the real deal.
If you like my beauty recipes, join my Facebook group 🎉 This is the best place for broader DIY beauty stuff, behind-the-scenes, what I'm working on in real-time, and more!
💡 Do you dream of a perfect skincare routine (and products) but feel it's impossible since your budget is limited? Grab the recipes I'm using to craft 100% natural DIY beauty products that give top beauty brands a run for their money!  ❤️ HOMEMADE BEAUTY MADE SIMPLE ❤️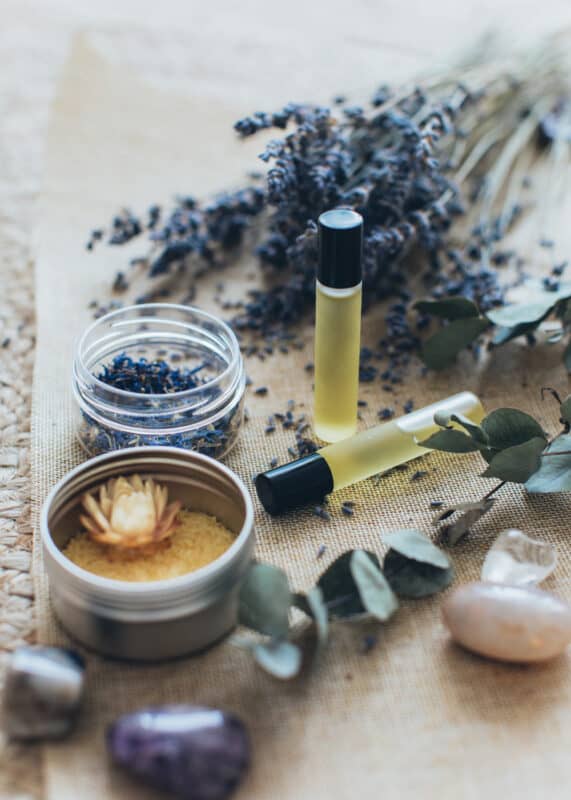 As a mommy blogger at home with one little girl, I know the importance of self-care. That moment, after a long and busy day (or a week), when everything is all about you. A bath sounds nice, right?
Taking a relaxing bath with a bath bomb, bath salts, bath tea, or bubbles is one of my favorite ways to pamper myself. There's something so calming about a scented bath. It's my favorite way to unwind after a long day or soothe sore muscles after a hard workout.
These herbal bath tea recipes are 100% natural, easy to make, and will improve not only your outside beauty but also your health and wellbeing from the inside out. And as with most tea blends, these can be premade and stored in glass jars so you can use them as frequently as you want.
PIN IT FOR LATER!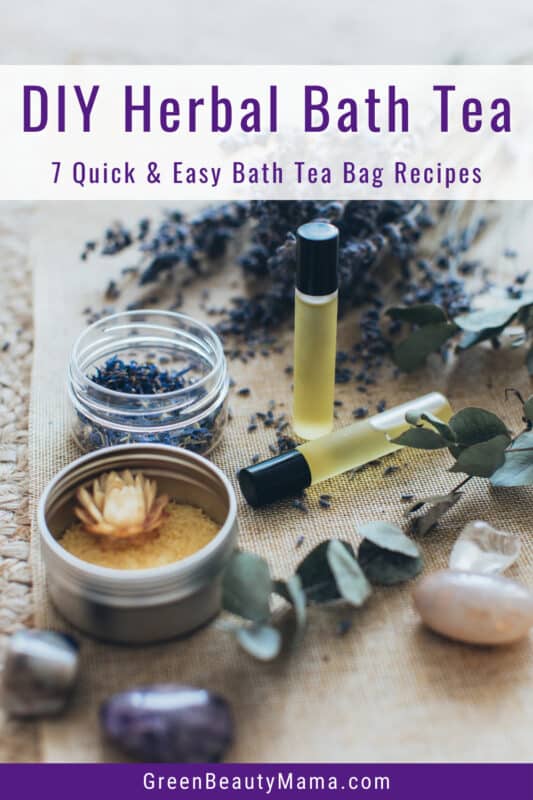 Can you use herbal tea in the bath?
Any herb you'd use in herbal tea to drink can be used for bath tea.
Making an herbal bath is similar to making tea. By making a strong herbal tea and adding it to your bathwater, you can get the full benefits of water-soluble plant medicine without leaving your tub a big mess of dried flowers and leaves.
Making a bath using herbal tea can provide far better benefits, ranging from improved skin tone and texture to reducing pain and inflammation. Tea is just that powerful.
What are DIY herbal tea baths?
The healing powers of herb-infused waters have been celebrated for thousands of years, dating back to the ancient Egyptians when Cleopatra was said to bathe in rose petals.
The amazing healing benefits of plants can be seen immediately when using an herbal soak. You simply mix these together, place them in the bath, and let the magic happen.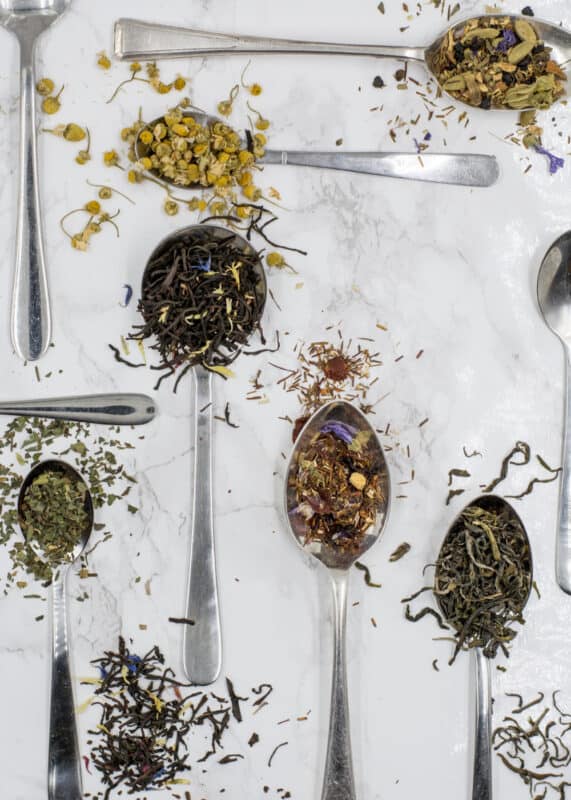 How do you make herbal bath tea?
Making bath tea is pretty easy. All you need are a couple of basic ingredients.
To start, you'll need one quart of boiling water and one ounce of dried herbs for tea. If you're not sure where to get herbal tea…..
There are two ways to prepare a herbal bath tea:
The first way to make your bath, begin by boiling the water and pouring it over the tea. Cover the pot and allow it to steep for twenty to thirty minutes. Next, you'll strain the liquid using a cheesecloth, a tea strainer, or just an old shirt (it should go without saying, but try to use a clean one). The tea should be added directly to a full, hot bath.
The second way is by mixing the herbs together in a muslin bag or a cloth. Tie off the top and swirl it in the bathwater, allowing the fusion to steep for as long as you like. The longer the better. I normally let them sit for at least 20 minutes or 30 if I want more infused water. 
Common bath tea ingredients
Milky Oats: The rich and hydrating milky nature of oats is a welcome relief for soothing itchy skin conditions such as poison ivy, chickenpox, or other stress-related skin conditions.
Dried flowers add a touch of fragrance and flair! They'll add glamour to your bath and appealing gentle scents, even to the likes of Cleopatra.
Add some chamomile if you're dealing with aches and pains. Chamomile can also reduce the effects of certain types of insect bites.
Lavender is a classic herb for stress and sleep. 
Rose petals are both floral and soothing. 
Lemon balm calms the mind and soothes restlessness.
Calendula: Calendula is a super herb loaded with benefits for the skin. It promotes supple, nourished skin, provides protection against free radicals, which can promote signs of premature aging, and promotes wound healing. 
Green tea leaves: Green tea's well-known anti-inflammatory properties can help with skin irritation such as sunburn and scrapes.
Ginger & Turmeric: the best combination if you need a body detox. Bring with you a glass of really cold water.
Bath Salts: detoxifying, soothes sore muscles, reduces stress and inflammation.
Clays: are another option if you are looking for a detox bath. drawn out and binds to toxins and can contribute to clearer, healthier-looking skin. Both bentonite clay and french green clay are working perfectly.
Essential Oils: for more aromatic bath blends, try using essential oils combined with a carrier oil. Feel free to combine them with herbs as desired.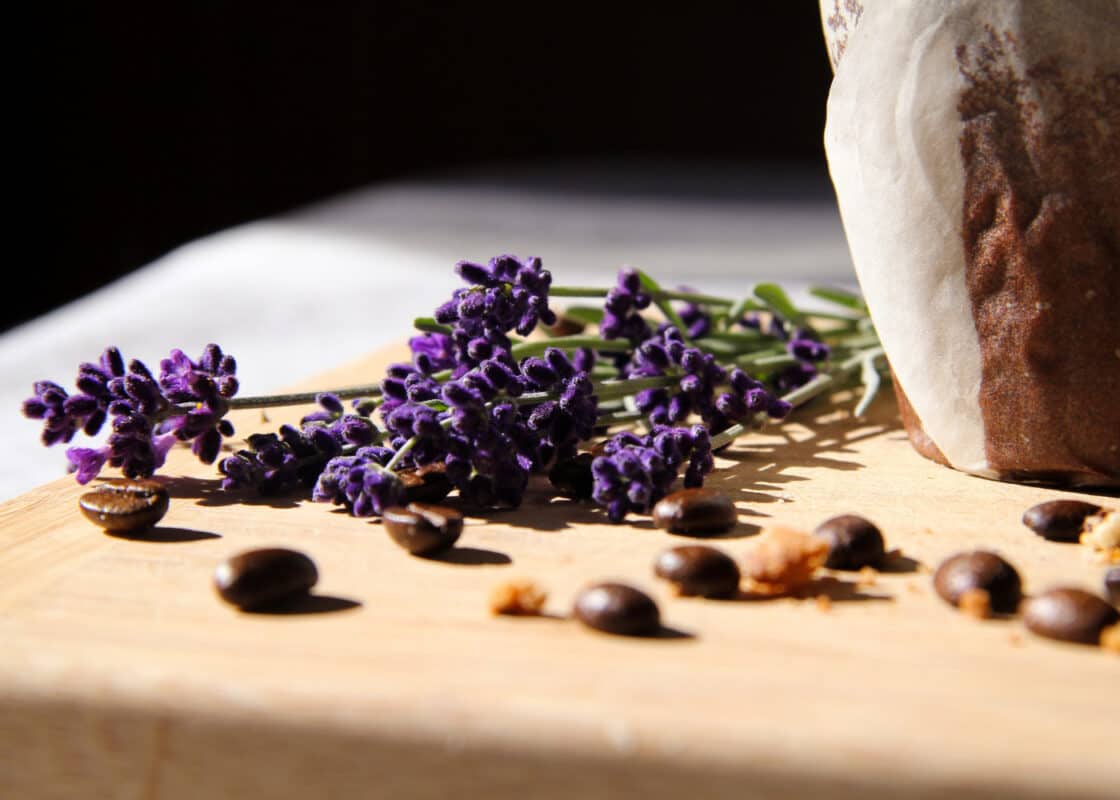 Herbal bath benefits
Using herbs in your bath can help to infuse your bathwater with antioxidants and minerals while also reducing inflammation and helping to balance your skin.
Softening the skin
May delay skin cell aging
Stress relief and enhanced relaxation
Soothing of tight muscles, necks, and shoulders
Help to balance skin tone
Aids relief of skin conditions such as eczema and psoriasis
Fights free radicals
Prevent acne
Heals sunburn
Heals scars and bruises
Prevents acne
My Favorite 7 DIY Herbal Bath Tea Recipes
Basic Bath Tea Recipe:
1/2 cup dried herbs
500 ml boiling water
Bring the water to a boil and pour it over the dried herbs.
Cover, and let steep for at least 20 minutes.
Strain the liquid through a tea strainer, cheesecloth, or clean old shirt.
Add the tea directly to a full, warm bath. For additional relaxation, add 2 cups of Epsom salts directly to the bath.
#1 The Calming & Relaxing Herbal Bath Tea Blend:
This blend has lavender, chamomile, lemon balm, and rose petals.
1/2 cup lavender flowers
1/2 cup chamomile flowers
1/2 cup lemon balm
1/4 cup rose petals
This bath tea recipe is perfect to soothe and relax. It's ideal for after a long day at work, before going to bed.
#2 Anti-inflammatory Bath Tea
This blend has Epsom salts, ginger, baking soda, and dried yarrow.
2 cups Epsom Salts
1 cup Baking Soda
3 Tbsp ginger powder (or grated ginger root)
1/3 cup dried yarrow
500 ml water
This DIY herbal tea blend is perfect for a relaxing bath that will make your aches and pains drift away.
#3 Relaxing & Moisturizing Rose Bath Tea Recipe
This blend has olive oil, rose petals, rose water, and rose essential oil.
¼ cup olive oil
⅓ cup rose water
⅓ cup rose petals
20 drops of rose essential oil
This herbal tea blend is the best way to moisturize your skin naturally.
#4 Relaxing & Soothing Herbal Bath Tea Blend
This blend has oats and coconut oil
1 muslin bag
¾ cup oats
2 tbsp extra virgin coconut oil
This DIY Bath Tea is perfect for skin rashes and eczema, dry and sensitive skin.
#5 Refreshing Bath Tea Blend with Matcha Green Tea
This blend has Epsom salts and matcha green tea.
1 cup Epsom salts
¼ cup matcha green tea
A matcha green tea bath replenishes and restores balance to your skin. Matcha green tea also has natural antioxidants, which help detox your body from toxins.
# 6 Deep Cleaning Bath Tea Blend
This blend has Epsom salt, apple cider vinegar, sea salt, and lemon juice.
½ cup Epsom salt
½ cup apple cider vinegar
¼ cup sea salt
Juice of a 1 lemon
This is the best detoxifying therapy for your skin.
#7 Romantic Chocolate Bath Tea Blend
This blend has cocoa powder, rose petals, and oats.
1 cup cocoa powder
½ up oats
⅓ cup rose petals