This easy Himalayan salt scrub recipe exfoliates and moisturizes skin at once.
If you like my beauty recipes, join my Facebook group 🎉 This is the best place for broader DIY beauty stuff, behind-the-scenes, what I'm working on in real-time, and more!
💡 Do you dream of a perfect skincare routine (and products) but feel it's impossible since your budget is limited? Grab the recipes I'm using to craft 100% natural DIY beauty products that give top beauty brands a run for their money!  ❤️ HOMEMADE BEAUTY MADE SIMPLE ❤️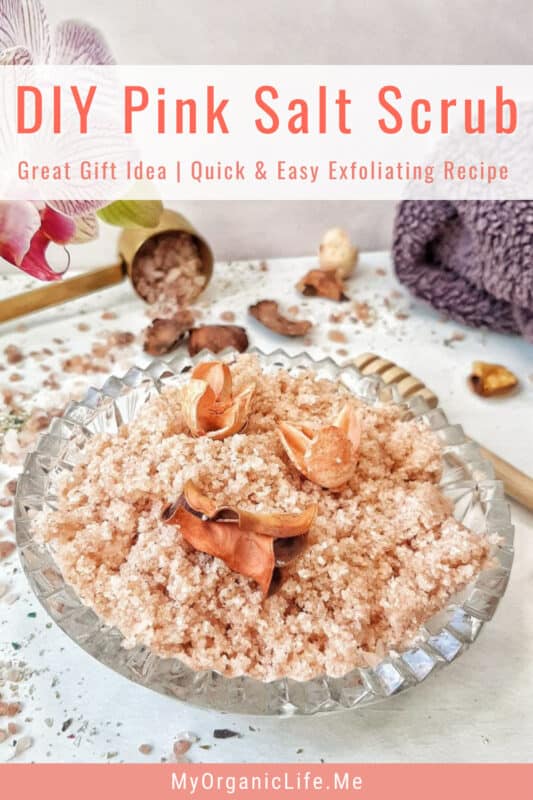 Disclosure: This post contains affiliate links, meaning, at no additional cost to you, we will earn a small commission if you click through and make a purchase. Learn more
Your skin will feel brand new, incredibly soft, and luxurious. This pink Himalayan salt scrub recipe is made with just a few main ingredients that you likely have on hand already! Making the homemade scrub takes about two minutes and is much less expensive than store-bought body scrubs.​ Use it as the perfect holiday gift-giving in cute reusable glass jars!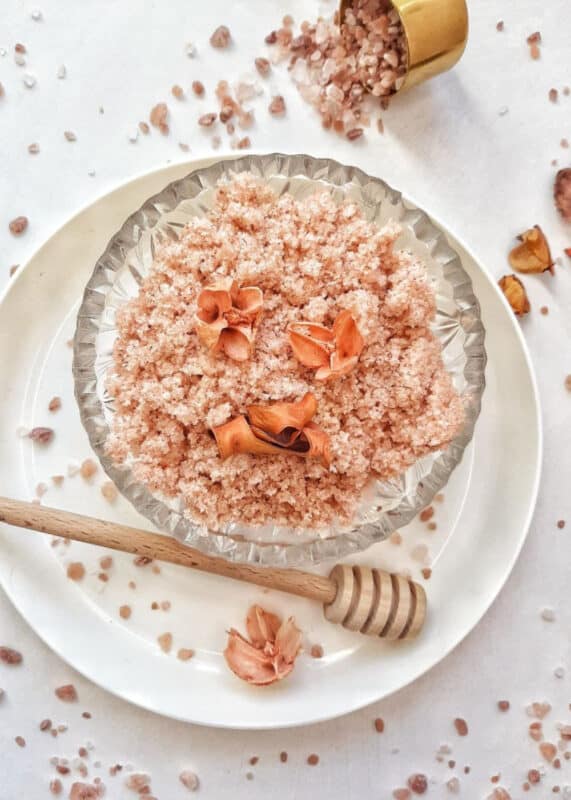 Himalayan Salt Scrub Recipe
Homemade salt scrubs are one of the easiest body products to DIY, yet they are still so luxurious! Today, I feel excited to present you with this pink Himalayan salt scrub recipe.
My easy salt body scrub recipe is lovely for the winter season or any time of year. You'll love how easy it is to make this homemade salt scrub. This body scrub is made with pink Himalayan salt, coconut oil, and essential oils. It's exfoliating, fragrant, and relaxing all at the same time.
I hope you feel inspired to create this Himalayan salt scrub recipe for yourself or as a sweet gift for your friends, neighbors, or your kids' teachers.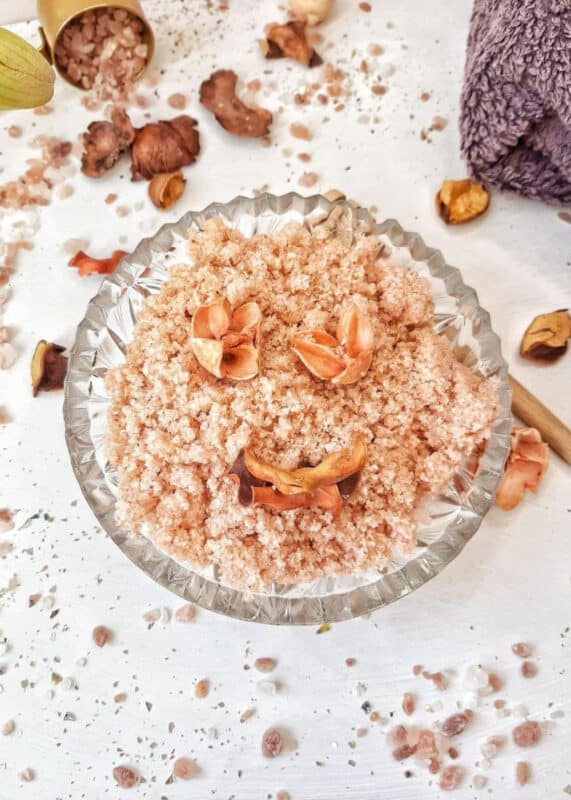 What is Pink Himalayan Salt?
Pink Himalayan salt is a type of sea salt mined at the foothills of the Himalayas. Because the salt was covered by lava and ice for centuries, it's free of pollutants and one of the purest types of salt. Since pink Himalayan salt is only minimally processed, it still contains most of its original minerals and traces elements.
"Himalayan salt is rock salt mined from the Punjab region of Pakistan. The salt often has a pinkish tint due to mineral impurities. It is primarily used as a food additive as table salt but is also used as a material for cooking and food presentation, decorative lamps, and spa treatments." – Wikipedia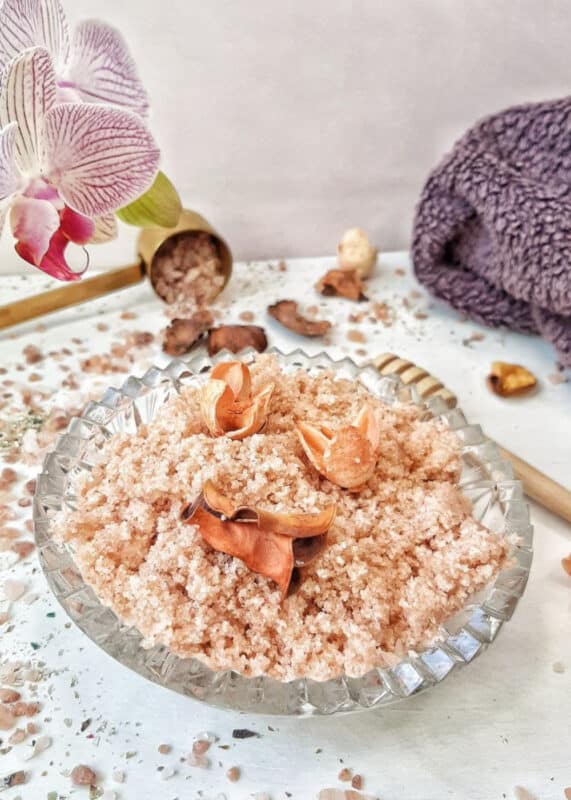 Is Himalayan salt good for your skin?
Yes, pink Himalayan salt can be a great skincare ingredient.
Himalayan salt is a brilliant natural exfoliator that will blast away dead cells for softer, brighter-looking skin.
It may come as a surprise, but salt can actually soothe sensitive and upset skin.
The salt's mineral content balances the skin's pH levels, detoxifies impurities, and helps the skin muscles contract, calm, and relax.
Salt body scrubs are great for exfoliating your skin, as they aid in keeping it healthy by removing dead skin cells, lifting away dirt and excess oil, and stimulating circulation.
Himalayan salt scrub benefits
Pink Himalayan salt consists mostly of sodium chloride but features over 80 minerals such as potassium, magnesium, and iron. These nutrients are said to be beneficial when absorbed through the skin. Salt is an excellent exfoliator. Bathing in a solution of water and pink salt may help to draw out sweat, impurities, and toxins from the skin, stimulate circulation and make dry skin soft and supple.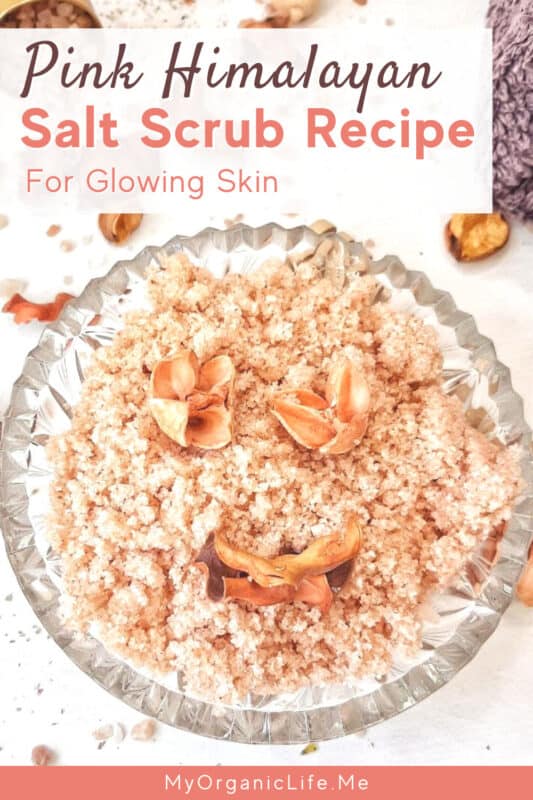 DIY Himalayan Salt Scrub Ingredients
This easy salt body scrub recipe takes about two minutes to make, and it's so much less expensive than store-bought brands! It's made from just two main ingredients. There are many add-in opportunities here since the base of this recipe smells neutral and is very simple.
Pink Himalayan salt adds an extra boost of nutrients. You'll need fine or extra-fine pink Himalayan Sea salt for this recipe. Salt sometimes gets a bad rep for being too harsh, but you can grind it in a blender to create smaller grains.
Coconut oil is moisturizing and conditioning and has antiviral and antibacterial properties. Look for unrefined coconut oil. Or use Fractionated Coconut Oil as it is non-greasy.
Essential oils
You can fragrance your DIY Himalayan salt scrub with essential oils. My favorite one for this homemade scrub is peppermint. Just add your favorite essential oils to the mix and take the benefits of your scrub to a whole new level of luxury and efficacy. Consider the purpose of your body scrub to help you decide what essential oil(s) to use:
For a relaxing spa night: Lavender
For healthy skin: Geranium, Frankincense, or citrus oils
For fresh feeling: Lime, Peppermint, Lemongrass
Should I use a Preservative?
No, adding a preservative to salt scrub is unnecessary because it doesn't contain water. Be careful not to introduce water to the homemade body scrub in the shower.
You can also add some vitamin E to give the scrub an antioxidant boost and help prevent the oils from oxidizing if preferred.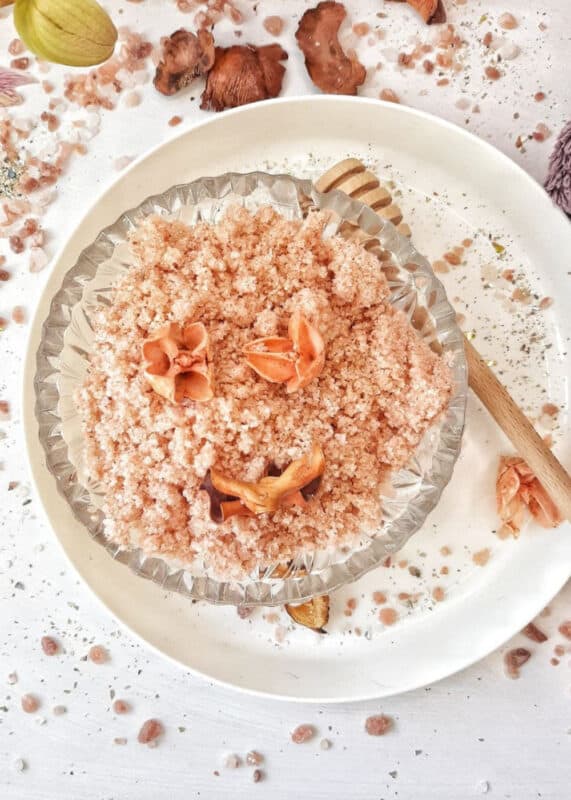 How to Make Himalayan Salt Scrub
DIY salt scrubs are a wonderful and inexpensive handmade gift idea.
Place about 3/4 C of pink Himalayan salt into a medium-sized mixing bowl. Pour the coconut oil over the salt. Using a spoon, mix until the salt is moistened and everything is well combined (this will take several minutes).
Finally, mix in about 10 drops of the essential oils of your choosing. For the recipe pictured here, I used Peppermint essential oils.
Transfer the Himalayan salt body scrub into a storage container.
How to Use Pink Salt Scrub
Follow these simple steps for how to use salt scrubs to exfoliate your body:
Thoroughly wet and soften the skin with warm water.
Apply the salt scrub with your hands. Use gentle, circular motions to cover your body and massage the scrub into your skin.
Rinse off with water.
Pat your skin dry and follow up with a body lotion or body butter to help lock in moisture.
More DIY Himalayan Salt and Bath Soak Beauty Recipes
7 Amazing Herbal Bath Tea Recipes
Can you rub Himalayan salt on your face?
Some people rave about the benefits of using a Himalayan salt sole on their faces. Due to its anti-bacterial and anti-inflammatory properties, a Himalayan salt sole can be used as cleansing water or toner to reduce acne, redness, and any dryness that your face might be suffering from.
When should I not use a salt scrub?
Avoid a body scrub on irritated skin (e.g. rashes, sunburns.) Salt will sting so avoid using the scrub on open wounds or freshly shaved legs. Exfoliating before shaving can help to treat ingrown hairs.
How do I store DIY Himalayan salt scrubs?
Store the DIY salt scrub recipe in an airtight glass jar or storage container, away from heat sources and direct sunlight. The room temperature is usually fine.