Discover the amazing Himalayan salt bath benefits with this quick homemade bath soak recipe. The DIY bath salts are great for relaxing a tired, achy body and sharpening the mind. You only need a few ingredients for this Himalayan salt bath recipe, which also makes a lovely handmade gift.
If you like my beauty recipes, join my Facebook group 🎉 This is the best place for broader DIY beauty stuff, behind-the-scenes, what I'm working on in real-time, and more!
💡 Do you dream of a perfect skincare routine (and products) but feel it's impossible since your budget is limited? Grab the recipes I'm using to craft 100% natural DIY beauty products that give top beauty brands a run for their money!  ❤️ HOMEMADE BEAUTY MADE SIMPLE ❤️
Disclosure: This post contains affiliate links, meaning, at no additional cost to you, we will earn a small commission if you click through and make a purchase. Learn more
Natural + easy Himalayan Salt Bath Recipe
I have always been a bath person. Like most kids, bath time was my favorite time of the day. Even now, the best way to relax and unwind after a stressful day is by taking a long bath. And I always do some sort of salt bath.
Soaking in a warm bath after a long day and enjoying all those amazing Himalayan salt bath benefits is a gift we all deserve to give ourselves. I infused the bath soak with essential oils to amplify the skincare benefits and provide aromatherapy. Seriously, I can't wait for you to try it!
What is Himalayan Salt
Himalayan salt is a type of rock salt that is naturally pink in color. It's mined from the Punjab region of Pakistan, on the foothills of the Himalayas. Its natural pink hue comes from the salt's trace amounts of iron oxide (rust).
There are many Himalayan salt bath benefits for your skin and health. As for the trace minerals like potassium, calcium, magnesium, iodine, zinc, and more, pink Himalayan salt reportedly contains more than 80 minerals that aren't found in regular salt.
Himalayan Salt Bath Benefits
What do Himalayan bath salts do? Himalayan salt bath has a wide array of benefits for relaxation and well-being. Enjoying a bath filled with warm water, Himalayan salt, and essential oils is one of the best ways to restore your mind and body after a long day.
Let's talk about the potential benefits of a Himalayan salt bath:
provides relaxation and helps induce sleep
improves feelings of stress and anxiety
soothes muscle soreness and joint pain
improves skin health and hydration
reduces inflammation and muscle cramps
improves respiratory problems
balances the body's pH
delivers magnesium
treats eczema, acne, and psoriasis
Materials for Himalayan Salt Bath
All you need is 3 ingredients to make Himalayan bath salts at home. Here's a breakdown of the natural bath salt ingredients and their skincare benefits:
Pink Himalayan salt is the main component in this homemade bath soak. This bath salt recipe is very customizable and can use many kinds of salt. Epsom salt or Sea salt would also make excellent additions.
Essential Oils
There's no need to add essential oils to your homemade bath soak recipe. You can use this Himalayan salt as it is. But if you want to add some cozy feeling to take this Himalayan bath soak to the next level, try adding essential oils for natural fragrance, aromatherapy, and more skin benefits. You can find several essential oil blend ideas below.
Carrier Oil
Including carrier oil (like almond or jojoba oil) in the formula ensures that the essential oils mix into the bath water and don't just float on top of the surface.
Essential oils for Himalayan Salt Bath Soak
Try these essential oil blends in your Himalayan bath salts recipe for maximum health & wellness benefits:
Relaxing blend: 15 drops Clary sage + 8 drops Bergamot + 15 drops Lavender + 10 drops Roman Chamomile
Peaceful Sleep: 10 drops Geranium + 8 drops Lavender + 10 drops Tangerine + 9 drops Chamomile + 5 drops Jasmine absolute
Romantic: 20 drops Rose absolute, 15 drops Cardamon, and 10 drops Vanilla
Clear your mind: 15 drops Lemon + 10 drops Rosemary
Clear skin: 10 drops Lavender + 5 drops Tea tree + 5 drops Rose Absolute
Himalayan Salt Bath Recipe
Making Himalayan bath salts is very quick and beginner-friendly. Here are the easy steps to prepare it:
Step 1: Combine liquids
Add the carrier oil and essential oils to a small glass mixing bowl. Using a spoon, swirl together until everything is well combined.
Step to: Mix bath salt
Combine oil mixture with pink Himalayan salt, and stir until the salt crystals are evenly coated.
Step 3: Package and storage
Keep the pink Himalayan salt baths in an airtight glass jar or storage container and store them in a dark, dry location.
How to take a Himalayan salt bath
Rinse off in the shower to remove any dirt, oils, and cosmetic products from your body.
Fill the tub with water that's very warm but not hot.
Add Himalayan salt to the bathwater and let it dissolve.
Bathe for 10 to 30 minutes.
Rinse off and dry.
Moisturize your skin afterwards.
How much salt do I need per bath?
Add 1/2 to 1 cup of pink salt bath soak to a standard bathtub, but feel free to adjust the amount as needed.
Note: Don't add essential oils directly into the bathwater. Always mix the oils into a carrier oil first. Avoid essential oils that irritate the skin and mucous membranes, such as cinnamon, wintergreen, or clove.
What is the best water temperature for a Himalayan salt bath?
The water should be at or just above body temperature. Himalayan salt baths are not meant to be taken in very hot water. If you have a thermometer, aim for about 97 degrees Fahrenheit (37 degrees Celsius). Add the salt while the tub is filling with water.
How long should you sit in a Himalayan salt bath?
Salt baths may feel dehydrating to some people. Keep a glass of cool water nearby if you feel dehydrated during your bath. Bathe for 10 to 30 minutes. Rinse off and dry.
How often should I bathe in Himalayan salt?
A Himalayan salt bath is an intensely relaxing experience, but intense nonetheless, so try not to exceed bathing more than 1-2 times a week.
What are the side effects of Himalayan salt?
Unless you have an allergy, bathing with Himalayan pink salt should be no side effects. However, if you experience skin irritation, just rinse it off and don't use it again.
Himalayan salt foot soak
Another idea is to use this recipe for a Himalayan salt foot soak, which can be beneficial to pamper tired feet. Here's what to do:
Put hot (not boiling) water in a large container to cover your feet up to the ankles.
Add salt, magnesium flakes, and essential oils and stir them into the water (it might not all dissolve).
Soak your feet for 10-20 minutes.
Rinse your feet with cool water and pat dry.
More DIY Himalayan salt beauty recipes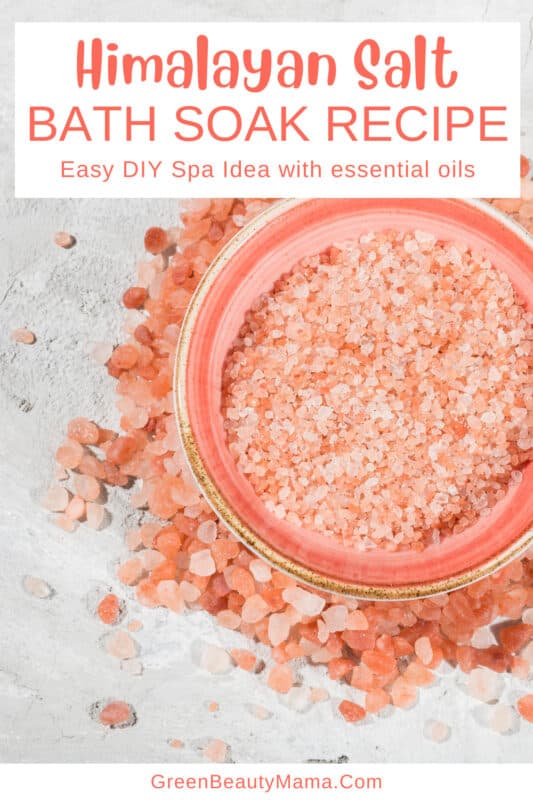 FAQs
Himalayan salt vs Epsom salt
Unlike Himalayan salt, Epsom salt is not actually a salt — it's technically a magnesium sulfate compound. Epsom salt has been used for hundreds of years, and many people swear that it offers enhanced relaxation when soaking in the bath.
Advocates for Epsom salt baths believe it can relieve aching muscles, itching, and sunburn.
Since its magnesium content is higher than that of Himalayan salt, proponents claim Epsom salt baths may be a better way to increase magnesium content in the body.
Whichever you choose, both types of baths can promote a relaxing experience.
Dead sea salt vs Himalayan salt
Dead sea salt is considered many times better for tanners' skin than Pink Himalayan salt because the pH of Pink Himalayan salt is 7.6, which is neutral. The pH of dead sea salt is 6, and has less drying effects on the skin.
The topical use of dead sea salts can ease various skin conditions, such as acne, eczema, and stretch marks. The high potassium content is also said to regulate the skin's moisture levels and hydrate the skin.
Can I mix different salts for a salt bath?
Absolutely! Bath salt can be mixed together to combine the benefits of more than one type of mineral salt. Why not try and blend your own bath salt soak, using Epsom Salt, Himalayan Pink Salt, Dead Sea Salt, and even Hawaiian Black Salt with Activated Charcoal? Adding essential oils brings additional wellness benefits.