Learn how to make DIY lavender body butter! This homemade whipped body butter recipe is naturally fragranced with essential oils and will keep your skin smooth and moisturized throughout the winter months. The body butter is perfect for sunburnt skin during the hottest summer months.
If you like my beauty recipes, join my Facebook group 🎉 This is the best place for broader DIY beauty stuff, behind-the-scenes, what I'm working on in real-time, and more!
💡 Do you dream of a perfect skincare routine (and products) but feel it's impossible since your budget is limited? Grab the recipes I'm using to craft 100% natural DIY beauty products that give top beauty brands a run for their money!  ❤️ HOMEMADE BEAUTY MADE SIMPLE ❤️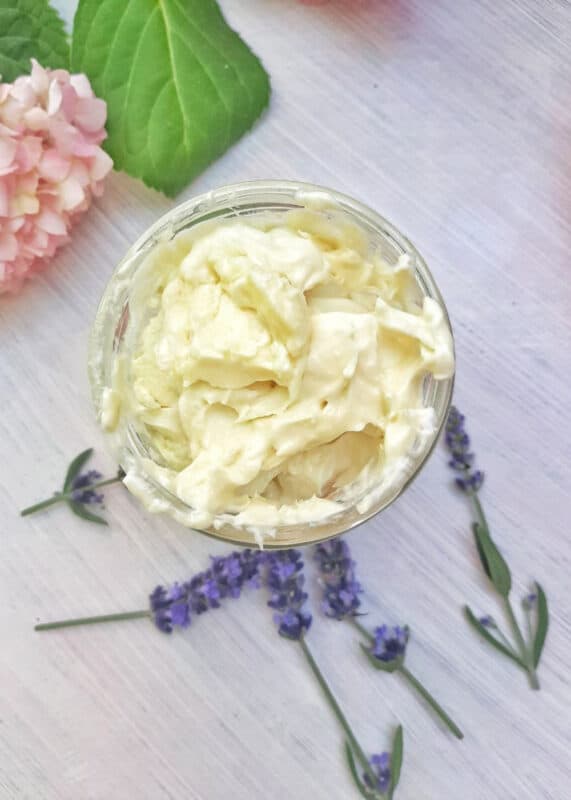 Disclosure: This post contains affiliate links, meaning, at no additional cost to you, we will earn a small commission if you click through and make a purchase. Learn more
Whipped DIY lavender body butter
Mattia (my Italian husband) and I live in Sofia, where the weather during winter could be really harsh. The constantly dry air and cold temperatures take a toll on our skin. I tried different skincare products to help cure my sore hands and skin, but unfortunately, nothing worked!
During that period, my skin is so sensitive that every little thing is causing irritation. And it really hurts.
Over the past few years, I've experimented a lot with my own body butter recipes. Last Christmas, I made Homemade Whipped Body Butter as a gift for my best friend. I remember she was really happy with this homemade body butter, so I decided to try it.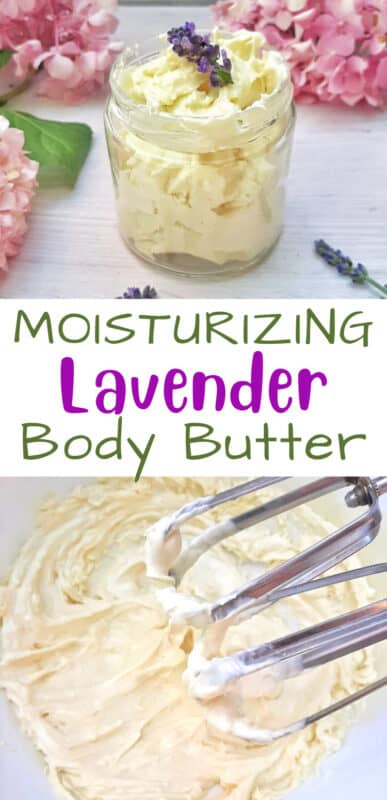 I love that this DIY lavender body butter only needs 15 minutes of active prep time; a great DIY project for the busy holiday season. And the best part is that my easy whipped body butter recipe is made with all-natural ingredients and fragrances.
This lavender body butter gives you a great skincare recipe to add to your winter skincare routine.
This lavender body butter is so easy to make, looks like frosting, and will make your skin super soft.
This body butter combines shea butter, cocoa butter, coconut oil, and lavender essential oil. This homemade lavender body butter is a must-have for your winter skincare routine.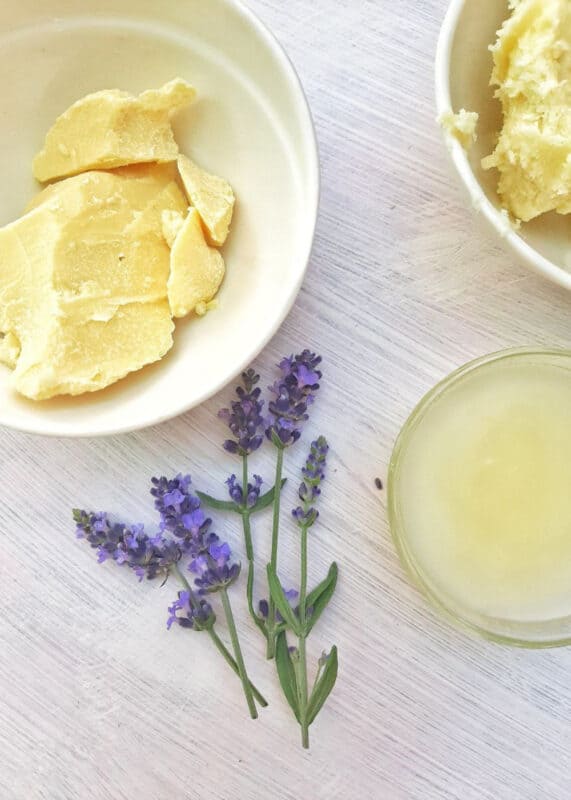 Homemade lavender whipped body butter ingredients
I have used a mixture of shea and cocoa butter for this recipe as they work great together. Cocoa butter is harder than shea butter, which is why I don't recommend using 100% cocoa butter, as it will make the end product quite solid, like a rock.
shea butter – is an incredible moisturizer and will make your skin look and feel hydrated and supple. Shea butter is high in vitamins A and E. It will make your skin feel amazing. 
coconut oil – gives the final product. Coconut oil is known as a slow-absorbing oil, it may take a little longer for it to be absorbed into the body. Even so, it is a very good oil for dry skin.
cocoa butter – cocoa butter can help reduce the appearance of stretch marks and scars.
lavender essential oil – is soothing and calming
Studies show that lavender aromatherapy is effective at quelling mild stress and anxiety. The lavender essential oil has relaxation properties and is perfect for this whipped body butter recipe. But you can easily swap the lavender for rose oil, sweet orange oil, or another essential oil of your choice.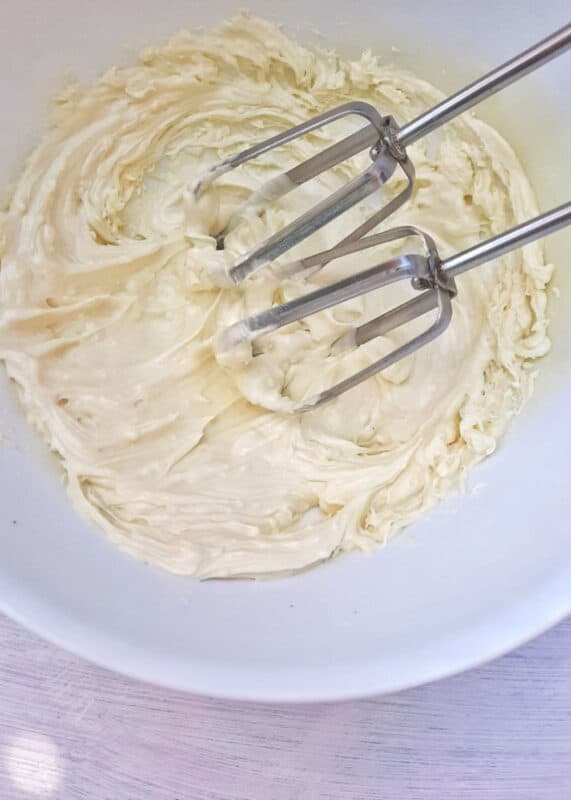 How to make lavender body butter
How do you make whipped body butter?
The process is really simple.
This DIY whipped shea butter is so easy to make. I scented the homemade body butter recipe with lavender essential oil.
Are you ready to make DIY lavender body butter?
Melt the cocoa butter, coconut oil, and shea butter together, then mix in the lavender essential oil. Be careful that no water spills into the bowl, and always be careful when handling hot bowls and pots.
Gently whisk to help along the process. Stir the essential oil fat mixture.
Then, place it in the freezer to harden (either in a mixer bowl or a bowl you can use hand beaters in) for 5 to 10 minutes.
Take the bowl out of the freezer and whip it with a hand-held mixer until white and double in size. At this point, you have DIY lavender body butter.
More DIY Lavender Beauty Recipes