DIY emulsified sugar scrub. Yep, that's happening here today. This natural body scrub recipe is exfoliating and nourishing at the same time. Hydrating oils and butters provide moisturisation, leaving no oily residue but only soft, supple skin behind, while a blend of revitalising essential oils tones and tightens your skin.
If you like my beauty recipes, join my Facebook group 🎉 This is the best place for broader DIY beauty stuff, behind-the-scenes, what I'm working on in real-time, and more!
💡 Do you dream of a perfect skincare routine (and products) but feel it's impossible since your budget is limited? Grab the recipes I'm using to craft 100% natural DIY beauty products that give top beauty brands a run for their money!  ❤️ HOMEMADE BEAUTY MADE SIMPLE ❤️
Disclosure: This post contains affiliate links, meaning, at no additional cost to you, we will earn a small commission if you click through and make a purchase. Learn more
Homemade Emulsified Sugar Scrub
Did you ever walk into a store, grabbed one of these cute body scrub containers and drop it the second you saw the price tag? Because same. Sugar and salt scrubs are one of the most common beauty products that can be made easily at home.
Making your own DIY body scrub is not only super duper easy and quick, but it's also much cheaper than the stuff you can purchase in stores. Just mix oil with either sugar or salt, and you're done. And you can choose to work with different oils, sugar types, and essential oils.
One of my first homemade body scrub recipes was a coffee and honey brown sugar scrub.
This homemade emulsified sugar scrub is made with only natural ingredients like sugar, jojoba oil, shea butter, cocoa butter and essential oils. The body scrub exfoliates and refreshes your skin by removing dead skin cells. Adding nourishing oils helps retain moisture, which is important to maintain the appearance of smooth, hydrated skin.
Emulsified Sugar Scrub Benefits
The main problem with sugar scrubs is the oily residue. Adding some more butters or/and waxes to the scrub to thicken it won't help much. Because it's an oil-based product, you usually end up with oil all over your hands, body, and shower and the container you're using for your sugar scrub.
Emulsified scrubs contain emulsifiers so that when the scrub mixes with water, it forms a creamy lotion that is easier to spread, exfoliate and rinse off when you're done.
This emulsified sugar scrub gently exfoliates your body and removes dead skin cells while also being very moisturizing. As a result, your skin will feel smooth, soft and supple.
This is a basic sugar scrub with an added emulsifying wax to create a luxurious application. It adheres to the skin for better exfoliation but can rinse off without leaving your skin (and bath!) feeling greasy.
Should you add a preservative to your sugar scrub?
Because this is still an oil-based product without any water in it, you technically don't have to add a preservative to it. The problem with not using a preservative is that you use this product in a very wet environment and likely scoop it out of the jar with wet hands. The likelihood of moisture contaminating your product is very, very high.
What ingredients do I need to make DIY emulsified sugar scrub?
My emulsified sugar scrub is made with eight natural ingredients: sugar, jojoba oil, cocoa and shea butter, candelilla wax, emulsifying wax, preservative, and essential oils. This recipe is very customizable, and you can use various materials to create homemade sugar scrub.
Choose your exfoliant: sugar, salt, or brown sugar
Which is better, sugar or salt scrub? None is necessarily better than the other. Salt scrubs and sugar scrubs each have unique benefits and purposes in natural body care. Both act as manual exfoliants and physically remove dead skin cells, revealing fresh, glowing skin.
Any type of sugar works, really. Granulated, white sugar also has good peeling qualities but isn't moisturizing, making it a good choice for regular to oily skin types. Brown sugar usually has smaller granules and tends to be much less abrasive, making it a great option for exfoliating your face.
Which emulsifying wax should you use?
Emulsifying wax is a necessary ingredient for making lotions and creams. Everyone has heard the term, "water and oil don't mix".
The most common emulsifier used in scrubs is emulsifying wax or e-wax, which contains properties that can attract both oil and water, for example.
If you want to change the emulsifying wax to a more natural emulsifier, I warmly recommend the Olivem 1000 emulsifier. Olivem 1000 is sold as light, waxy flakes combined with the cream's oily phase. Olivem 1000 is a herbal emulsifier made from olive oil. Olivem 1000 contains Cetearyl oleate and sorbitan oleate.
What essential oils can I use to my DIY emulsified scrub?
It's entirely up to you if you want to prepare this recipe with essential oils or skip them. If you're just looking for a nicely scented scrub, try these oils: rose geranium, vanilla, lavender, or jasmine.
How to use the DIY emulsified sugar scrub.
You can use this homemade emulsified sugar scrub in the bath and shower. First, wet and soften your skin with warm water and then rub the scrub bar over your body. Massage your skin using circular motions and gentle pressure. Then shower off any excess product.
Shelf life and storage
When not in use, store the scrub bar in a dry and dark place. The scrub bars can be stored for several months.
Take a look at the shelf life of your ingredients, using the ingredient with the nearest expiration date to give you an idea of how long the finished product will keep.
Emulsified sugar scrub with essential oil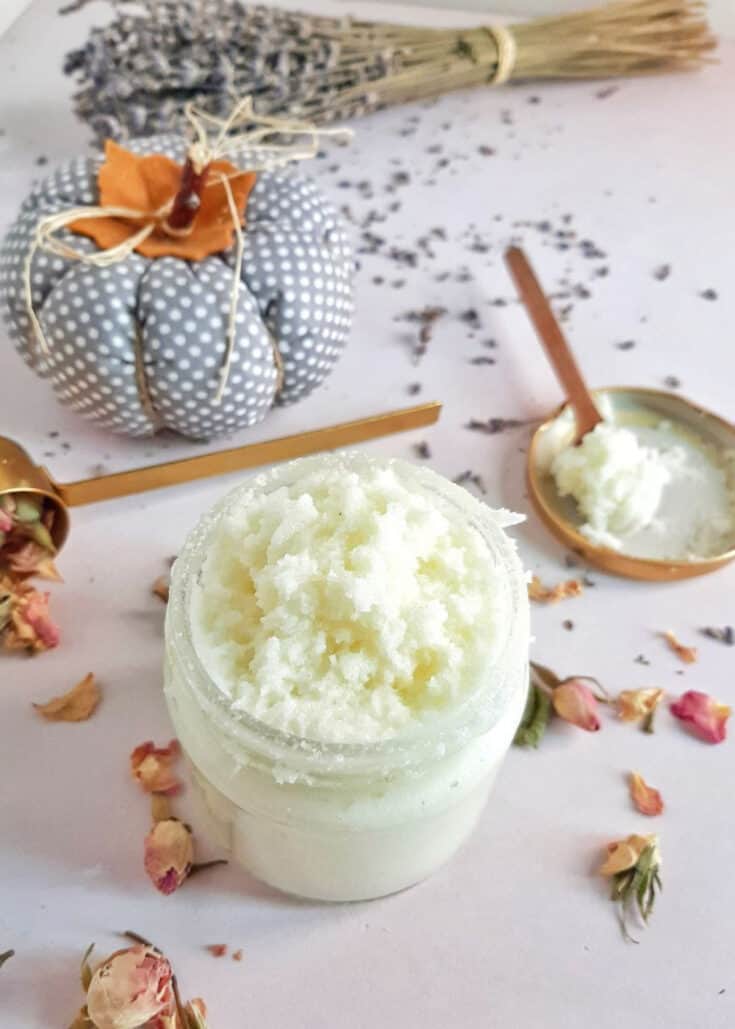 This natural body scrub recipe is exfoliating and nourishing at the same time. Hydrating oils and butters provide moisturisation, leaving no oily residue but only soft, supple skin behind, while a blend of revitalising essential oils tones and tightens your skin. 
Ingredients
Instructions
Combine cocoa butter, shea butter, jojoba oil and emulsifying wax in the bowl of a stand mixer or other heatproof bowl.
Place bowl on top of a saucepan with simmering water. Allow mixture to melt fully, stirring with a spatula occasionally. Once fully melted, heat for 20 minutes.
Remove from heat and place in freezer. Remove when a "crust" has formed, about 20 min.
Whip scrub base at high speed until fully thickened and cooled, about 10 minutes. The mixtures will form very soft peaks.
Add essential oils and preservative. Mix briefly.
Using a spatula, gently fold in the sugar.
Divide scrub evenly into jars. Label and enjoy!