Green tea is one of my favorite ingredients to use in my beauty routine. I use it for my hair and skin both. Green tea works great for your face skin and it makes it shiny, shrinks large pores, and minimizes fine lines. It keeps your skin healthy, glowing, and clear. Below is how you could make your own green tea toner recipe for clear and glowing skin.
If you like my beauty recipes, join my Facebook group and sign up for my FREE 7-Day Skincare Challenge.
What Does Green Tea Toner Do for Skin?
Green tea contains many health benefits for the skin. It can provide a measure of sun protection, help reduce inflammation and increase the skin's elasticity.
Green tea toner can cleanse and reduce the appearance of pores and give your skin a youthful glow.
Making green tea toner at home is an inexpensive way to enhance your skincare routine.
And while there are some options on the market, you can also make your own at home. This is the easiest green tea toner recipe ever.
This is a great way to save money and keep a closer eye on the ingredients you apply to your skin.
Is Green Tea Toner Good for Face?
Having green tea every morning before breakfast got me really thinking about all its benefits of it. It's loaded with antioxidants that help protect your body from cancers, it improves brain function (and since I often have brain fog thanks to my hypothyroidism – I need all the help I can get!), and it helps with weight loss.
After just a little bit of research, I found out that YES – green tea can be great for your skin. Green tea can help improve acne, balance oils in the skin, and reduce puffiness.
No More Puffy Eyes
Once you steep your tea, remove the teabag and chill in the fridge. After it has chilled for five minutes, remove the teabag. Lay down and apply it to your under-eye area. This will soothe any puffiness and reduce the appearance of dark circles.
Shrink Large Pores and Minimize Fine Lines
Take a cup of green tea and pour it into an ice cube tray. The next time you look tired or stressed, pop a green tea cube out and run it under your eyes and around your face. This will reduce the size of large pores, and firm skin, and reduce the appearance of fine lines and crowfeet.
This DIY green tea toner recipe feels great on the skin, without drying it out as some facial toners do.
It is a simple recipe and very cheap to create. It's made from three simple ingredients – lemon juice, apple cider vinegar, and green tea. You can also use essential oils if you want.
Green Tea Face Toner Benefits
Lemon Juice
Lemon juice is great for acne. It cleanses and tones skin, fighting bacteria that can cause acne. It also shrinks the size of pores and keeps skin at an optimal pH balance, helping dry and oily skin types. The acid in lemon juice can irritate some, so it's always good to dilute with other things. But the same acid is what gives it the gentle exfoliating effect on the skin.
Apple Cider Vinegar
Apple cider vinegar does wonder at balancing the skin's pH, and this helps prevent and reduce acne as well as help achieve a more even complexion. It also helps to gently exfoliate the skin.
Green Tea
This tea is a powerful anti-aging ingredient that firms skin and de-puffs. High in antioxidants and anti-inflammatory properties, green tea protects the skin from free radicals. It also helps fine lines and wrinkles look smaller. It also soothes mild acne and evens the complexion.
This DIY face toner feels great on the skin without drying it out, as some facial toners do.
It is a simple green tea face toner recipe and very cheap to create.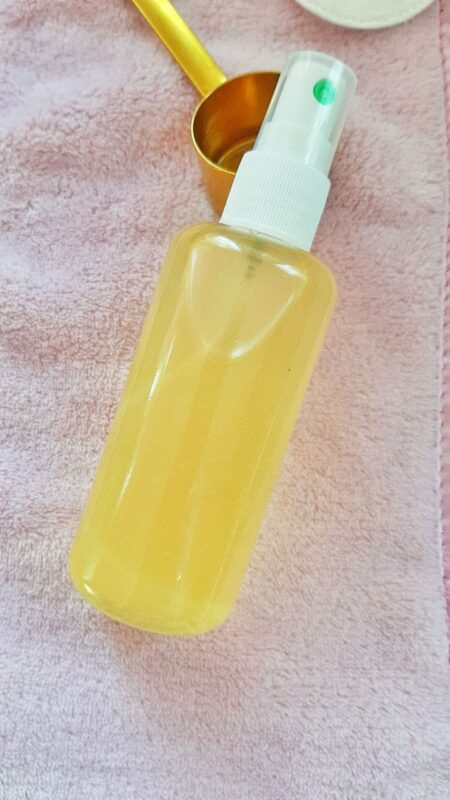 Does Green Tea Toner Need to be Refrigerated?
You do have to keep the toner refrigerated, and you can use it for up to 7 days before you need to toss any that's left over and make a new batch.
That may sound like some extra work, but green tea toner is so easy to make that it's no trouble! You can always double the recipe if you think you'll need a little more toner. Also, the toner will look cloudy once it's refrigerated, but that's just what the tea does–it's fine to use!
Green Tea Toner Recipe
Ingredients:
1 teacup of water
1 packet of green tea (or 1 tsp green tea leaves)
juice of a half lemon
1/4 tsp apple cider vinegar
2-3 drops lavender essential oil (optional)
Instructions:
Boil the water.
Add in the green tea bag.
Once it is done steeping, remove the tea bags and pour the tea into a container. I use a little mason jar to keep it in.
Once you have mixed your tea, pour 1/4 tsp of lemon juice into the tea and mix well.
Next, add 1/4 tsp of apple cider vinegar and close your container. Give a good shake or two and voila! You have a perfect and easy acne toner.
Each night when I wash my face, I pour a little bit onto a cotton pad and wipe it over the clean skin. Then I wait a couple of minutes to let it dry and penetrate before adding my moisturizer and massaging it into the skin.
More DIY Green Tea Beauty Recipes
Green Tea Sugar Scrub
If you like my beauty recipes, join my Facebook group and sign up for my FREE 7-Day Skincare Challenge.