Learn how to make the best anti-aging serum recipe for mature skin to hydrate and soothe your skin. Chockful of nourishing ingredients, this DIY anti-aging serum will replenish your skin by promoting collagen, reducing fine lines, and hydrating the skin. It is so gentle and versatile that this face serum will work for most skin types. The natural face serum for mature skin is made with natural ingredients and can be used as a day and night serum.
If you like my beauty recipes, join my Facebook group 🎉 This is the best place for broader DIY beauty stuff, behind-the-scenes, what I'm working on in real-time, and more!
💡 Do you dream of a perfect skincare routine (and products) but feel it's impossible since your budget is limited? Grab the recipes I'm using to craft 100% natural DIY beauty products that give top beauty brands a run for their money!  ❤️ HOMEMADE BEAUTY MADE SIMPLE ❤️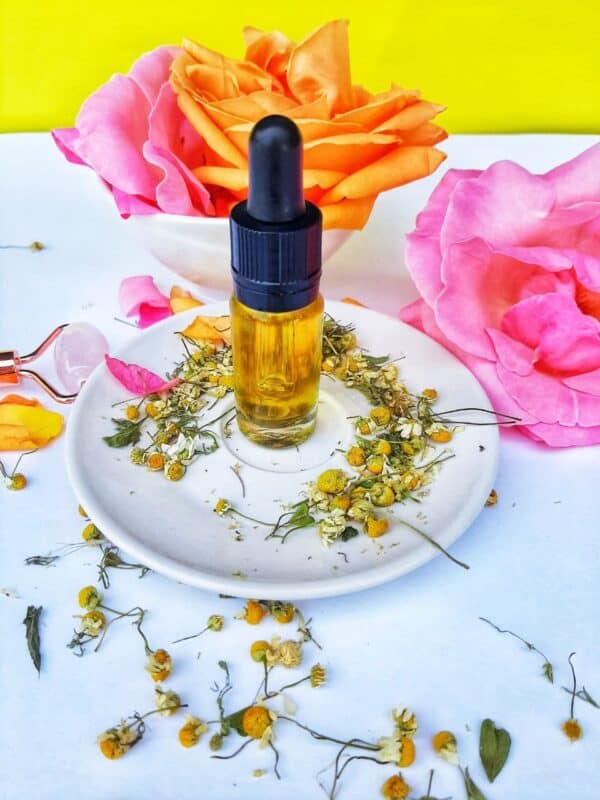 Disclosure: This post contains affiliate links, meaning, at no additional cost to you, we will earn a small commission if you click through and make a purchase. Learn more
Don't forget to pin this face serum!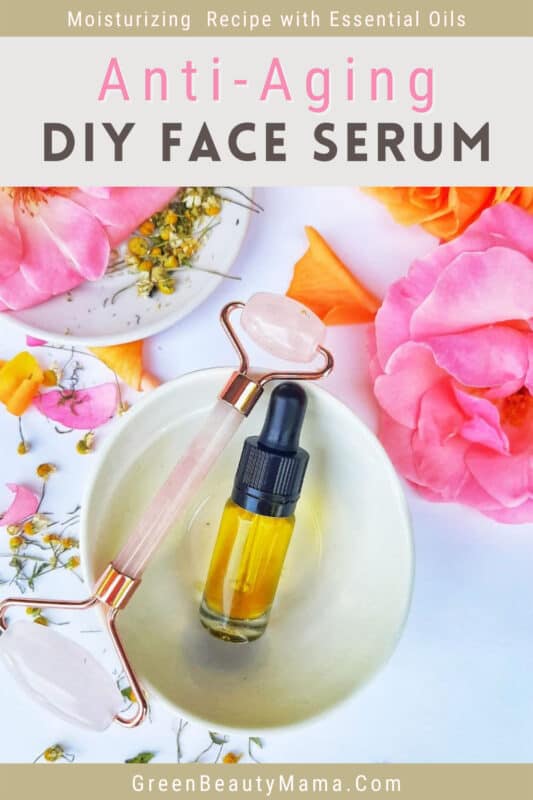 What is a face serum?
As a teen, I was taught that I should get rid of all the oil. I had tried everything to clean my face, and now, I feel embarrassed when thinking about how rough I was on my skin as a teen and young adult. It wasn't until 7-8 years ago that I learned about the oil cleansing method. That's when I also discovered oil face serums, which changed my skincare routine and skin health. 
For half of my life, I had no idea I was causing an increase in oil production by stripping my face of its natural oils. I was fighting against a natural process, and I would never win.
Facial serums are the rage right now. Packed with high-end and exotic-sounding ingredients, facial serums are usually the most expensive item in people's skincare routine.
But what if I told you you could make your own serums for much less than commercial products?
I love face serums. They penetrate your skin faster and more effectively. Face serums are perfect for specific problems like age spots, sun damage, and fine lines.
Serums are made with high-performance ingredients focused on what they can do. There are serums for specific areas of your body, like the neck or eye, or serums that treat precise skin conditions or skin types. 
Serums aren't designed to replace a moisturizer or act as an alternative; they can be layered with other products and work with your moisturizer.
Choosing the right ingredients and carrier oils can create the best anti-aging serum at home that absorbs quickly and moisturizes your skin.
Now that I am in my 40s, I am looking for products that say "anti-aging." I came up with this homemade anti-aging serum using essential oils and all-natural ingredients, and I can't wait to share it with you.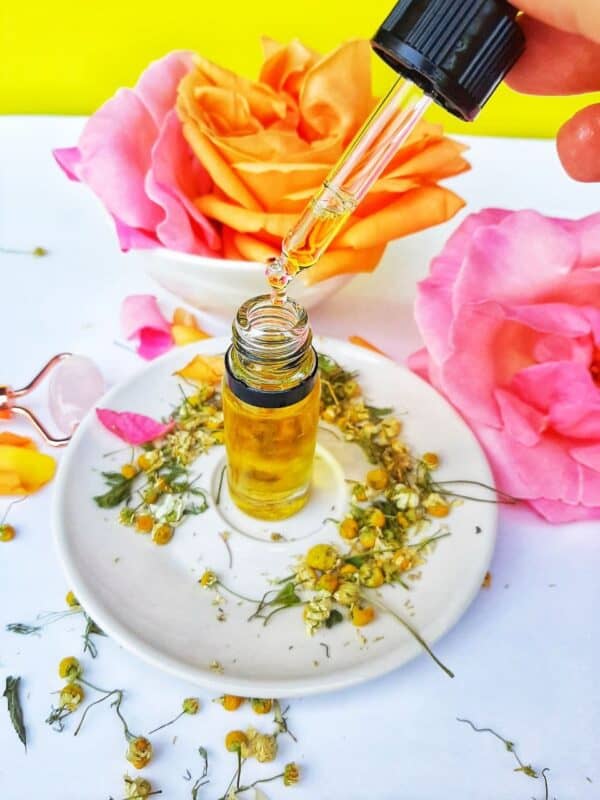 Why make homemade anti-wrinkle serum?
Have you looked at the labels of some of your skincare products? Your skin is the biggest organ in your body and readily absorbs all of those strange ingredients right into your bloodstream.
I'm not here to convince you that making your face serum will change your skin overnight. I want to share my reasons for making the best anti-aging serum and all-natural skincare products at home.
I had converted to natural products to avoid harmful substances, reduce my toxin levels, optimize liver function, and reduce excess chemicals that mimic hormones. So, I blamed it on the changes in skincare. One of my first DIY facial care recipes is this amazing homemade face moisturizer for aging skin.
I love that instead of blowing my money on expensive creams full of chemicals, fragrances, and things I can't even pronounce, I can make my DIY anti-aging serum customized for my skin type.
This natural face serum for mature skin is formulated with ingredients to improve the appearance of mature and aging skin showing signs of looseness and wrinkles by hydrating, enhancing elasticity, tightening and toning, boosting skin cell regeneration, and providing a rich source of antioxidants.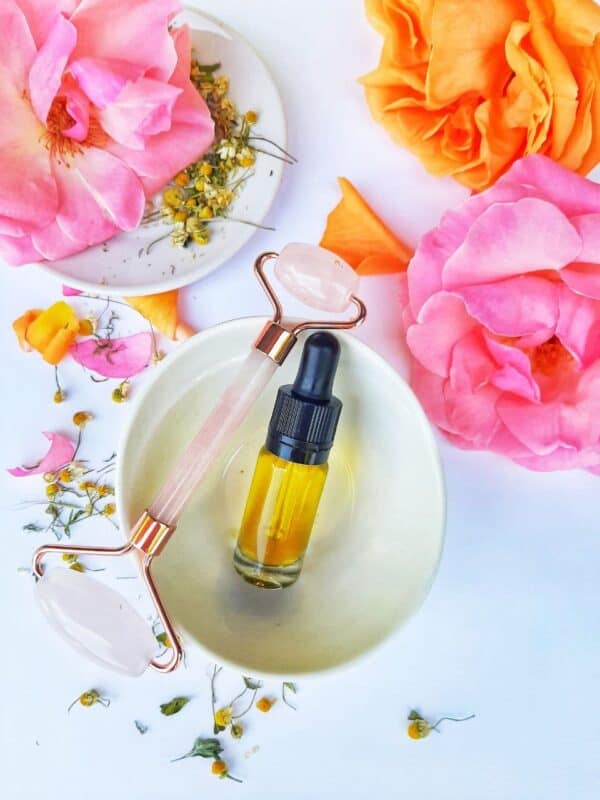 Benefits of the DIY anti-aging serum
I've been testing this homemade anti-aging serum for 2 months and love what it's doing. My skin feels hydrated and soft, the fine lines on my forehead have faded a little, and I didn't break out once. I hope you will enjoy the serum just as much!
What you will love about this best anti-aging serum is that the recipe is easily customizable. This all-natural anti-aging serum recipe uses ingredients that are already shelf-stable.
Antioxidant: This homemade anti-aging serum is packed with antioxidants to help prevent and slow the early signs of aging.
Nourishes and hydrates: This best anti-aging serum nourishes, hydrates, balances, and gently cares for the skin.
Enhances elasticity: This DIY essential oil face serum for anti-aging improves the appearance of aging skin by hydrating, enhancing elasticity, tightening and toning, and boosting skin cell regeneration.
Brightens the skin: The best anti-aging serum reduces the appearance of wrinkles and fine lines.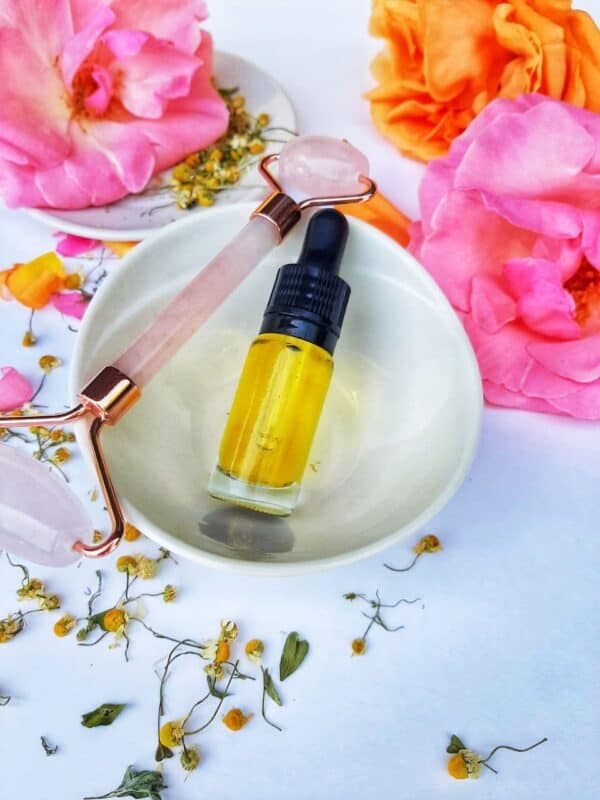 Ingredients for the best anti-aging serum
As you will see, you don't need luxury and expensive ingredients to make the best anti-aging serum at home. 
This wonderful serum is great for everyone, not just for mature skin. Rejuvenating radiant facial serum should be called as regular use will promote healthy, happy skin!
The serum is 100% natural and can easily be made 100% organic if you choose organic carrier and essential oils.
You will need:
A 20ml pipette bottle (or similar).
Your choice of carrier oil.
Your choice of essential oils.
Use a maximum of two drops of essential oil per 5ml carrier oil. Always check the safety info and patch test first!
You can use just one or a blend of carrier oils. Similarly, you can use just one or a blend of essential oils. Keep it simple, use just a few ingredients, or mix and blend to your heart's content. Massage a few drops into your skin, which will quickly absorb, leaving you with a beautiful, healthy complexion.
Rosehip oil can work as a great natural alternative for moisturizing.
Rosehip oil contains beauty essentials like anti-inflammatory fatty acids and vitamins A and C. These ingredients allow rosehip oil to treat signs of aging and pigmentation, hydrate skin, and repair damaged skin.
Rosehip oil contains tretinoin (a form of Vitamin A), which improves signs of photo-aging, such as reducing wrinkles, boosting elasticity, and fading discolorations.
Macadamia nut oil is a light facial oil, excellent for anti-aging and anti-wrinkle formulations. Its high content of palmitoleic acid slows the aging process, making it emollient, rejuvenating, and easily absorbed. Macadamia nut oil is also rich in oleic acid that helps skin cell regeneration and softens, smoothing, and moisturizes.
Olive squalane is one of my favorite ingredients; it doesn't feel oily. 
Squalane softens the skin, improves elasticity, reduces signs of aging, and boosts cell regeneration. Squalane is very similar to squalene, which is produced naturally by your skin until your mid-20s and helps to moisturize and protect it.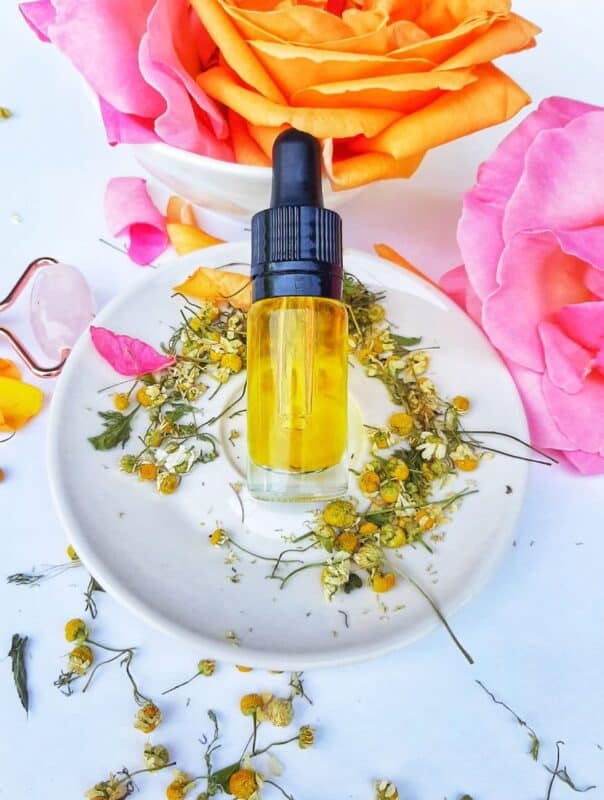 Best essential oils for DIY anti-aging serum
Famous for its skin-preserving and regenerating qualities, frankincense essential oil aids the process of skin cell regeneration. Tonifying and rejuvenating, it's one of the most important oils for improving skin tone and treating aging skin.
Lavender essential oil is great for all skin types, as it has powerful skin-preserving qualities (cicatrisant). It aids in the process of regenerating cells (prophylactic). The soothing and anti-inflammatory properties of lavender oil balance the skin and can be used for dermatitis, eczema, psoriasis, and acne. Lavender essential oil helps the skin heal faster and with less scarring. Avoid in the first trimester of pregnancy.
How to use an anti-aging face serum
You can use this anti-aging face serum day and night. Always cleanse your face before applying the homemade face serum. Pu 2-3 drops in the palm of your hands, and using your fingertips, gently press the oils into your skin. 
How to make anti-aging face serum
Ingredients:
Combine all ingredients in a glass dropper bottle, shake gently and that's it.
Store airtight, away from direct sunlight and heat.
I like to prepare my serums in small glass beakers to see if everything is incorporated well. You can also directly mix the serum in the bottle. To do this, simply add the ingredients, close tightly, and give the bottle a good shake.
Variations to try:
for dry skin:
Lavender essential oil – lavender stimulates skin cell regeneration and healthy skin growth while calming irritated, sensitive, and chapped areas.
Ylang-ylang essential oil – balances sebum production. As dry skin has lowered sebum production, ylang-ylang is a good choice as it will stimulate sebum production in this skin type.
for acne-prone/oily skin
Rosemary essential oil – it cleanses and clears congested skin. It helps tone skin and is a powerful antiseptic and antibacterial agent.
Geranium essential oil – balances the skin's sebum production and secretion levels, delivering antibacterial benefits.
for sensitive skin
Chamomile essential oil is anti-inflammatory and has been shown to heal and soothe sensitive skin.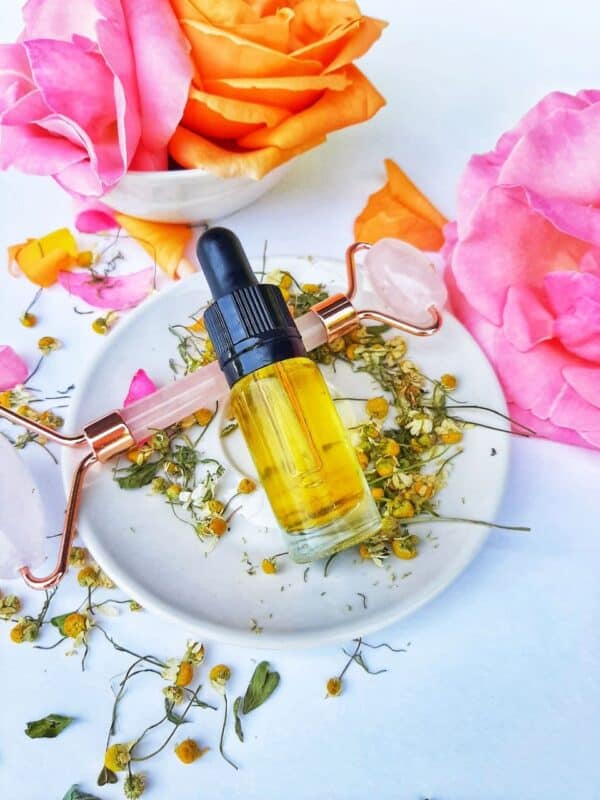 How to Use Serum for Aging Skin
1. Wash your face.
2. Cleanse your skin with a mild cleanser.
3. Add a drop or two of the serum to your fingertip and dab gently on fine lines, age spots, and uneven skin tone areas.
4. Continue with the rest of your skincare routine, e.g. moisturizer and SPF.
How Long Does Face Serum Last
This face serum will last for one year when stored properly.
Store in an airtight glass bottle for best results.
Keep the DIY anti-aging serum in a cool, dry place, for example, a cupboard.
Yield: 1
Anti-Aging Face Serum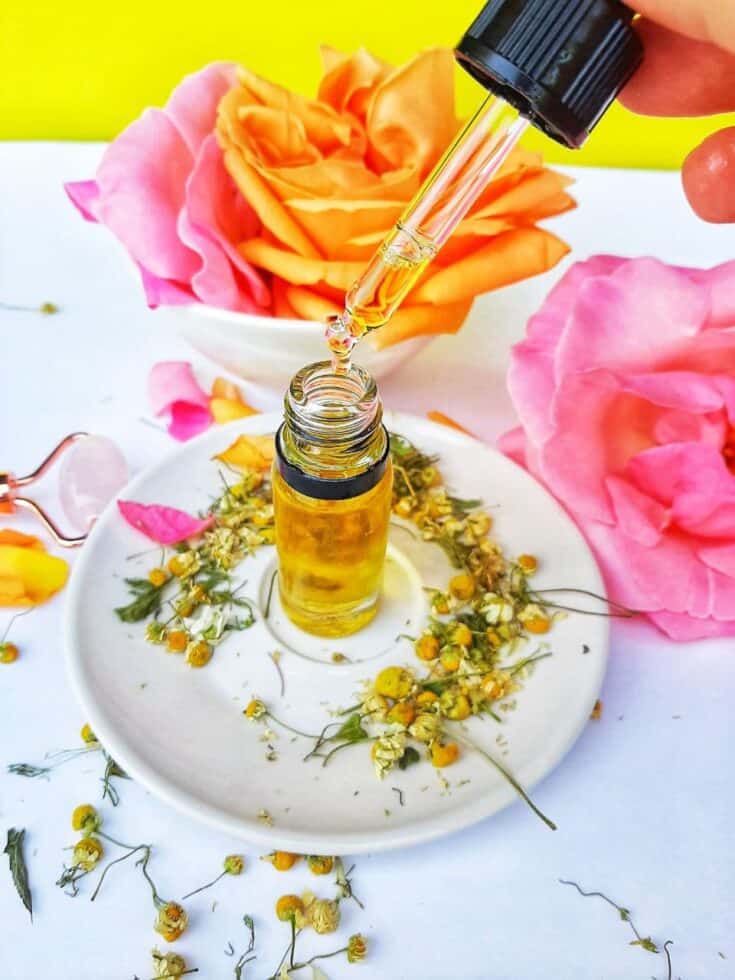 This anti-aging facial serum is super nourishing, super versatile and super simple, and all-natural.
Ingredients
Instructions
Add the macadamia oil, rosehip oil, squalane, vitamin E, and essential oils into a small glass beaker.
Stir until everything is well combined. Vitamin E has a dense consistency and may take a few moments to dissolve. The serum is ready when you can no longer see streaks of individual ingredients.
Transfer the face serum to a glass dropper bottle.
Store airtight, away from direct sunlight and heat.