Have you ever wondered how to make face serum at home? Learn how to make DIY face serum with all-natural ingredients. Included are three face serum recipes for dry, oily/acne-prone, and sensitive skin. All the recipes are easy to make, soothing, and only cost pennies. If you have mature skin check out my recipe for DIY anti-aging serum to reduce the appearance of fine lines.
If you like my beauty recipes, join my Facebook group 🎉 This is the best place for broader DIY beauty stuff, behind-the-scenes, what I'm working on in real-time, and more!
💡 Do you dream of a perfect skincare routine (and products) but feel it's impossible since your budget is limited? Grab the recipes I'm using to craft 100% natural DIY beauty products that give top beauty brands a run for their money!  ❤️ HOMEMADE BEAUTY MADE SIMPLE ❤️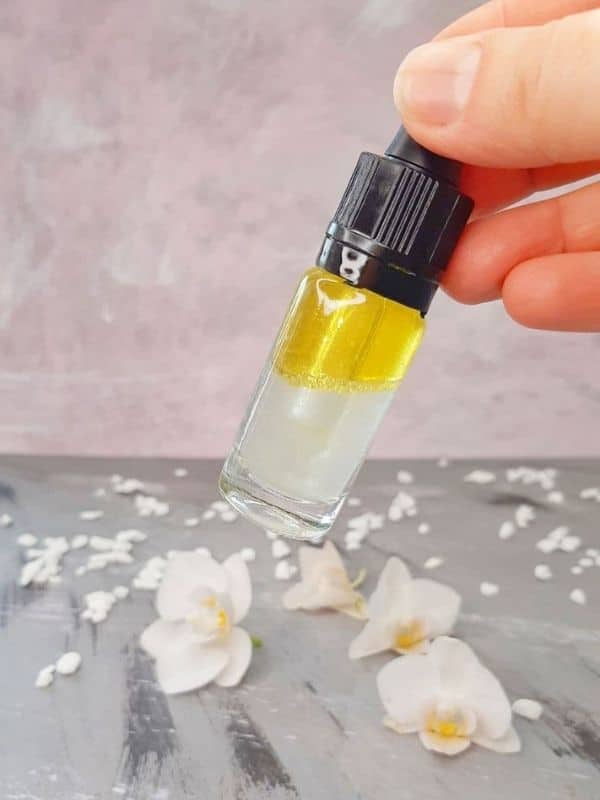 Disclosure: This post contains affiliate links, meaning, at no additional cost to you, we will earn a small commission if you click through and make a purchase. Learn more
DIY face serum is so fun to make and can be customized any way you want. The main ingredients needed to make facial oil are carrier oils and your favorite essential oils for a beautiful scent, added benefits, and flavor.
My mom was pretty excited about this project and quickly decided that all her friends and colleagues needed a bottle too. She is right: these homemade face serum recipes would make the perfect gift for anyone on your list or a fun DIY on your next girl's night.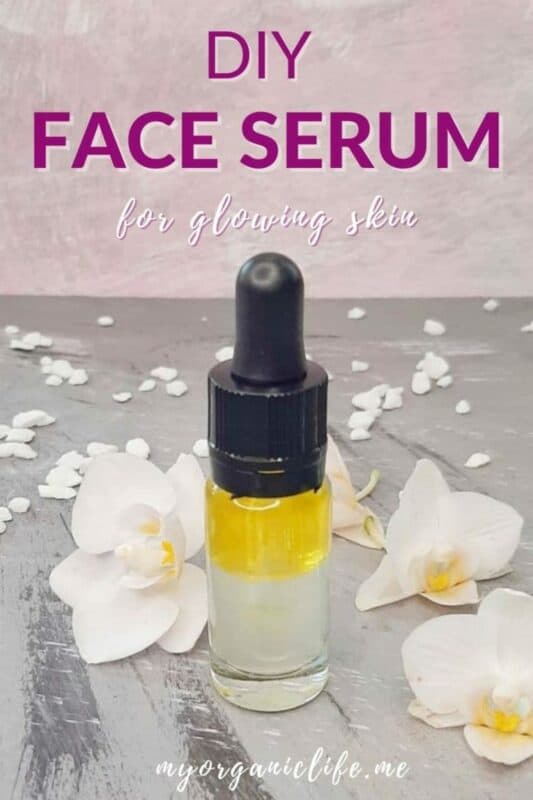 What is a face serum?
A face serum is a skincare product you can apply after cleansing but before moisturizing. Face serums are designed to nourish, protect, and hydrate your skin. Basically, they've easily absorbed liquids.
Face Oils & Face Serums: What's the difference?
Both, face oils and serums have amazing benefits for the skin. But they are two different skin care products.
Face oil is usually a blend of skin-safe oils that moisturizes, smoothes, and softens the skin. A face oil is usually an effective but quite basic formula, typically formulated for a skin type, but not meant to target a specific skin condition. However, face serums are targeted for needs as well as skin types. This is one of the primary differences between the two product types. Face oils will always appear as oils, of course, but face serums can take several different forms. They can be oil-based, gel-based, or emulsion-based.
Face oils and oil-based serums are both primarily made of oils! In natural and organic products this means carrier oils.

What are the benefits of homemade face serum?
The Homemade face serum recipe's main benefit is moisturizing and hydrating skin. DIY face serum also helps to smooth, soften, restore, and protect the skin.
Another benefit of making homemade serum is that you can control and customize the ingredients and know exactly what is in your product.
Why is this important? Well, many skincare products contain silicones, making your skin feel smooth without helping. On the contrary, silicones can cause acne and skin congestion and dehydrate the skin, resulting in dull, dry skin.
How to make natural face serum
So, to make a natural face serum, really all you need is carrier oil and essential oils. For real, it is that simple. Today, I am sharing with you three DIY face serum recipes for different skin types – dry, oily/acne-prone, and sensitive. If you have mature skin check out my favorite DIY anti-aging serum recipe.
Depending on your skin type will determine which carrier oils and essential oils you will want to add, but the base of the recipe will stay the same.
Each of the recipes will use ingredients that will focus on reducing signs of aging and promoting healthy skin.
Pick your carrier oil.
Pick your essential oils.
Add in vitamin E oil, optional.
Mix it up in a glass dropper bottle.
Face serum for dry skin
If you have flaky, scaling, or dull-looking skin, this DIY face serum recipe is for you. There are several causes to dry skin, and dehydrated skin, such as lower sebum production, aging skin, dehydration, or lifestyle choices (not consuming enough water or poor nutrition choices). Note, that dry skin needs creams and lotions more than balms and butter.
For this DIY face serum recipe for dry skin, you'll need:
Olive squalane – very lightweight and quickly absorbed. It balances sebum production. It helps to moisturize the skin and soothe dry and irritated skin, plus it can prevent further irritation.
Jojoba oil – a liquid wax, forms a thin layer on the skin preventing TEWL, helping the skin to retain moisture, and stay hydrated, moisturized, soft, and smooth.
Borage seed oil – helps to speed up cell regeneration, promote healthy growth, and improve the skin's barrier repair function. It also helps to soften, smooth, and moisturize the skin. Instead of a Borage seed oil, you can use Evening primrose oil.
Sea buckthorn – a very rich source of a variety of antioxidants. It fights against free radicals and delays the signs of aging. Sea buckthorn seed oil is one of the more expensive carrier oils, so you can use elderberry oil instead, or you can try a different average to fast-absorbing liquid carrier oil. Note, this won't replace the key benefits of sea buckthorn oil.
Lavender essential oil – stimulates skin cell regeneration, while calming irritated sensitive skin.
Ylang-ylang essential oil – balances sebum production.
Mix all the ingredients in a container. Pour into your packaging of choice.
Face serum for oily skin and acne/prone skin
If you have shiny, oily, or slick-looking skin, often accompanied by large, darkened pores and acne blemishes, this DIY face serum recipe is for you.
There are several factors that contribute to acne, such as oil production, dead skin cells, clogged pores, and bacteria. There are several causes of oily and acne-prone skin like overproduction of sebum, lack of moisture in the skin, lack of exfoliation, overuse of harsh detergent or comedogenic cosmetics, poor diet or lifestyle choices, and hot, humid climates.
For this DIY face serum recipe for oily/acne-prone skin, you'll need:
Evening primrose oil – lightweight and dry-feeling oil. Can help to reduce pore clogging and balance sebum levels.
Grapeseed oil – contains powerful antioxidants like tannins. It helps to soften, smooth, and moisturize the skin.
Squalane – feels very light on the skin. Helps to balance sebum production.
Rosemary essential oil – cleanses and clears congested skin.
Geranium essential oil – balances the skin's sebum production and has antibacterial benefits.
Mix all the ingredients in a container. Pour into your packaging of choice.
Face serum for sensitive skin
If you suffer from skin reactions such as pustules, skin bumps, skin erosion, or very dry skin, then this DIY face serum for sensitive skin is for you. The main causes of sensitive skin are largely unknown, but there are some potential factors that may lead to sensitive skin reactions:
Overly dry, dehydrated, or injured skin may lead to skin rashes and reactions.
Weak lipid barrier – wrong skincare routine, hormonal changes, nutrient deficiencies, environmental factors, etc.
Excessive exposure to skin-damaging environmental factors – sun and wind, or excessive heat or cold.
Allergic skin reactions
Overuse of detergents
Poor diet or lifestyle choices
Genetic factors
For this DIY face serum recipe for sensitive skin, you'll need:
Calendula-infused sunflower oil offers potent healing, anti-inflammatory, and antimicrobial properties, making it great for sensitive skin.
Evening primrose oil – reduces water loss and retains moisture. It has anti-inflammatory and regenerating properties.
Olive squalane – very lightweight and quickly absorbed. Balances heavier oils. Can help to balance sebum production.
Carrot seed oil – improves skin regeneration, and softens, and smoothes the skin.
Chamomile essential oil – it's anti-inflammatory and can heal and soothe sensitive skin.
Mix all the ingredients in a container. Pour into your packaging of choice.
Does DIY face serum needs a preservative?
Because we are not using any water in this recipe, it is OK to skip the preservative. The ingredients in this face serum recipe will last for at least a year at room temperature. Be sure to store it in a cool, dark place and in an airtight container to keep the face serum fresh longer.
Is vitamin E good for the skin?
Vitamin E oil is great for the skin. I love adding it to my DIY face formulations since it helps improve the appearance of the skin. It is a powerful antioxidant, and when applied topically to the skin, it can block free radicals.
Vitamin E oil can reduce the appearance of wrinkles, fine lines, and prematurely aged skin. It works best when used consistently, which is why I like to add it to my anti-aging face serum.
How to use a face serum?
Place a small amount of your DIY face serum in the palm of your hand and massage it into the face. Focus on trouble areas, but be sure not to get too close to the eyes.
Face serums should be applied to the skin after you use your face cleansers and toner. It's best if you apply a face moisturizer after.
How often should I use a face serum?
It is best to use this face serum twice daily, once in the morning after you wash your face and once at night before bed.