Formulated with natural, non-toxic ingredients and infused with essential oils, this homemade face moisturizer for aging skin moisturizes, nourishes and revitalizes dry, mature skin.
The non-greasy DIY face cream for wrinkles absorbs quickly and locks moisture in the skin, making your face feel silky smooth and healthy.
If you like my beauty recipes, join my Facebook group 🎉 This is the best place for broader DIY beauty stuff, behind-the-scenes, what I'm working on in real-time, and more!
💡 Do you dream of a perfect skincare routine (and products) but feel it's impossible since your budget is limited? Grab the recipes I'm using to craft 100% natural DIY beauty products that give top beauty brands a run for their money!  ❤️ HOMEMADE BEAUTY MADE SIMPLE ❤️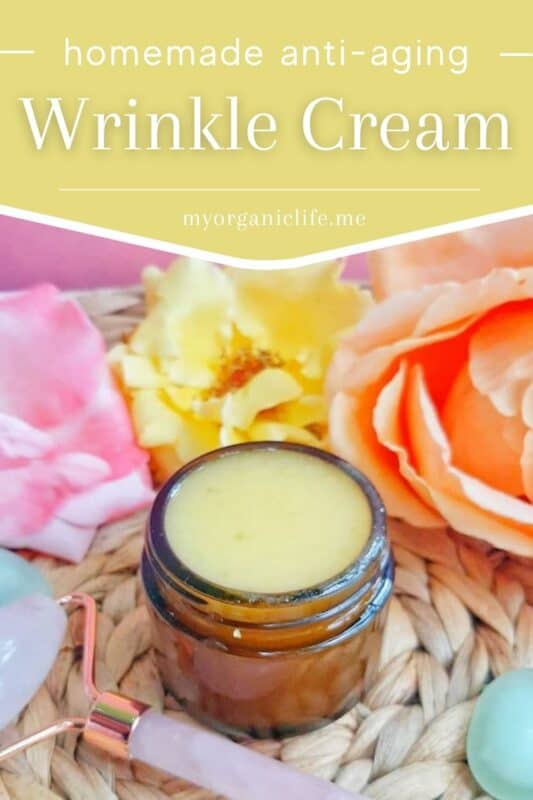 Disclosure: This post contains affiliate links, meaning, at no additional cost to you, we will earn a small commission if you click through and make a purchase. Learn more
With only six ingredients, the homemade face cream for wrinkles is excellent for keeping that youthful look we all long for! It absorbs quickly, is not greasy, and is fantastic for your skin!

This DIY anti-aging moisturizer recipe is fantastic, and it's one of the first overnight creams I ever made. Aside from being considerably cheaper than commercial store-bought creams, you'll find it gentler and often more effective on your skin.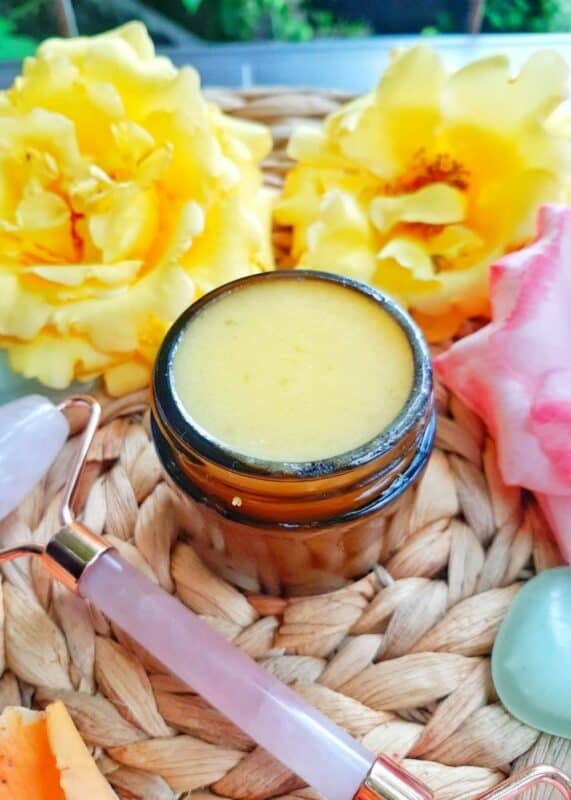 An easy homemade face moisturizer for aging skin
With dropping temperatures, our skin dries up quicker than in summer. Personally, my skin tends to dry by summer. Therefore a good nourishing face cream is a must for me. There are many reasons for dry skin. Our skin reflects the state of our health and weather conditions.

This time of year is also the perfect occasion to make a Anti-aging face serum! I also have simple and easy Non-greasy Body Butter Recipes in various flavours that only take 5 minutes to make!
As I approached age 30, I decided to go to the "anti-aging" section. I quickly found many options for expensive store-bought creams on the market full of ingredients I didn't want to put on my skin. So I decided to take matters into my own hands.

After experimenting with a few different creams, lotions, and salves, I came up with a recipe I love. After a few weeks of using my homemade face cream, my skin felt softer and rejuvenated.

I'm not here to convince you that making your skincare products is the best choice in your life. I want to share with you my reasons for going all-natural.

First, I know exactly what is in them. Even the most natural companies can throw shady ingredients here and there.

Commercial cosmetics (all those luxury and store-bought fancy skincare products) are usually laden with harmful chemicals and preservatives.

Second, my skin is healthier. Since I started making my skincare products, I have noticed a huge difference in my complexion. My face is not dry at all, and I went from combination skin (dry cheeks, oily forehead) to entirely normal and even skin.

So, if you've wanted to make your homemade anti-aging moisturizer for some time, keep reading.

Another reason was to omit all those plastics and packaging.

The third reason was to cut some costs.


How to make homemade face cream for wrinkles
The whole process of making your face moisturizer is pretty simple. I will share a couple of variations, including several essential oil blends.
For the base, I am using shea butter; of course, we will need carrier oil, fractionated sweet almond oil, and essential oils. Your skin type will determine which carrier oil and essential oils you will want to use.
To make the lotion, you will need a glass bowl, saucepan, and glass airtight container for storage.
What you will love about this homemade anti-aging face moisturizer is that the recipe is easily customizable. This homemade face moisturizer for aging skin recipe uses already shelf-stable ingredients.
As such, you can store yours for about six months. You won't believe how easy this is to make! This is a DIY anti-aging moisturizer with shea butter. I'm a HUGE fan of shea butter. I love slathering it on after a hot bath or shower.
But for this easy homemade wrinkle cream recipe, you will also use sweet almond, jojoba oil, and essential oils. You will find this easy face moisturizer recipe below!
If you are starting your journey towards a healthier lifestyle and want to ditch the chemicals, making your facial cream is a significant first step.
By choosing the right ingredients and carrier oils, you can create anti-aging cream at home that absorbs quickly and moisturizes your skin without a greasy feeling.
💡 Do you dream of a perfect skincare routine (and products) but feel it's impossible since your budget is limited? Grab the recipes I'm using to craft 100% natural DIY beauty products that give top beauty brands a run for their money!  ❤️ HOMEMADE BEAUTY MADE SIMPLE ❤️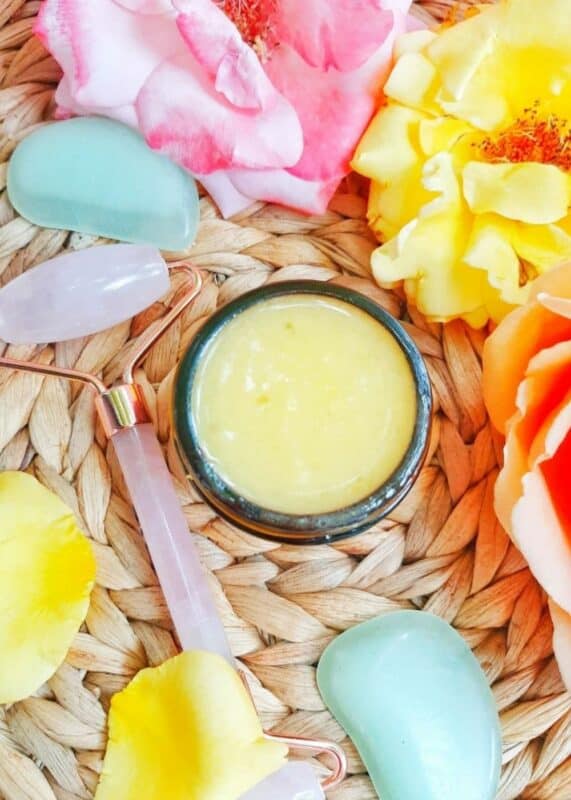 Can I use coconut oil on my face as a Mmoisturizer?
The truth is that coconut oil can work as a moisturizer.
I don't use coconut oil on my face. I find it to clog my pores and cause breakouts. But if you search online, you'll get several different opinions.
If you have dry, flaky skin, coconut oil instead of your regular moisturizer may soften and hydrate your skin, leaving it feeling refreshed and soft upon waking.
Using coconut oil as an overnight treatment may not be suitable for everyone. Anecdotal evidence is mixed on coconut oil's benefits for oily or acne-prone skin.
Coconut oil is comedogenic, which means it can clog pores.
While some people find that coconut oil helps clear their breakouts, making skin look brighter and feel softer, others find it too heavy to use as an overnight treatment.
Since coconut oil can clog pores, it may contribute to acne breakouts in some people. If you have oily skin, coconut oil might cause blackheads, pimples, or whiteheads to form on your face if left on overnight.
To make homemade face moisturizer for aging skin at home, you should carefully choose your carrier oils.
This recipe calls for 2 tbsp of oil. You have several options here. I prefer to use a combination of jojoba oil and sweet almond oil. These carrier oils have a mild scent and moisturise the skin.
Other carrier oil options:
Argan oil
Avocado oil
Grapeseed oil
Hemp seed oil
These oils have been proven non-comedogenic and can be used on your face or body.
Gresy Oils to Avoid
While most carrier oils are ok for your skin, some are greasy or don't absorb into the skin well.
Castor Oil
Coconut Oil
Olive Oil
Palm Oil
How to choose essential oils for your face moisturizer recipes
Essential oils can further boost the skincare effects of this easy homemade hand cream recipe. I use essential oils in nearly all of my natural DIY skincare recipes. EOs can tackle many skin issues and are excellent additions to homemade organic skincare products.
The best essential oils for wrinkles
Here are five of the best essential oils for anti-aging face cream:

Pomegranate
Pomegranate seed oil is an incredible source of anti-aging benefits, making it especially nourishing to dry, mature skin. While the pomegranate essential oil contains a generous amount of antioxidants, there's more to this anti-aging oil than meets the eye.

Lavender
Lavender essential oil is a potent antioxidant and helps increase collagen production. These anti-aging benefits make it ideal for tightening up aging, and sagging skin and helping to reduce those fine lines and wrinkles.

Carrot seed essential oil
Carrot seed essential oil strengthens the skin's elasticity and helps to rejuvenate the cells. The carotenoids in this moisture-rich oil are said to lighten dark spots and protect against photoaging and sun exposure damage.

Ylang-ylang
Ylang-ylang oil benefits quite a lot in skin care. It is known to work effectively on acne. It has antifungal properties that help clear acne and works towards making the skin clearer. It is further known to moisturize the skin and help regenerate the cells. Its hydrating properties also make it a great anti-ageing agent. It works well on fine lines and wrinkles. Ylang-ylang oil is also good at absorbing excess sebum.

Frankincense essential oil
Frankincense is an excellent essential oil for skin repair and to promote new skin cell growth. Frankincense is packed with fatty acids that nourish the skin and antioxidants that fight free radicals and protect collagen and elastin cells.

Rose
Rose oil is one of the best anti-aging oils you can find. It is moisturizing, anti-inflammatory and repairing and full of powerful antioxidants. Antioxidants protect the skin against free radicals and prevent the damage oxidative stress can cause.


For essential oils, use whatever you like, with the suggestions above being good for different issues. I used rosehip and lavender, which were heavenly smelling.
Don't be scared if you miss some of the ingredients for this easy homemade face moisturizer for aging skin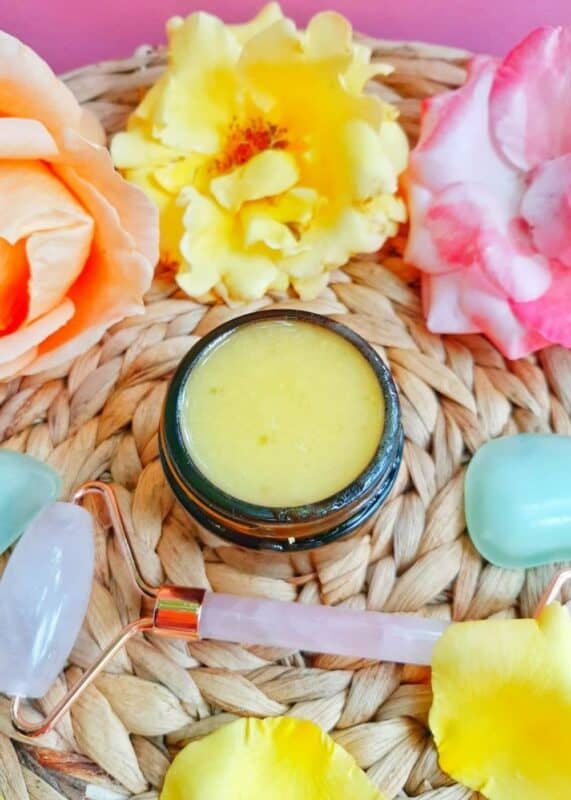 Tutorial How to Make Anti Aging Face Moisturizer
1. Melt the shea butter and beeswax in a double-boiler container.
2. Once it's melted, add the oils and mix well.
3. Transfer into a glass bowl, add the essential oils and mix well.
4. Let the mixture cool or put in the fridge for about 15-20 minutes.
5. Start mixing with a hand mixer like this one for 2-5 minutes until thoroughly combined and with a creamy consistency.
6. Pour in your favourite containers.
Here's the Full List of Ingredients and Necessary Equipment
Shea Butter is safe for all skin types. She butter is a tree nut product, and it doesn't contain chemical irritants known to dry out skin, and it doesn't clog pores. She butter is one of the best moisturizers.
Sweet Almond Oil is an emollient, making the skin softer. It has historically been used to treat psoriasis, eczema, and scarring. It soothes and rejuvenates skin and improves complexion and skin tone.
Jojoba Oil closely mimics the skin's sebum, making it an effective natural facial conditioner. (Good news for anyone with a dry or irritated complexion.) Jojoba oil helps moisturize the skin without clogging the pores, allowing for a healthy skin type.
Beeswax holds anti-inflammatory properties, vitamin E boosts antioxidant power, and essential oils provide a pleasant aroma, which may also offer therapeutic benefits.
When it comes to winter, I suggest experimenting with some beeswax or candelilla wax (although do not substitute any of the E Wax, it's just an additional ingredient). This will give your skin an extra layer of protection from the chilly weather. It also shouldn't be greasy if you get the ratio right.
Homemade Face Moisturizer for Aging Skin Recipe
Ingredients:
1/8 cup avocado oil
2 Tbsp coconut oil
1 Tbsp Beeswax
1 Tbsp Shea Butter
5 drops of Vitamin E Oil
5 drops of lavender essential oil
More DIY Facial Recipes
How to Make Face Cream Full Tutorial
💡 Do you dream of a perfect skincare routine (and products) but feel it's impossible since your budget is limited? Grab the recipes I'm using to craft 100% natural DIY beauty products that give top beauty brands a run for their money!  ❤️ HOMEMADE BEAUTY MADE SIMPLE ❤️