Are you tired of buying expensive (not to mention full of toxins and no eco-friendly) products that never made your skin clear and glowing?
Unfortunately, many of the face serums available on the market are packed with harmful chemicals which may harm your skin in the long run. It is not really safe to expose our skin to such harmful products.
The best you can do is to stick to either natural or homemade products for our skin.
It's time to say goodbye to your chemical-packed beauty products! Get naturally glowing skin at home by using this DIY serum for glowing skin.
This DIY face serum for glowing skin recipe is super nourishing, super versatile and super simple, and all-natural.
This easy DIY skin serum is perfect for all skin types and feels exactly like a store-bought serum. This is the best homemade face serum for glowing skin you'll ever try!
If you like my beauty recipes, join my Facebook group 🎉 This is the best place for broader DIY beauty stuff, behind-the-scenes, what I'm working on in real-time, and more!
💡 Do you dream of a perfect skincare routine (and products) but feel it's impossible since your budget is limited? Grab the recipes I'm using to craft 100% natural DIY beauty products that give top beauty brands a run for their money!  ❤️ HOMEMADE BEAUTY MADE SIMPLE ❤️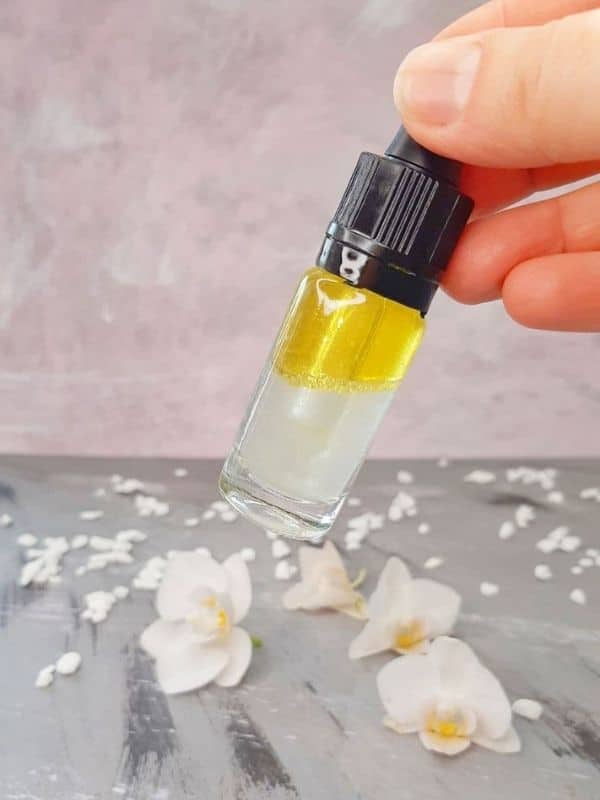 Why It's Time to Make Your Homemade Face Serum?
I have been using this homemade face serum instead of moisturizer for years and absolutely LOVE it. I knew I needed to share the recipe!
I always have sensitive skin. And the idea of putting even store-bought luxury face serums on my face goes against everything I was taught. I was so scared of using toxic and full with chemicals products. That's how I started making my own all-natural homemade skincare products.
Making your own DIY face serum is not difficult at all. And this is a super easy homemade face serum recipe.
What you will love about this DIY face serum for glowing skin is that the recipe is easily customizable. This homemade face serum recipe uses ingredients that are already shelf-stable.
You'll Love This DIY Face Serum because:
it smells great
has flexible ingredients
it's super easy to make
Don't forget to pin this face serum!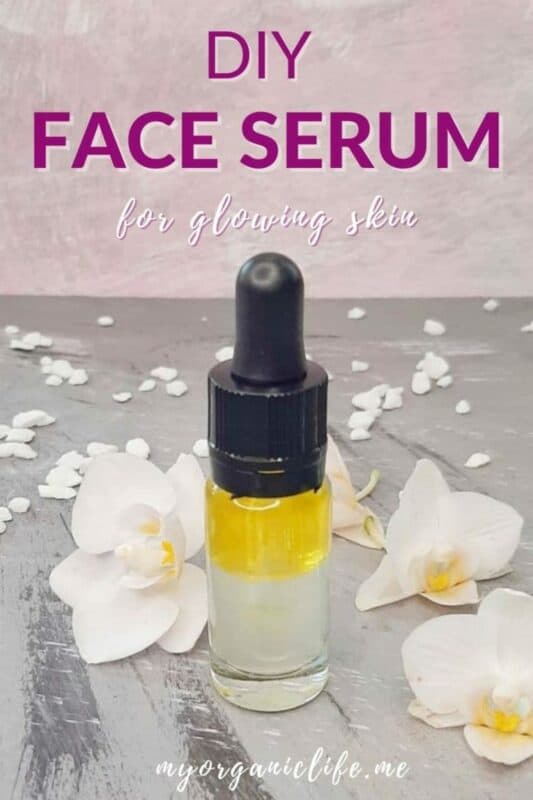 How Can I Make Glowing Serum at Home?
1. Carrier Oils
Using quality carrier oils for your DIY face serum is essential for your skin. Always use organic, cold-pressed, and unrefined oils.
The good quality carriers won't clog your pores, and they're also similar to the makeup of our skin's natural sebum, so they work with our skin instead of against it!
This recipe uses jojoba oil – which is a very face-friendly oil that absorbs fairly quickly.
The best carrier oils for different skin types are:
Jojoba Oil – Good for all skin types. Jojoba oil is considered a non-comedogenic oil – it won't clog your pores. It's easy to apply and wear under makeup. Jojoba oil is best for those with normal or combination skin.
Argan Oil – is the best if you have dry acne skin. Argan oil is good for anti-aging skin (that needs more hydration).
Sweet Almond Oil – contains vitamins A and E, omega-3 fatty acids, and zinc. It's perfect for dry skin conditions and reduces acne and the appearance of scars.
---
2. Essential Oils
In this homemade face serum, I'm also using essential oils. They are all skin-supporting essential oils.
Lavender – calming & healing for all skin types, promotes clear skin and gently moisturises.
---
Vitamin E – has antioxidant properties that help fight free radicals and delay premature ageing. It will reduce scarring and wrinkles and provide a ton of moisture. It's a thick, sticky oil. You need to make sure you're buying pure vitamin E, not something that has been mixed in with other oils. Adds a beautiful glow and also improves the shelf life of the product.
Aloe vera gel is the queen of anti-inflammatory properties. It's very soothing and hydrating and balances the skin's pH.
You can use any aloe vera gel you have on hand. I like the Bader Aloe Vera Gel if you want to buy a bottle. However, nothing beats the potency of fresh aloe.
Unlike regular, market-bought moisturizers, Aloe Vera gel doesn't leave a greasy film on the face and the skin when used as a moisturising gel. In fact, it does the opposite– it unclogs the pores and softens the skin.
Aloe Vera gel has vitamins C and E and beta-carotene in abundance. Therefore, it has anti-ageing properties. It also contains antimicrobial properties and is anti-inflammatory. It also helps to eradicate skin blemishes and diminish age lines. Additionally, it helps to increase the production of collagen in the body and skin elasticity.
Aloe vera gel absorbs easily, making it ideal for oily skin. However, it can help treat dry skin, too.
If you have your own plant, break off one of the leaves and scoop out the flesh. Some of the flesh can be chunky; try to aim for the more slimy bits with a more homogenous consistency. You may have to scoop around a bit to get there. It will make for a smoother application and a better user experience.
Here's the full list of ingredients and necessary equipment:
Lavender essential oil
Amber Glass Dropper Bottles
Alright, let's get making….
DIY Serum for Glowing Skin Recipe
You will need:
Preparation:
Get out your glass dropper bottle and start off by putting in your essential oils.
Now add vitamin E oil. As I mentioned before, it's really important to use pure, non-refined vitamin E oil (not one that has been mixed with another type of oil).
Mix your carrier oil with the aloe vera gel in a small bowl. Next, add it to your dropper bottle.
Once filled all the way up to the top, put the lid on and gently invert it to mix all of the ingredients up.
Enjoy!
More DIY Facial Recipes
How to Make Face Cream Full Tutorial
Face Moisturizer for Aging Skin
Let's connect!
If you like my beauty recipes, join my Facebook group 🎉 This is the best place for broader DIY beauty stuff, behind-the-scenes, what I'm working on in real-time, and more!
💡 Do you dream of a perfect skincare routine (and products) but feel it's impossible since your budget is limited? Grab the recipes I'm using to craft 100% natural DIY beauty products that give top beauty brands a run for their money!  ❤️ HOMEMADE BEAUTY MADE SIMPLE ❤️