Today I've got an amazing DIY Face Cream recipe to share with you!
I've added it to my skincare routine for the last 4 months, and my skin has never felt softer.
This lovely Rose Face Cream smells absolutely wonderful and contains nothing but nourishing ingredients that will leave your skin radiant.
I can't wait for you to try it!
If you like my beauty recipes, join my Facebook group 🎉 This is the best place for broader DIY beauty stuff, behind-the-scenes, what I'm working on in real-time, and more!
💡 Do you dream of a perfect skincare routine (and products) but feel it's impossible since your budget is limited? Grab the recipes I'm using to craft 100% natural DIY beauty products that give top beauty brands a run for their money!  ❤️ HOMEMADE BEAUTY MADE SIMPLE ❤️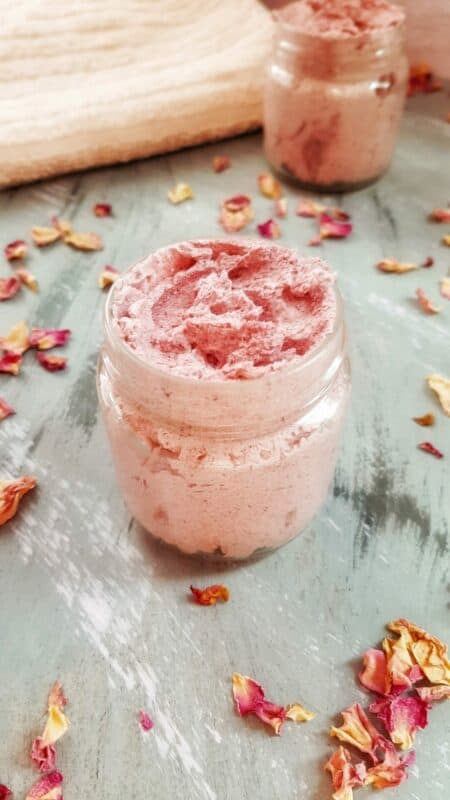 Disclosure: This post contains affiliate links, meaning, at no additional cost to you, we will earn a small commission if you click through and make a purchase. Learn more
Why It's Time to Make Your Own Face Cream
I had converted to natural products to reduce my toxin levels, optimize liver function, and reduce excess chemicals that mimic hormones and so I blamed it on the changes in skincare.
It's a difficult process; I spent about one year or even more testing different products. You need to find what works for you.
Now, finally, I found a routine that was costly but brought my skin back to normality.
Take a moment and ask yourself how many products you use in a typical day. Cream, lotion, deodorant, soap, perfume, makeup, lip balm, anti-cellulite treatments?
Now ask yourself how many ingredients are in those products.
What if I tell you that just one of those products contains 126 unique ingredients?
The skin is our biggest organ. Everything you put on it goes into your bloodstream for about six minutes.
All the toxins are in your organs for another twenty minutes, and some of them stay there for a long, long time.
Did you know that less than 20% of the chemicals in cosmetics are proven safe? I can also tell you that of 12 000 substances used in cosmetics, only eight are forbidden.
Do you really believe when you see a label "natural" or "organic"?
For example, if you are on your way to buy a face cream and you are reading what this is made from…one herb (sounds good, it's natural) is, but then you see – another 20 chemical substances…so, is this a natural cream???
Yes, of course, it is!!!
If you choose carefully what you eat, why don't you do the same with your skin?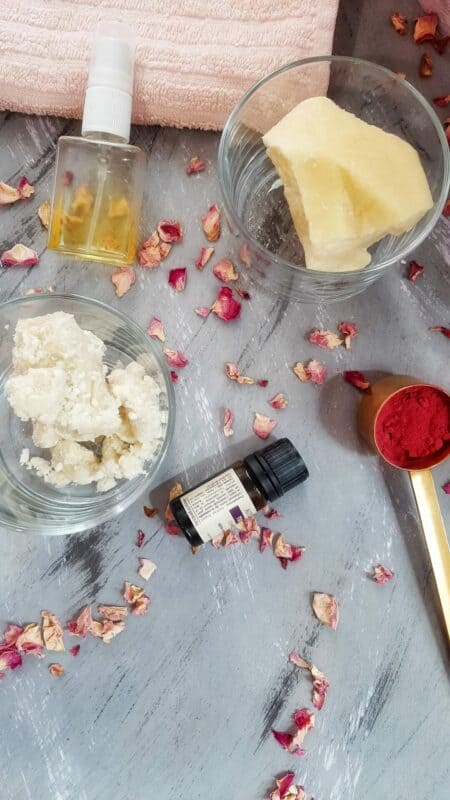 DIY Rose Face Cream That'll Instantly Make Your Skin Glowing
This easy homemade face cream is perfect for your skin and feels exactly like store-bought lotion. This is the best face cream for glowing skin you'll ever try!
While many types of homemade face cream are thick and greasy, this all-natural, easy DIY face cream recipe is light and quick-absorbing. It leaves no greasy after-feel and is great for all skin types.
Welcome to the most luxurious easy homemade face cream recipe on the planet. It looks like clouds from Heaven.
I like to have a homemade face cream that will keep my skin feeling moisturized for hours…, and of course, it needs to smell A-MAZING!!! So I thought I would experiment and see if I could create my own easy cream.
What you will love about this homemade face cream is that the recipe is easily customizable. It uses ingredients that are already shelf-stable.
As such, you can store yours for about six months. You won't believe how easy this is to make!
This is a DIY face cream with shea butter. I'm a HUGE fan of shea butter. I love slathering it on after a hot bath or shower. I have really dry skin, especially in the winter, and my skin just loves to soak up the shea butter.
But for this easy homemade cream recipe, you will also use cocoa butter, jojoba oil, beetroot powder, and essential oils.
There are so many fascinating properties of essential oils. Not only do they smell amazing, but they can also help rejuvenate your skin.
You will love this DIY face cream because it is:
non-greasy
super easy to make (no fancy tools–just melt, stir and pour)
smells great
has flexible ingredients (so you can pretty much use what you have on hand)
The Hidden Benefits of This DIY Face Cream
Shea butter is a great natural beauty product for your skin or hair. It is rich in fats, making it an excellent emollient and skin moisturizing agent.
Shea butter also has anti-inflammatory and antioxidant properties. These can help reduce inflammatory skin diseases and the damage the skin and hair have undergone due to free radicals.
It also contains vitamins A and E, which keep the skin in optimal health and protect it from being damaged by the sun's harmful ultraviolet radiation.
Cocoa butter is high in antioxidants, which help fight off free-radical damage, which can cause skin aging, dark patches, and dull skin.
It reduces stretch marks and scars.
Cocoa butter is high in fatty acids and hydrates the skin deeply, making it a wonderful addition to body moisturizers and lip balms.
It contains oleic, palmitic, and stearic acids, all of which nourish the skin.
Jojoba oil moisturizes dry skin.
Jojoba oil helps soften and soothe ragged cuticles by Boasting tons of fatty acids.
Jojoba oil can soothe dry, chapped lips thanks to its nourishing vitamin and minerals.
It contains vitamin E, a strong antioxidant that helps reduce inflammation and speed up cell regeneration both in the body and the skin. That makes jojoba oil a great treatment for sunburn.
Jojoba oil has antibacterial properties and boosts the skin's glow.
Rose essential oil is perfect for dry or aging skin.
Because of vitamin C's anti-inflammatory properties, it can be used to treat conditions such as acne.
Beets contain vitamin C and can be used in treating hyperpigmentation.
Beetroot is rich in antioxidants such as beta carotene, vitamin C, and E, which aid in the regeneration of skin cells. This wholesome package of antioxidants helps to maintain skin and hair health and prevents aging by delaying the appearance of fine lines and wrinkles.
How to Make Your DIY Face Cream
What You'll Need
Tools
Method:
Combine cocoa butter and shea butter over medium heat using the double boiler method.
Stir from time to time to allow the butter to melt. Hold the mixture at medium heat for at least 10 minutes to ensure the cocoa butter is completely liquified.
Once both shea and cocoa butter have liquified, remove it from the fire. Add the jojoba oil and rose essential oil and stir to combine.
Allow the mixture to come to room temperature. You can speed up the process by putting the mixture in the freezer for 5-10 minutes. It will be the consistency of salve when it's ready.
Add in the rose petal powder, and then add the mixture to a blender. Blend until your mixture is the consistency of lotion.
Transfer this to an easy-to-use jar, and your rose face cream is ready.
Use it on your facial skin during the day and also before sleeping.
More DIY Facial Recipes
Face Moisturizer for Aging Skin
---
Frequently Asked Questions
What Is the Best Best Homemade Moisturizer for the face?
Shea butter is an excellent emollient and can help skin reduce moisture loss. Shea butter extract has also been shown to be anti-inflammatory. One study even suggests it has topical effects similar to ceramides, an ingredient often used in luxe skincare products.
---
How Do You Make Creamy Face Cream?
Not only does homemade face cream cost much less than what you'd get in a store, but you can also control exactly what goes inside. Making face cream at home is surprisingly easy, and once you know the basics, you can make all sorts of recipes.
Using the double boiler method, combine the butter or oil you want to use over medium heat. Hold the mixture at medium heat for at least 10-15 minutes to ensure all the ingredients are completely liquified.
Once the mixture has liquified, remove it from fire. Add oils or/and essential oils and stir to combine. Allow the mixture to come to room temperature. You can speed up the process by putting the mixture in the freezer for 5-10 minutes. It will be the consistency of salve when it's ready.
---
Does Beetroot Make Your Skin Glow?
Beetroot is an excellent source of antioxidants that can possibly increase blood circulation in the body.
Beetroot contains elements like potassium, protein, vitamin-A, vitamin D, C, B-6, and iron. Beetroot is a very good skin whitening ingredient and has many beauty benefits as well. Using beetroot daily not only brings a pink glow to your skin but also removes all skin spots. Beetroot has anti-inflammatory properties that help to get rid of pimples.
---
If you're looking for a homemade face cream that will nourish your skin, look no further.
You've learned how to make your own cream, so what's next? Grab the ingredients and start making it. You'll save money. You'll be using only natural products. You'll feel better. Your skin will be healthier and glowing.
This DIY face cream is a great gift idea, too – perfect for mother's day, birthdays, Christmas…
Make your own face cream, girl!
Let me know how you experience it!
Take care, beautiful soul!
xo, Lora