This DIY anti-aging cream recipe is nourishing, versatile, and all-natural and includes free printable labels.
Making your own DIY anti-aging face cream is one of the most effective ways to give your skin that youthful glow.
For this easy face cream recipe, I will use all-natural ingredients like coconut oil, shea butter, and essential oils.
If you like my beauty recipes, join my Facebook group 🎉 This is the best place for broader DIY beauty stuff, behind-the-scenes, what I'm working on in real-time, and more!
💡 Do you dream of a perfect skincare routine (and products) but feel it's impossible since your budget is limited? Grab the recipes I'm using to craft 100% natural DIY beauty products that give top beauty brands a run for their money!  ❤️ HOMEMADE BEAUTY MADE SIMPLE ❤️
💡 Do you dream of a perfect skincare routine (and products) but feel it's impossible since your budget is limited? Grab the recipes I'm using to craft 100% natural DIY beauty products that give top beauty brands a run for their money!  ❤️ HOMEMADE BEAUTY MADE SIMPLE ❤️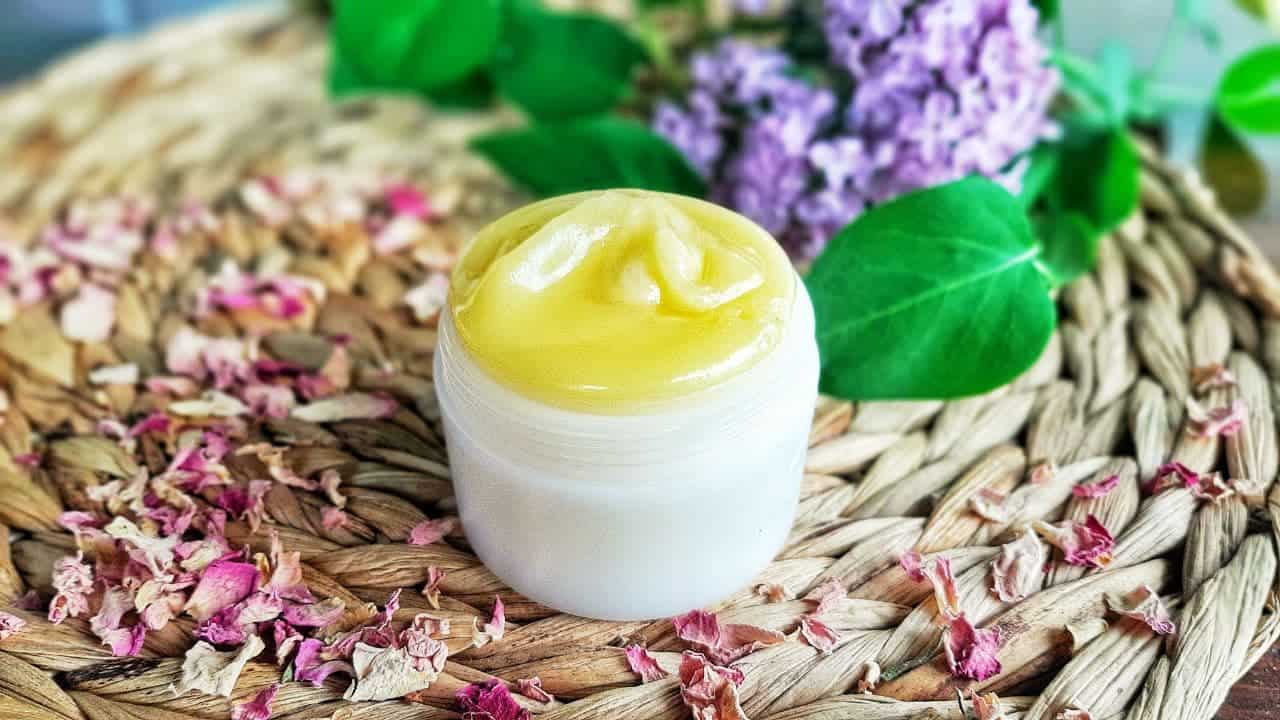 Disclosure: This post contains affiliate links, meaning, at no additional cost to you, we will earn a small commission if you click through and make a purchase. Learn more
While many types of homemade anti-aging cream are thick and greasy, this wonderful non-greasy homemade face cream with shea butter recipe works very well. It absorbs quickly, is not greasy, and is great for your skin!
This easy homemade face cream is the best anti-aging moisturizer and feels exactly like store-bought lotion.
Welcome to the most luxurious easy DIY anti-aging cream recipe on the planet. It looks like clouds from Heaven.
Don't forget to pin this anti-aging face cream!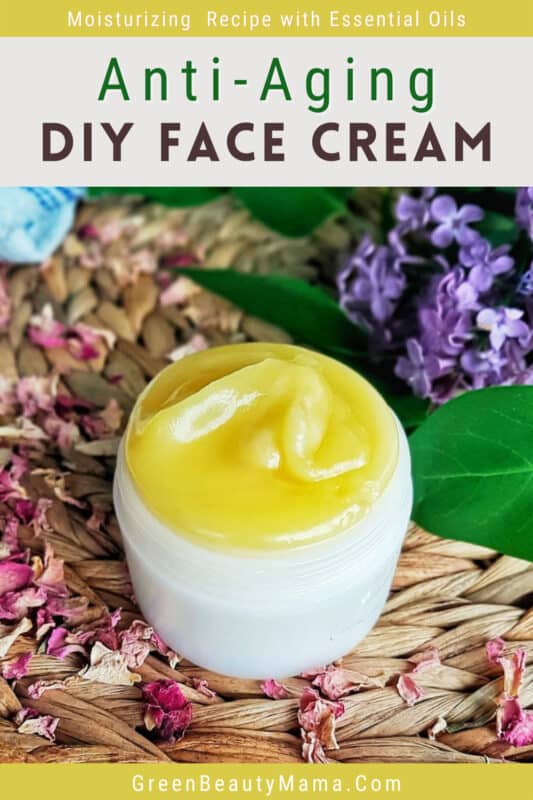 Why It's Time to Make Your Own Homemade Face Cream for Wrinkles
No matter your age, radiant skin doesn't happen overnight.
We can't completely erase the natural effect of aging, but we can try different natural ways to prevent fine lines.
Including a good anti-aging face cream in your skincare routine is essential for every woman.
While many of the store-bought luxury anti-aging products cost at least a couple of hundred bucks, this DIY anti-aging face cream is made with simple, all-natural ingredients.
And I'm pretty sure you have everything in your pantry.
Lately, I've been obsessed with making my own skincare products.
And I can tell you that they work just as well (if not better) than any expensive cream on the market.
Here's why I love making my own skincare products:
1. I know exactly what is in them.
For example, in this homemade face cream, I used shea butter, coconut oil, plus a blend of essential oils that are great for reducing wrinkles!
2. My skin is healthier.
*My face is not dry at all. And I went from the combination and sensitive skin to completely normal skin.
3. I'm saving a lot of money.
It costs a little bit up at the beginning till you get all the oils and butter, but once you have them, you can make your products 20+ times over.
My homemade face cream anti-aging is perfect for mature skin and any other type of skin if you are looking for wrinkle prevention.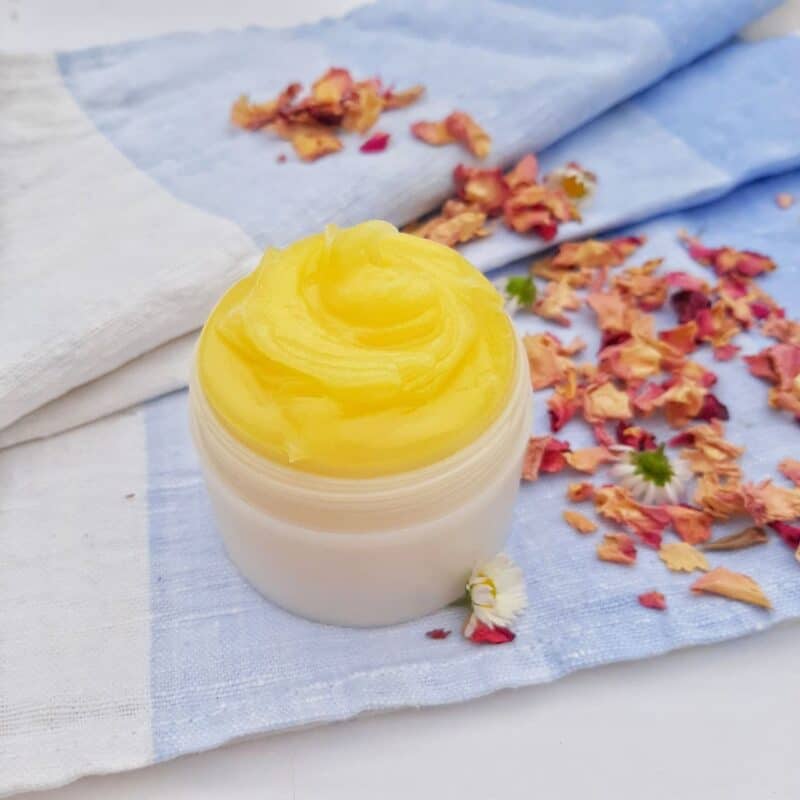 What are the Best Ingredients for Anti Aging Cream
Like I told you before, some of the best ingredients for this homemade anti-aging moisturizer are right in your pantry.
Yes, that's right!
But first thing first.
You should choose your carrier oil. For this DIY anti-ageing cream recipe, I'm using avocado oil and coconut oil because both have amazing benefits for your skin, especially regarding wrinkles.
I will use avocado oil, coconut oil, shea butter, vitamin E oil, and essential oils.
Avocado oil has numerous skin benefits because of its bioactive molecules, including fatty acids, folate, vitamin C, and vitamin E.
Avocado oil can help combat dullness and dryness if you need a moisture boost.
One of the amazing benefits of avocado oil for the skin is that it increases collagen production.
This is beneficial because as you age, less collagen is produced.
Research shows that avocado oil is a safe oil to use on the face.
Coconut oil has proven antibacterial, antiviral, antifungal, and anti-inflammatory benefits.
Coconut oil is an incredible moisturizer made of saturated fats that melt and absorb quickly into the skin, offering many benefits.
Shea butter has soothing and anti-aging properties that may make skin appear smoother and reduce aging.
Using shea butter on your face can fade acne scars, soothe irritation, and fast-track healing (for example, if you have sunburn).
It is the perfect ingredient for making homemade lotion and face moisturizers.
Shea butter is a very gentle ingredient and can be used on sensitive skin. You can replace the shea butter in this recipe with mango butter or cocoa butter.
Vitamin E is one of the best ingredients to nourish, hydrate, and rejuvenate the skin. Another benefit is that the antioxidant properties of vitamin E also protect the carrier oil from oxidation (= going rancid) and help to prolong the shelf life of the DIY anti-aging cream.
Essential Oils
This homemade wrinkle cream uses essential oils! There are so many fascinating properties of essential oils. Not only do they smell amazing, but they can also help rejuvenate your skin.
While they aren't necessary, adding them can turn your DIY anti-aging face cream from simply moisturizing to something that really addresses what is going on with your skin.
Dry or aging skin? Try rose and geranium.
Need to be energized and refreshed? Try lavender, lemon, and grapefruit.
Troubled skin like psoriasis or eczema? Try helichrysum, frankincense, lavender, sandalwood, chamomile, rose, or jasmine.
Want to avoid Stretch Marks? Try helichrysum, lavender, patchouli, neroli, rose, and geranium.
For essential oils, use whatever you like, with the suggestions above being good for different issues. I used rose, and orange, which were really heavenly smelling, especially combined with the fragrance of the coconut oil. Somehow I felt like a creamsicle.
The best essential oils for anti-aging are lavender and frankincense.
Frankincense oil is an effective natural anti-acne and anti-wrinkle remedy. It reduces the appearance of dark spots, age spots, and skin discoloration.
Lavender oil can benefit the skin in numerous ways. It has the ability to lessen acne, help lighten skin, and reduce wrinkles.
How Can I Make My Face Cream That Removes Wrinkles
💡 Do you dream of a perfect skincare routine (and products) but feel it's impossible since your budget is limited? Grab the recipes I'm using to craft 100% natural DIY beauty products that give top beauty brands a run for their money!  ❤️ HOMEMADE BEAUTY MADE SIMPLE ❤️
Making a DIY anti-aging cream is not difficult at all. And this is a super easy face cream recipe.
What you will love about this homemade wrinkle cream is that the recipe is easily customizable.
As such, you can store yours for about six months.
Ingredients:
Instructions:
Add the shea butter to a small bowl and mash it with the back of a spoon until it's creamy (or use this mini food chopper – I just started using it, and it's amazing!)
Add avocado oil and coconut oil and mix them together really well.
Add in your essential oils of choice and combine well again.
Transfer the cream to a 4-ounce glass container.
DONE!
More DIY Facial Recipes
How to Make Face Cream Full Tutorial
Face Moisturizer for Aging Skin
How to Use Anti-Aging Face Cream
Use this face cream every day before going to bed for at least a month. You only need a small pea-size of the cream; massage your face and neck with it.
Some More Natural Remedies for Anti Aging
If you need more anti-aging hacks, keep reading.
Aging is a natural process, and it can't be reversed. However, with a few natural remedies, you may stop the signs of aging from appearing on your face.
What causes aging and wrinkles?
Many things can cause our skin to age. Some of them we can't prevent. We can't change these things, like genetics, while several others we can.
Stress
Everybody feels stressed from time to time, but when it becomes chronic, it can have serious consequences on your health Stress can accumulate a lot of harm to our bodies.
What are the effects of stress on your face?
Stress can show on your face in many ways:
acne
bags under the eyes
dry skin
rashes
wrinkles
The easiest and the best way to cope with stress is to schedule time for relaxing activities. You may try to maintain a healthier lifestyle. Stay active and talk to others.
Nutrient poor diet
The way you eat is the way your body will look like. Everything you put into your plate goes into your body and shows up on your skin.
Changing your diet might help. Add more nutrient-dense foods like fruits, legumes, nuts, and fish. These can help your skin maintain its youthfulness.
Avoid foods like sugar, red meat, gluten, and alcohol. Stay active and talk to others.
Dehydration
Water, water, and MORE WATER!
Drinking a lot of water is really important for your overall health.
Did you know collagen is the primary connective tissue in our skin, and it's mostly made up of water?
Wash your face with water first thing in the morning for at least 2-3 minutes. Don't clean your face with anything, you just don't need it. After you wake up, your skin is clean and needs nothing but water.
Start drinking more water and tea, and limit the coffee as much as possible. While avoiding fruit juice, soda pop, and sports or energy drinks. And if you feel the need to add flavor to your water or tea, try adding fresh fruit, like strawberry, lime, peach, or lemon. Some mint leaves + lime juice gives an amazing taste to my water.
Toxins in your skincare products
Did you know that less than 20% of the chemicals in cosmetics are proven safe? I can also tell you that of 12 000 substances used in cosmetics, only eight are forbidden.
Do you really believe when you see a label "natural" or "organic"?
For example, if you are on your way to buy a face cream and you are reading what this is made from…one herb (sounds good, it's natural) is, but then you see – another 20 chemical substances…so, is this a natural cream???
Yes, of course, it is!!!
But why???
Why not? If it's not forbidden, it is permitted!
Carcinogens, neurotoxins, reproductive toxins – they are all in your bathrooms.
A Few Anti-Aging Natural Remedies to Prevent Wrinkles
So aside from using a homemade anti-aging moisturizer (that you've just made), there are a few natural remedies that might help you to prevent wrinkles and aging signs.
Better than lifting a face mask – this homemade matcha face mask is a must.
Green tea matcha also helps to plump and hydrate skin. It's rich in antioxidants that are well known for directly improving skin's elasticity by lowering oxidative stress compounds that would otherwise bind to collagen fibers and cause skin aging and fragility. Green tea also boosts healthy collagen production and improves skin hydration.
Face Yoga
Face yoga involves massage and exercises stimulating muscles, skin, and lymphatic systems.
You may want to give facial yoga a go!
Facial yoga is a series of poses designed to tone muscles and places like the mouth, eyes, and forehead.
Here are a few reasons to try facial yoga:
1. Facial yoga is as natural as it gets. It realizes tension you might be surprised. And how much we hold in our face and neck.
2. Facial yoga teaches you to become more aware of those muscles so you can relax them whenever you feel tight.
3. Facial yoga also helps reduce wrinkles. Some wrinkles come with age, and some come because we are constantly tensing facial muscles like those around the eyes and mouth.
4. Facial yoga builds awareness so you can release the unhealthy tension
5. Facial yoga also promotes collagen production and muscle activity keeping the skin younger looking and glowing.
6. And it's cheaper than any medical intervention.
I try to incorporate face yoga into my daily routine. I never realized how much stress and tension I hold in my face, jaw, and shoulders.
Gua Sha
Gua sha is a face massage with a specific stone emphasizing lymphatic drainage.
A gua sha stone (I have a few, and this one is the absolute best!) is great for sculpting and lifting your skin.
It offers an intensified re-patterning of habits in muscles and tissue, helping to remove metabolic waste, environmental pollution, and chemicals that may have entered the body through conventional beauty products, tap water, or the overuse of plastic.
If you like my beauty recipes, join my Facebook group 🎉 This is the best place for broader DIY beauty stuff, behind-the-scenes, what I'm working on in real-time, and more!
💡 Do you dream of a perfect skincare routine (and products) but feel it's impossible since your budget is limited? Grab the recipes I'm using to craft 100% natural DIY beauty products that give top beauty brands a run for their money!  ❤️ HOMEMADE BEAUTY MADE SIMPLE ❤️