Learn how to make vegan lip balm at home with natural ingredients, including shea butter, coconut oil, and essential oils (no beeswax).
This homemade lip balm recipe with shea butter is super nourishing, super versatile and super simple, and all-natural.
If you like my beauty recipes, join my Facebook group 🎉 This is the best place for broader DIY beauty stuff, behind-the-scenes, what I'm working on in real-time, and more!
💡 Do you dream of a perfect skincare routine (and products) but feel it's impossible since your budget is limited? Grab the recipes I'm using to craft 100% natural DIY beauty products that give top beauty brands a run for their money!  ❤️ HOMEMADE BEAUTY MADE SIMPLE ❤️
Don't forget to pin this lavender lip balm!
This vegan lip balm recipe differs from many others you'll find on the WWW. I make my homemade lip balm with shea butter and coconut oil, and since this recipe is vegan, it contains NO beeswax.
This easy moisturizing lip balm recipe can be customized however you like, so you can make the perfect tube (or tin) of amazing lip balm for you! And it feels exactly like store-bought lotion. Don't forget to try also this peppermint lip balm!
Why It's Time to Make Your Own Lip Balm
There are many reasons to try it out, and here they are:
it's cheaper than store-bought products
less packaging means less waste
you can save money by making your own
BUT, let's face it…
These days, there are a lot of commercial lip balms available in the market. However, many people have reported allergic reactions and negative side effects of these products. It is always better to make your own natural lip balm at home because you can control what ingredients go into it and avoid artificial flavors.
If you are looking for a 100% cruelty-free vegan lip balm recipe, it is best to make your own vegan lip balm recipe with a beeswax substitute like candelilla wax. There are several alternatives to beeswax, but candelilla wax is my favorite.
What's Candelilla Wax
Candelilla wax is a natural vegetable wax derived from the leaves of the small Candelilla plant grown in the semi-arid regions of northern Mexico and the southwestern part of the United States.
It is a completely natural and vegan wax that makes a great substitute for beeswax. It is harder than beeswax but softer than carnauba wax (another vegan wax).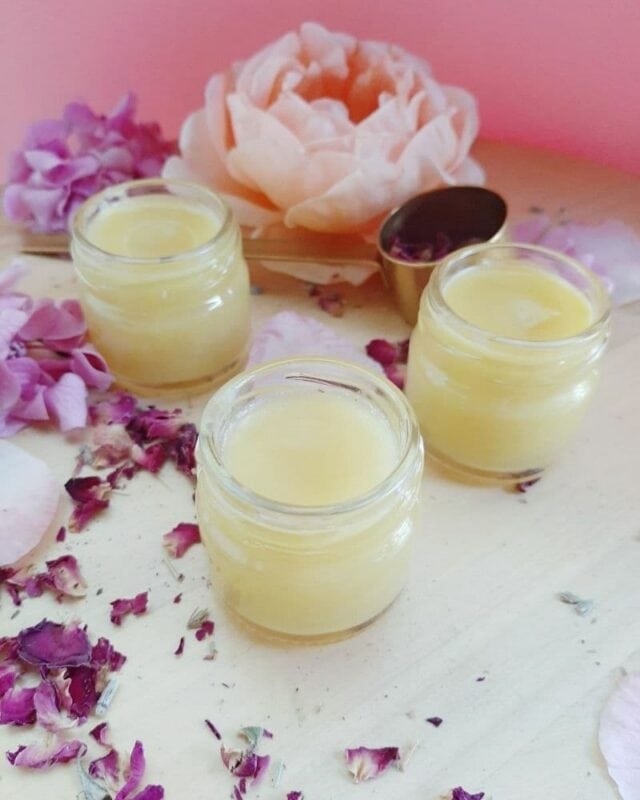 Candelilla Wax vs Beeswax: What's the Difference?
Even though plant-based Candelilla (vegetable wax) and beeswax (an animal-derived product) have many of the same beneficial properties, the main difference is that Candelilla is a vegan wax, whereas beeswax is considered to be an animal byproduct. Candelilla wax is also harder than beeswax and typically melts faster under high temperatures.
Beeswax is an excellent DIY skincare ingredient for many reasons. It is rich in vitamin A, which promotes cell regeneration and improves hydration, and also acts as an astringent, emulsifier, and stabilizer.
Like beeswax, candelilla wax has quite a high melting point and acts as a stabilizer and emulsifier in balms, creams, salves, and lotions. It is skin conditioning, easily absorbed, odorless, and rich in nutrients. It also provides a wonderful gloss and lubricity to lip balms.
Candelilla wax is a bit denser than beeswax, so you must adjust your DIY skincare recipes if you are substituting it for beeswax. It is recommended that you use half the amount of candelilla wax as beeswax since it has twice the stiffening powers. So if a recipe calls for 1 cup of beeswax, use 1/2 cup of candelilla wax instead.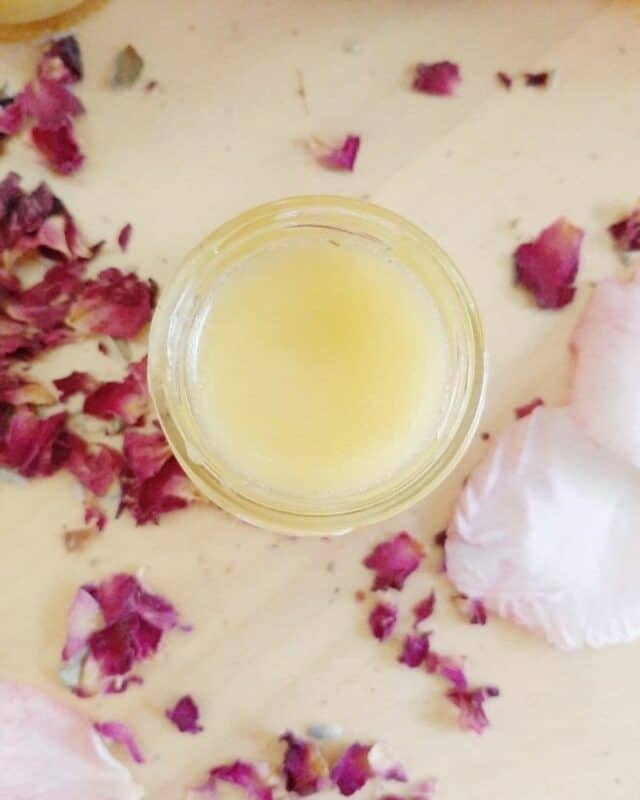 Other vegan wax alternatives to beeswax for homemade lip balm
Olive Wax – An ideal substitute for hair products and skin care products, olive wax has a soft texture and a balmy feel.
Carnauba wax is another vegan replacement for beeswax. It is harder than candelilla wax (and much harder than beeswax). I don't love carnauba wax for lip balm because it has to be heated to very high temperatures to melt and sometimes can feel gritty.
Soy wax – is derived from the soybean and is a renewable, 100% natural alternative to traditional paraffin wax. As the most popular type of vegetable wax in candle and wax melt making, it has little impact on our environment, and finished candles can be marketed as a natural product.
How to Make DIY Lip Balm Recipe with Shea Butter
Making your own DIY lip balm recipe with shea butter at home is really simple.
Let's do this together!
I chose to use candelilla wax for this vegan lip balm because it's what I had on hand, but you can always use soy wax instead. When melted and mixed with a bit of coconut oil, which softens it a bit, your vegan lip balm takes on the perfect smooth-and-creamy consistency.
The more coconut oil you add, the shinier and more glossy your lip balm will be when it warms up.
How to Use Oils in Lip Balm
You can make your own lip balm recipe with shea butter by following these simple steps. Depending on your skin type will determine which carrier oils and essential oils you will want to add, but the base of the recipe will stay the same.
Vitamin E Oil
Vitamin E is one of the best ingredients to nourish, hydrate, and rejuvenate the skin. Another benefit is that the antioxidant properties of vitamin E also protect the carrier oil from oxidation (= going rancid) and help to prolong the shelf life of the DIY lip balm.
Sweet Almond Oil
Almond oil contains vitamin A and E, omega-3 fatty acids, and zinc. It's perfect for dry skin conditions and reduces acne and the appearance of scars.
Coconut Oil
Coconut oil has proven antibacterial, antiviral, antifungal, and anti-inflammatory benefits.
Coconut oil is an incredible moisturizer made of saturated fats that melt and absorb quickly into the skin, offering many benefits.
I love adding coconut oil to homemade whipped body butter and sugar scrubs to get the amazing benefits on my skin.
Shea Butter
Shea butter has soothing and anti-aging properties that may make skin appear smoother and reduce aging.
Using shea butter on your face can fade acne scars, soothe irritation, and fast-track healing (for example, if you have sunburn).
It is the perfect ingredient for making homemade lotion and face moisturizers with.
Shea butter is a very gentle ingredient and can be used on sensitive skin. You can replace the shea butter in this recipe with mango butter or cocoa butter.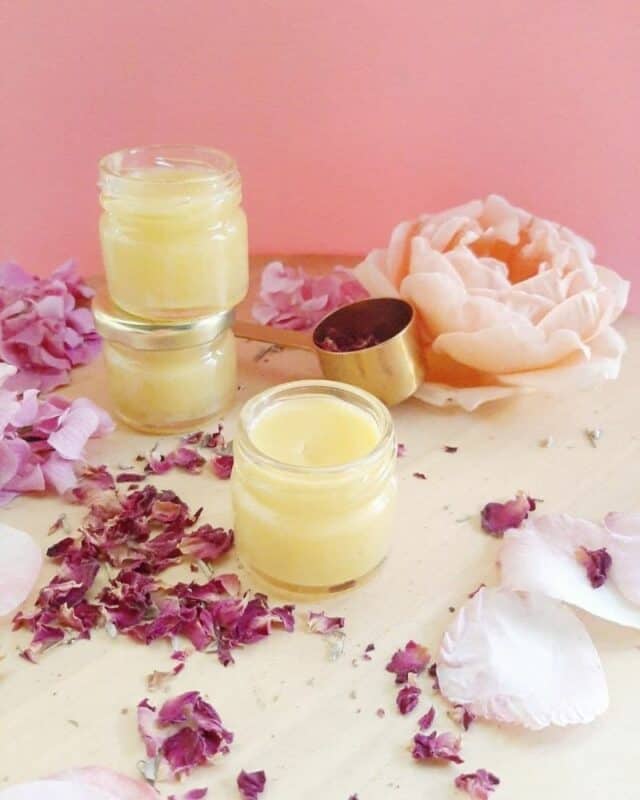 What Essential Oils Can Your Use in Lip Balm
This easy vegan lip balm recipe with shea butter uses essential oils. While they aren't necessary, adding them can turn your butter from being simply moisturizing to something that really addresses what is going on with your skin.
Peppermint or spearmint – fresh and minty with a slight cooling effect
Sweet orange – unlike orange oil, which can be phototoxic, sweet orange oil is gentle and subtle and has major Lip Smackers vibes
Vanilla oleoresin – warming scent that isn't too overpowering
Clove – slightly plumping, so just use a tiny amount
Anise – love the warming notes and spices of this one
Lavender – perfect to calm your anxieties
Dry or cracked skin? Try rose and geranium. It has antimicrobial and anti-inflammatory properties [source )]. Plus, it smells like a dream.
Rose – Rose oil is amazing for any skin imperfection, and of course, it smells lovely.
For essential oils, use whatever you like, with the suggestions above being good for different issues. I used lavender, which was really heavenly smelling, especially combined with the fragrance of the coconut oil.
But always remember:
Steer clear of hot oils! Your lip skin is sensitive, and oils like cinnamon, eucalyptus, or clove can cause a burning sensation.
Citrus oils (orange, lemon, grapefruit, lime) are photosensitive, meaning they magnify the effects of the sun. So if you liberally apply your homemade orange lip balm before you head to the beach for the day, you are likely to come home with rosy red lips.
The more oils you add to your lip balm, the softer it will be. If you decide to play around with adding extra oils, make sure to also add a little more wax, so your balm stays solid at room temperature and doesn't run or feel too greasy on your skin.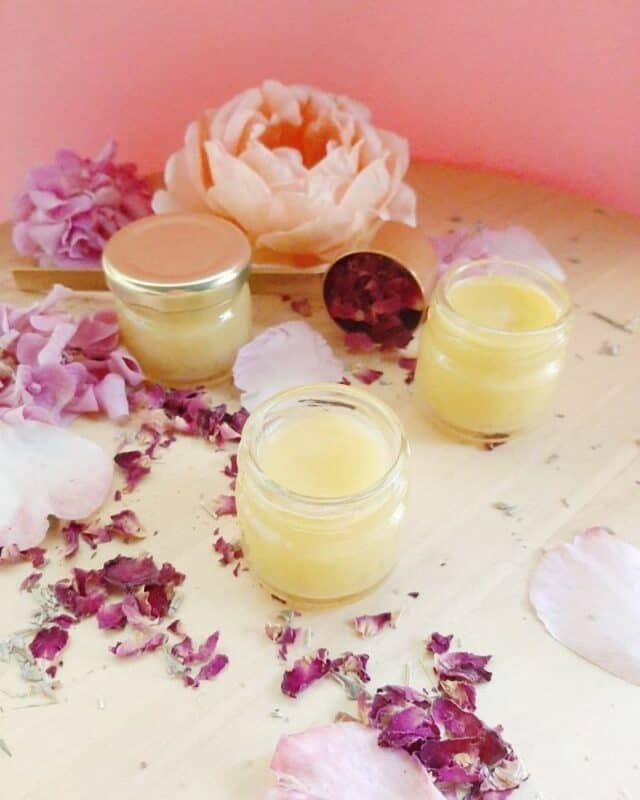 Vegan Lip Balm FAQs
How Long Does Vegan Lip Balm Last
Natural lip balms stay good for about one year. Keep in mind tins of lip balm may not stay as fresh, depending on how clean your fingers are digging into them.
You can expect your homemade lip balm to last for at least 6 months if stored properly. Make sure to keep your natural lip balm sealed and at room temperature.
How do you make flavored lip balm?
I like to keep my vegan lip balm plain, but you can use natural dyes to add a little color or mica for some eco-friendly sparkle
You can even add a pinch of dried raspberry or beetroot powder to give it a pretty pink tint.
You can always add some flavor oils to your vegan lip balm recipe or spice with natural flavors, such as cinnamon, rose petals, coffee, or finely ground dried citrus peels.
Where Can I Get Lip Balm Tubes
I love these eco-friendly natural bamboo lip balm tubes. I also recommend repurposing old plastic lip balm containers or using small aluminum tins or glass jars.
Let's connect!
I created a fun little group on Facebook, and I'd love for you to join in! It's a place where you can ask questions, share your ideas, and see what's new with Green Beauty Mama! If you'd like to check it out, you can request to join HERE.
Be sure to follow me on Instagram and tag #lorascleandiy so I can see all the wonderful recipes YOU make from this site! You can also Subscribe to my Newsletter, so you never miss a beauty recipe again!
xo,
Lora
How to Make Lip Balm Labels at Home
You can purchase blank lip balm labels and completely customize them yourself. Or you can purchase a variety of super cute, already printed labels that all you have to do is write in the type of lip balm it is.
I absolutely love these adorable lip balm labels! They are affordable and come in a bunch of different designs (like these colorful or these holiday labels).