See how to make a moisturizing DIY orange soap in less than 10 minutes! This easy orange soap recipe is made with melt and pour soap base and essential oils. The DIY soap looks very festive and is the perfect gift idea for Christmas.
The natural orange zest soap can be made with goat's milk or a shea butter soap base if vegan or a transparent soap base like glycerin or aloe vera.
If you like my beauty recipes, join my Facebook group 🎉 This is the best place for broader DIY beauty stuff, behind-the-scenes, what I'm working on in real-time, and more!
💡 Do you dream of a perfect skincare routine (and products) but feel it's impossible since your budget is limited? Grab the recipes I'm using to craft 100% natural DIY beauty products that give top beauty brands a run for their money!  ❤️ HOMEMADE BEAUTY MADE SIMPLE ❤️
DIY Orange Soap Recipe – An easy winter soap recipe & holiday gift
For this orange soap recipe, simplicity is key! This isn't a cold process soap recipe. This natural melt-and-pour soap recipe you make from scratch without using lye. For this soap recipe, I used a premade soap base. If you're a beginner soap maker, you can choose a shea butter soap base to make a natural vegan soap or a goat's milk soap base for a light-colored Christmas soap. Transparent soap bases like glycerin or aloe vera will result in darker soap.
If you make a festive soap with standard sweet orange or lemon essential oil, the soap bars will smell like nothing within days of making it. Soap recipes require much more than a few drops of essential oil. If you want a rich, citrusy scent, it's better to use folded essential oil, preferably 10x or 5x folded. It's a concentrated orange essential oil and much more suitable for soapmaking than ordinary orange essential oil. 
Disclosure: This post contains affiliate links, meaning, at no additional cost to you, we will earn a small commission if you click through and make a purchase. Learn more
Materials for DIY orange soap
The materials for the homemade orange soap include:
A melt-and-pour soap base.
Real cinnamon powder.
Sweet orange essential oils.
A little sweet almond oil and vitamin E oil.
Why? Because sweet almond oil and vitamin E oil are very skin-loving ingredients. The oils make the melt and pour soap good for the skin and moisturizing. The changing weather and cold winter air can leave your skin and hands dry, and a hydrating soap helps to hydrate your skin.
If you don't have or don't want to use sweet almond oil, I also tested the melt-and-pour soap with jojoba oil, coconut oil, and even olive oil, which also works great. I like adding vitamin E oil to my homemade soap recipes because the vitamin fights free radical damage and is an important ingredient for anti-aging skincare.
Homemade Orange Soap Ingredients
melt and pour soap base – I used a glycerin base for this Christmas soap. Choose a shea butter or goat's milk soap base for light-coloured DIY orange soap.
cinnamon powder is the ground-up bark with a delicately fragrant aroma and a sweet flavor. Cinnamon powder is the best way to infuse the soap. 
sweet almond oil – sweet almond oil is rich in vitamins, fatty acids, and magnesium, which deeply nourish and keep your skin firm. 
vitamin E oil – Vitamin E oil is a very skin-loving ingredient. It's very moisturizing, making it good for the skin with the changing weather and dry and cold winter air. Vitamin E oil also fights free radical damage and is an essential ingredient for anti-aging skin care.
fragrance oil – I love the upcoming Holiday season and the smell of oranges, so I use sweet orange essential oil for this easy soap recipe. Citrus essential oils are highly aromatic, and I find them very uplifting and energizing. Sweet orange essential oil possesses antibacterial properties and is a natural option to banish bacteria from the skin. 
The exact amounts for this orange peel soap recipe are below in the DIY card.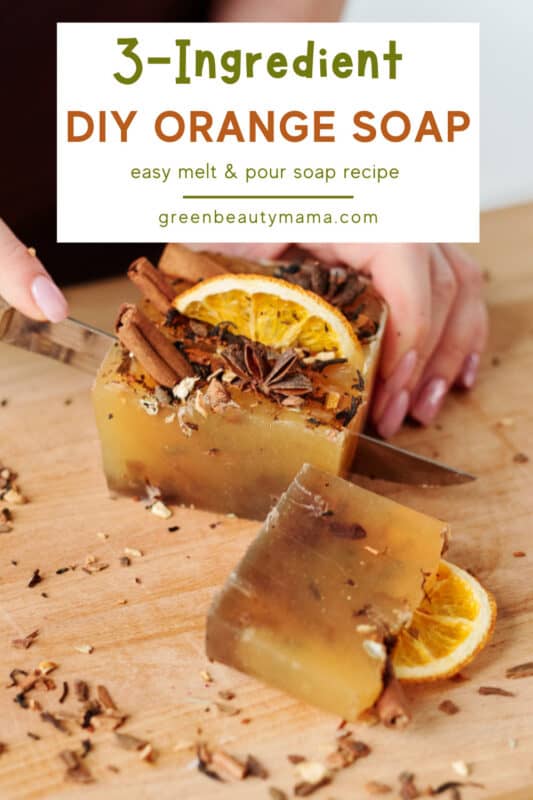 Tools to make the best DIY orange soap
Tab or click the links below to shop the tools used to make this citrus soap recipe:
glass jug: Use a large microwave-safe and heatproof jug with a spout to melt the soap in the microwave. I love this large glass Pyrex jug, which makes it easy to melt and mix the soap ingredients and helps pour the soap into the silicone mold.
whisk: A balloon whisk helps to mix and combine the ingredients.
soap mold: This simple, rectangular mold makes decently sized hand soap bars and can be used for many soap-making recipes.
Tips for how to make melt pour soap with essential oils
Making your own melt-and-pour soap is one of the easiest beauty crafts.
Here are a few tips that will help you to make this natural soap:
Melting and pouring the soap base
Melt-and-pour soap bases are sold as blocks of soap. Before melting, cut the soap base into small cubes to avoid burning the soap. Once melted, the soap base will form a skin, which is normal. Use a skewer to remove the skin or heat again in the microwave for 30 seconds to re-melt.
Adding cinnamon powder
When you stir cinnamon into the soap, it can form lumps, even if you sifted the spice mix beforehand. Use a whisk to dissolve lumps, or microwave again for a few seconds.
Soap mould
If this is your first time making homemade soap, you should know that the silicone mold is very soft. If you don't place it on a cutting board or a tray, you won't be able to move it once you pour the melted soap base without spilling it. 
Chilling and cooling the soap
While you'll only need 10 minutes for melting and pouring, the Christmas soap needs a little time to firm up. You can let the DIY orange soap set at room temperature for 2 to 3 hours or place it in the refrigerator for 30 to 45 minutes.
How to make orange soap – Holiday soap tutorial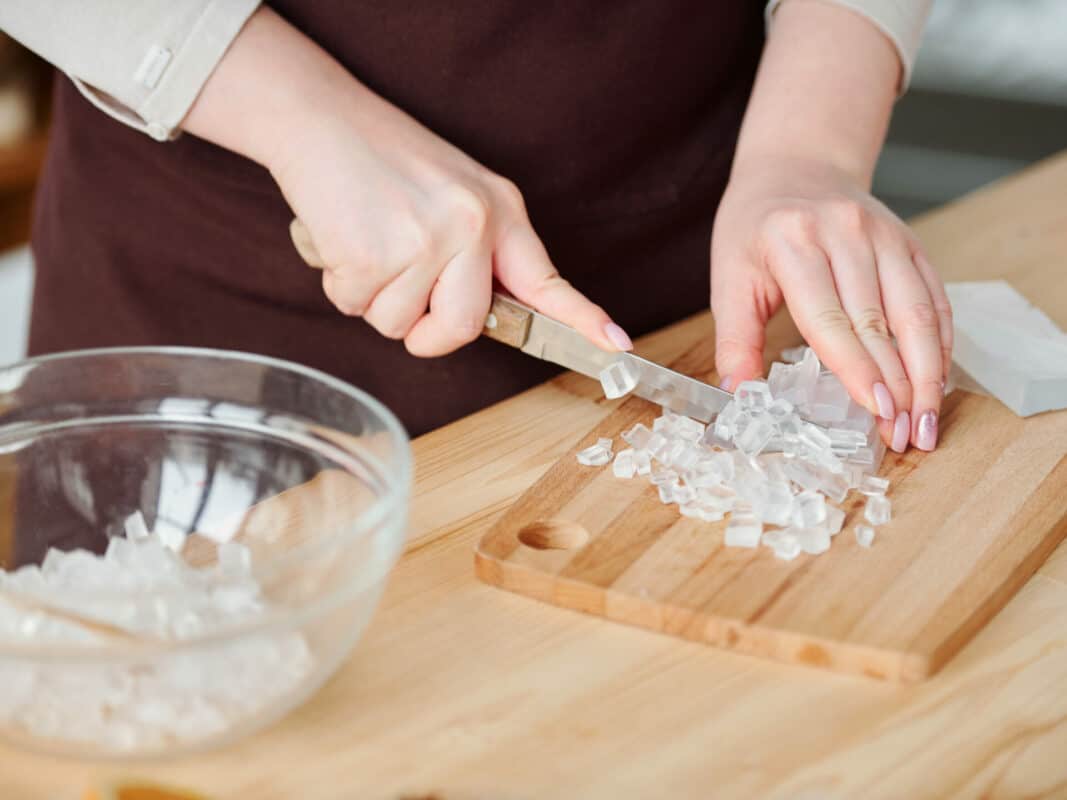 Melt the soap base.
Cut the soap base into small cubes. The smaller the cubes are, the quicker the soap melts, and you also reduce the risk of burnt soap. Transfer the soap cubes into a large, microwave-safe measuring cup. Melt in the microwave set to 50% power in 30-second bursts, stirring well after each interval.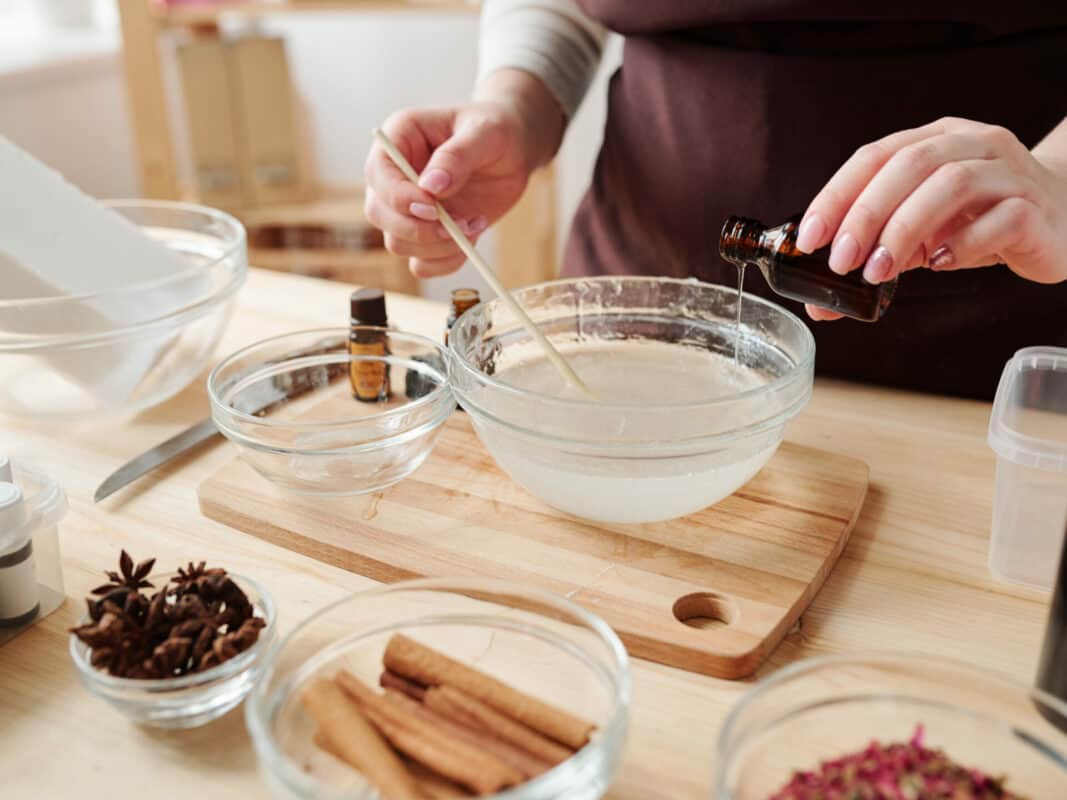 Add oil and essential oils.
Once the soap is completely melted, stir in 25 drops of orange essential oil and sweet almond oil. Give the soap a good stir.
Pour 1/3 of the melted soap into a smaller glass bowl. Add in the cinnamon powder and stir well. 
Add orange mica powder to the rest of the soap base. Mix well.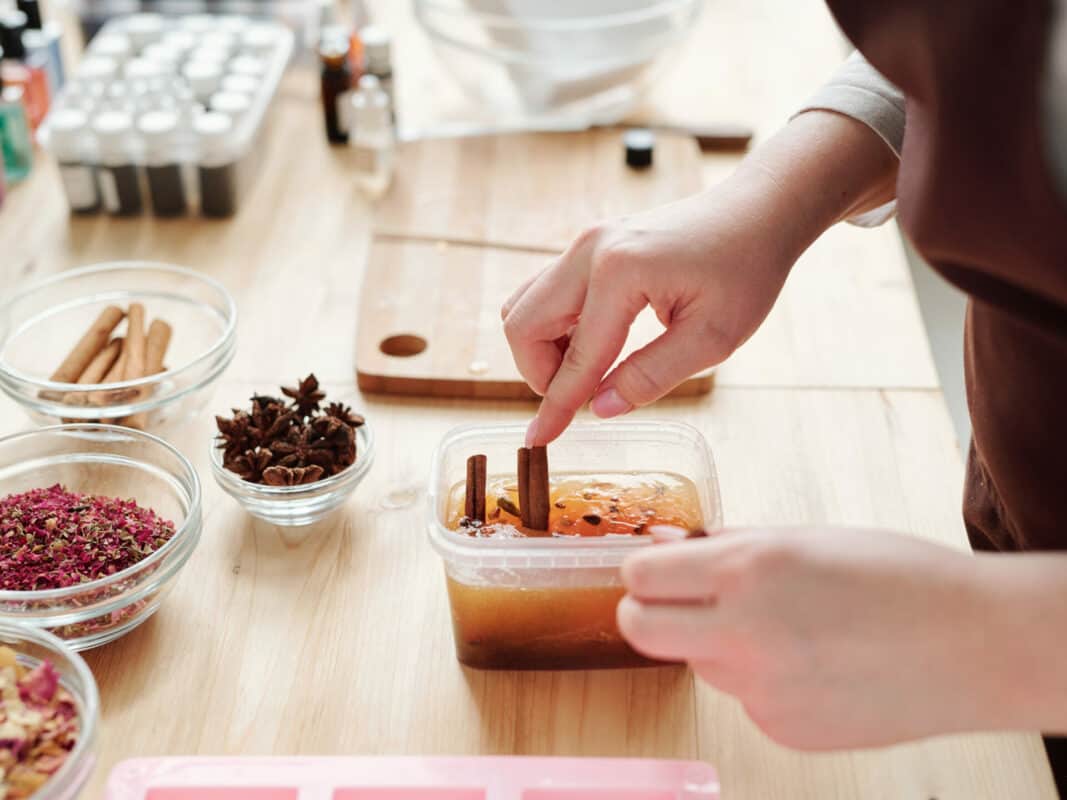 I didn't use a silicone mold for this recipe. Instead, I used a plastic container. Put the container on a cutting tray so it can be moved easily. Spray it with alcohol. Pour the melted soap with cinnamon powder into the container and spritz with alcohol to dissolve air bubbles. Next, pour the rest of the soap base. 
You can decorate the top of the soap bars with tiny pieces of dried oranges (dried orange slices) that don't add scent but give your bars a speckled orange pattern, cinnamon leaf, and star anize.
Carefully transfer into the refrigerator for 30 minutes or until the soap has set. You can tell that the soap is ready when the center of the soap feels solid.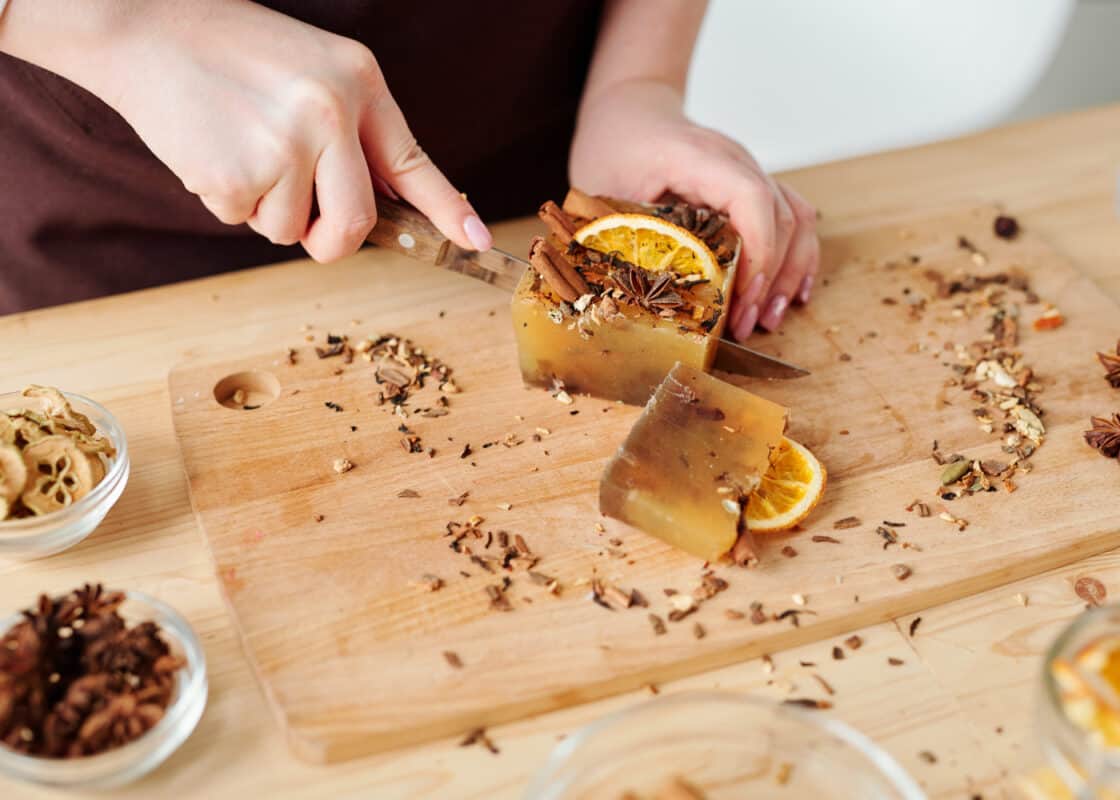 Once the orange soap has been set, remove the soap bar from the container and cut it. Set aside until ready to use. Enjoy!
How to store this orange soap
Store orange soap bars that aren't in use tightly wrapped in a cool, dry place like a drawer, cabinet, or lidded box. The room temperature is fine. Make sure the soap isn't exposed to moisture or direct sunlight.
Shelf life
This DIY orange soap recipe will keep well for at least 1 year. After a year, the soap base will dry out, and the scent will fade. Therefore, I recommend you use your orange soap within 12 months of making it.
Gift the orange soap bars
The sweet Orange fragrance makes this soap a cute homemade holiday stocking stuffer. I wrapped the DIY orange soap into plastic wrap/cling film and packaged the bars with kraft paper and a free printable soap wrapper. Enjoy!
More DIY soap recipes and tutorials
Can't get enough homemade beauty products? Try some of these easy homemade soap recipes: