If you're looking for easy, customizable, and all-natural recipes for DIY face scrubs, you're in the right place.
Learn how to make the best natural scrub for the face at home. Included are 7 easy and natural recipes for homemade face scrubs.
If you like my beauty recipes, join my Facebook group 🎉 This is the best place for broader DIY beauty stuff, behind-the-scenes, what I'm working on in real-time, and more!
💡 Do you dream of a perfect skincare routine (and products) but feel it's impossible since your budget is limited? Grab the recipes I'm using to craft 100% natural DIY beauty products that give top beauty brands a run for their money!  ❤️ HOMEMADE BEAUTY MADE SIMPLE ❤️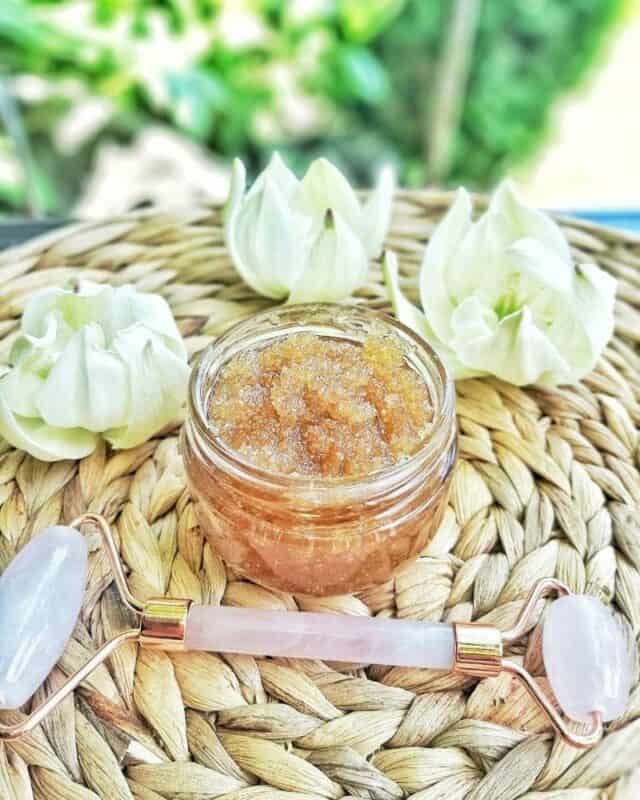 Why It's Time to Make You Own Homemade Scrub for Face
The easiest way to have glowing skin is by using body and face scrubs. Because exfoliating will help you to achieve soft, smooth, and silky skin.
Exfoliating is good for you.
Exfoliating helps remove dead skin cells and other remaining impurities. It also helps keep my complexion clear and my skin looking healthy.
Homemade face scrubs are the perfect recipes to attempt if you're new to do-it-yourself skincare.
the ingredients are inexpensive
the ingredients are inexpensive (you probably have everything in your kitchen)
homemade face scrubs are really hard to mess up
It's amazing what just a few simple ingredients, including brown sugar, oil, and essential oils, can do to our skin.
Don't forget to pin these face scrubs!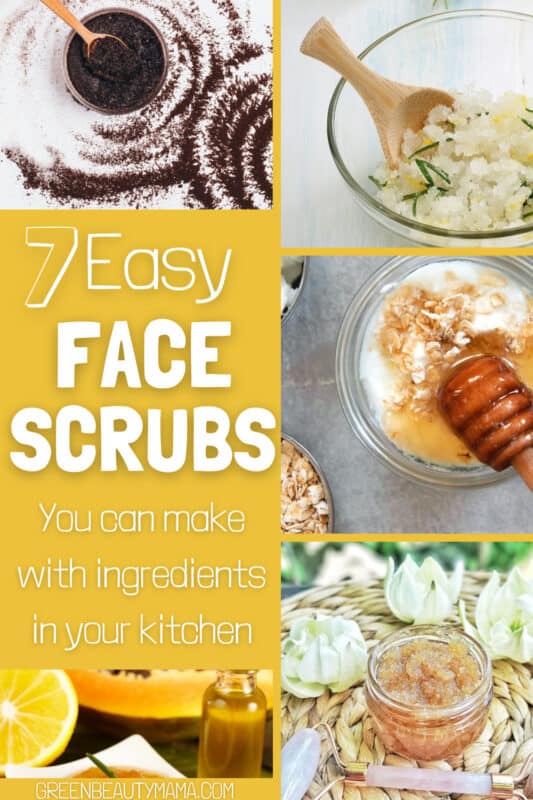 How to Make a Face Scrub
First thing first.
You should know your skin type.
Facial scrubs should be used cautiously if you have sensitive skin or a serious skin condition. "Anytime you exfoliate your skin, it is important that you do not rub your face too hard," says Howard Sobel, MD, a dermatologist at Lenox Hill Hospital in New York and founder of Sobel Skin. "This can cause your skin to feel irritated and result in redness or burning."
Regardless of your skin type, avoid exfoliating if you have open wounds, sores, or cuts on your skin. Exfoliating will irritate and prolong the healing process.
If you have sensitive skin, make sure you:
Always wash your hands before exfoliating and use clean brushes and other products.
Don't over scrub or use any products you've never tested. These can irritate your skin, cause a bad allergic reaction, or make your skin vulnerable to different types of bacteria.
💡 Do you dream of a perfect skincare routine (and products) but feel it's impossible since your budget is limited? Grab the recipes I'm using to craft 100% natural DIY beauty products that give top beauty brands a run for their money!  ❤️ HOMEMADE BEAUTY MADE SIMPLE ❤️
My homemade face scrubs are easy to spread on and will leave your skin cleansed, exfoliated, soft, and moisturized. They are excellent for all skin types, and many can be easily adapted to target any of your problem areas like oils, dryness, or blemishes.
The first reason why I started making my own body scrubs was to avoid harmful substances. One of my favorites is this anti-cellulite ginger body scrub.
These DIY Face Scrubs can be used on the face and body. They are mostly designed for the face, but they'll also work perfectly for the body!
Read on for some DIY face scrub recipes for smoother, glowing skin.
The Best DIY Face Scrubs – 7 Simple Recipes
These Homemade Face Scrubs can be prepared by mixing all the ingredients in a glass jar or blending them in a food processor or blender.
1. Brown Sugar + Honey Face Scrub
Honey and sugar are natural humectants (moisture preservers) that make a gentle scrub to buff away flakes, clear out pores, and lock in moisture.
1 + ½ tsp brown sugar
1 tsp honey
Mix the ingredients together, and apply the mix to your face with your fingertips or an exfoliating sponge. Using small circular motions, start exfoliating gently. Rinse with warm water and let your face air dry. If there's any residual honey, use a washcloth to cleanse thoroughly.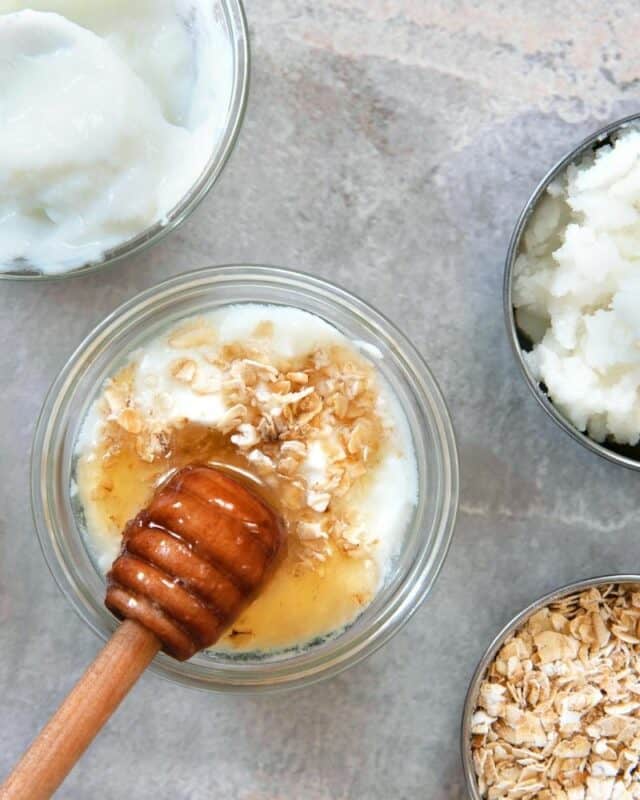 2. Oats + Yogurt
This Oatmeal Cleansing Facial Scrub has been my go-to for many years. It's both gentle and soothing on my skin, and it's perfect for traveling.
Soothing and anti-inflammatory oats are ideal for sensitive skin. Ground oats gently unclog pores while their natural saponins cleanse and absorb dirt and oil.
This recipe is super simple. My favorite thing about making my own scrubs is once you realize how simple it is and that you can customize every ingredient for what your skin likes best, you will never want to buy store-bought again.
1 teacup oats
½ teacup yogurt
1 tbsp honey
In a blender or food processor, pulse the oats until they are finely ground. Take the ground oats and mix them with the yogurt and honey until it forms a paste. Gently rub the Face Scrub into your face, and store any leftovers in an airtight container for later.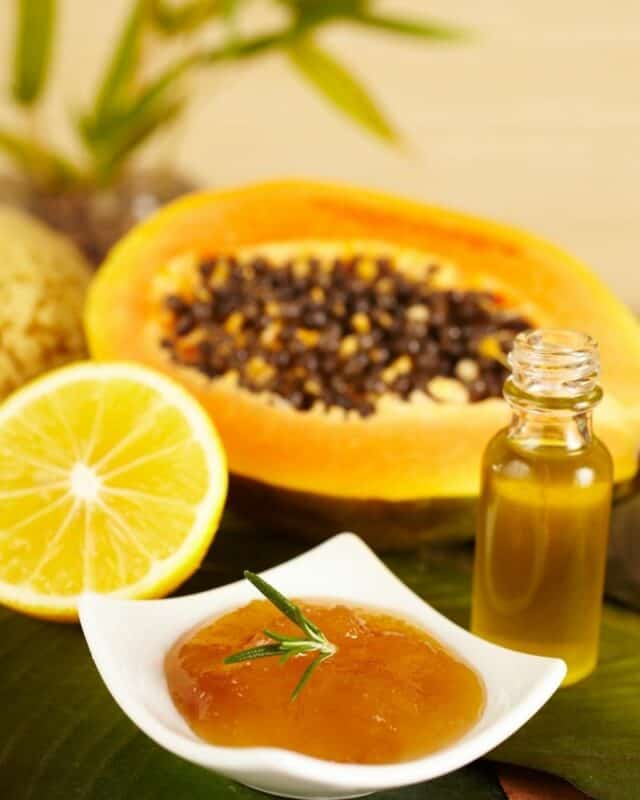 3. Papaya + Honey
Papaya contains natural enzymes that nourish, soften and exfoliate the skin. The main beauty ingredient in papaya is papain, a natural enzyme that has skin bleaching & exfoliating properties. The honey provides a soothing and calming effect which helps tone down the acid nature of the papaya.
1 clean and chopped papaya
1 tbsp honey
juice of 1 lemon
Chop the papaya into little pieces. Place them into a bowl and add 1 tablespoon of honey. Mash and mix up the two ingredients thoroughly with a fork. Add the lemon juice and mix again. Your papaya and honey face mask is ready! Easy, wasn't it?
4. Coffee + Coconut Oil
This coffee scrub doubles as an exfoliating face mask and is great for oily skin as the coffee in it exfoliates, and the coconut oil moisturizes.
1 tbsp coffee grounds
1 tbsp coconut oil (or olive, jojoba, argan, or almond)
Combine 1 tbsp of coffee with 1 tbsp of coconut oil until completely combined. Use this mix in circular motions on your face. Leave it on for 15 minutes. Rinse well.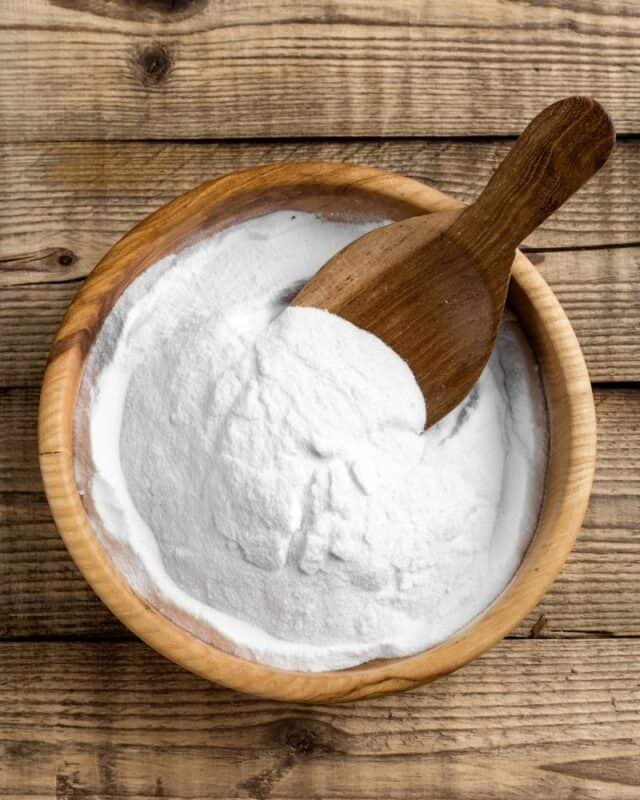 5. Baking Soda
Baking soda is not just for baking or eliminating odors. Baking soda can be used in facial washes, scrubs, and masks to gently exfoliate and cleanse.
B aking soda acts like at-home microdermabrasion for all skin types. This inexpensive ingredient also absorbs excess oil, so it's especially helpful for oily skin.
2 tsp baking soda
1 tsp warm water
Use your finger to stir the baking soda and water until you get a thin paste, then apply to your wet face with your fingers, rubbing in small circular motions. Be sure to keep it away from your eyes. Rinse thoroughly with warm water until all of the cleansers are removed. Pat your face dry with a clean towel.
6. Lemon + Sugar
This DIY Lemon Scrub scrub is so fabulous, you guys! I love what it's done to my skin!
Lemons are high in polyphenols and vitamin C, which have been shown to have lipid-lowering effects. They also contain water-soluble antioxidants that help fight free radicals in the body.
1 tbsp olive oil
1 tbsp honey
juice from ½ lemon
½ cup sugar
Simply mix all 4 of these ingredients together and scrub gently with your fingers. Rinse with warm water when you're done!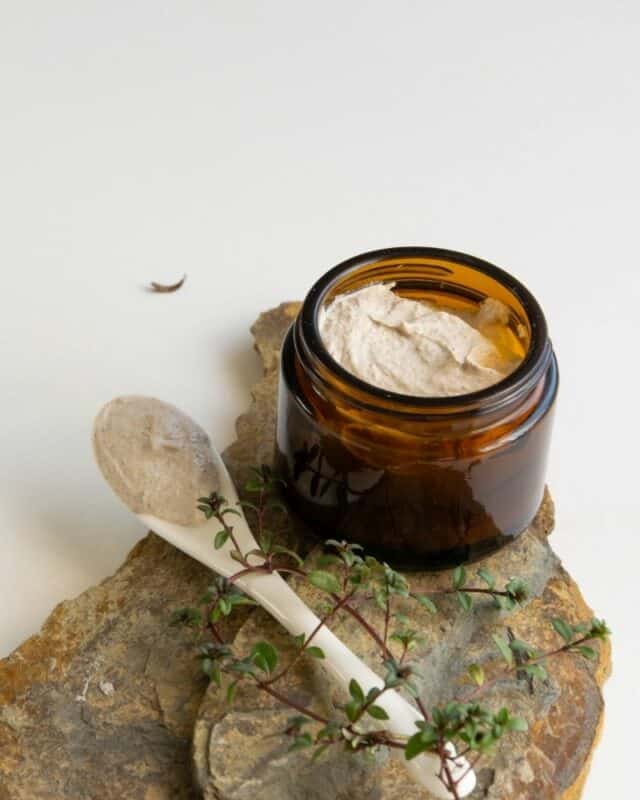 7. Flaxseed Scrub
Flaxseed is a superstar plant food that has long been considered a wonder for the human body. That's why this homemade flaxseed facial scrub is SO great – it exfoliates and leaves skin glowing!
Ground flaxseed lends healthy omega fatty acids while exfoliating skin.
The natural oils in flaxseed help balance your skin's natural oil production, and the antioxidants protect the skin from free radicals and sun damage while calming inflammation.
1 tsp ground flax seeds or flax meal
1 tbsp carrier ingredient (yogurt, oil, honey)
Mix well with a mortar and pestle, and then remove with warm water.
More DIY Sugar Scrub Recipes
When Should I Exfoliate?
While facial exfoliation has many benefits, you don't want to over-exfoliate your skin.
If you have oily skin, it's probably safe to exfoliate up to three times a week. If you have sensitive, acne-prone, or dry skin, once or twice a week is sufficient.
---
Do I exfoliate before or after cleansing?
If you've ever wondered what comes first, cleansing or exfoliating, know that the confusion is understandable: though the two go hand in hand—you should always cleanse before exfoliating.
---
Do you moisturize after exfoliating?
After every exfoliating session (scrub or peel), it's so important to moisturize. This hydrates and heals the skin—after all, it just went through a lot.
---
Is a Sugar Scrub Good for Your Face?
Brown sugar is an inexpensive and accessible ingredient that also does a great job of exfoliating your skin. Brown sugar is gentler on the skin than sea salt or Epsom salt. … The sugar granules might make your skin feel sticky, so be sure to rinse thoroughly after you've exfoliated.
As with any scrub, it's possible that you could have an allergic reaction to one or more ingredients. Before applying an ingredient to your face, apply a small test patch to the inside of your elbow. If your skin doesn't react to the ingredient, it's probably safe to use it on your face.
It's best to avoid exfoliating if you have sunburned, chapped, or reddened skin. If you have areas of broken skin, like a cut or an irritated acne blemish, avoid using the scrub on these areas.
Let's connect!
If you like my beauty recipes, join my Facebook group 🎉 This is the best place for broader DIY beauty stuff, behind-the-scenes, what I'm working on in real-time, and more!
💡 Do you dream of a perfect skincare routine (and products) but feel it's impossible since your budget is limited? Grab the recipes I'm using to craft 100% natural DIY beauty products that give top beauty brands a run for their money!  ❤️ HOMEMADE BEAUTY MADE SIMPLE ❤️