Making fragrant jars of homemade rose bath salts is the perfect self-care treat. Plus, they are incredibly budget-friendly and super easy to make. This homemade bath soak recipe is relaxing and rejuvenating, does a great do-it-yourself project to pamper yourself, and is also a wonderful gift.
Here is a recipe to make your fragrant rose bath salts in just a few simple steps.
If you like my beauty recipes, join my Facebook group 🎉 This is the best place for broader DIY beauty stuff, behind-the-scenes, what I'm working on in real-time, and more!
💡 Do you dream of a perfect skincare routine (and products) but feel it's impossible since your budget is limited? Grab the recipes I'm using to craft 100% natural DIY beauty products that give top beauty brands a run for their money!  ❤️ HOMEMADE BEAUTY MADE SIMPLE ❤️
There are so many different botanicals you can add to bath salts, and somehow I keep returning to roses repeatedly. The scent is soothing and relaxing, and the benefits of the plant are numerous.
You'll also learn to dry rose petals for bath salts and how to make a rose petal bath with fresh blooms. A rose bath is a wonderful way to relax or create a romantic spa experience for yourself.
Over the years, I have shared countless rose-inspired beauty products, from soap, face toner, body butter, and body lotion. Or my newest obsession: DIY Rose bath salts and DIY foot soak.
Disclosure: This post contains affiliate links, meaning, at no additional cost to you, we will earn a small commission if you click through and make a purchase. Learn more
The benefits of rose bath salts
Going to the spa and getting a pedicure is one of my favorite treats! But, sometimes, when time (or budget) is tight, having one at home is just as lovely.
Here is a luxurious, quick, and easy DIY summer foot spa to enjoy at home.
Both bath salts and roses offer benefits that work beautifully together.
THE BENEFITS OF BATH SALTS
1. Relieves stress and anxiety: Bath salts contain minerals such as magnesium which is perfect for calming the body and reducing stress.
2. Promotes relaxation: Bath salts can promote relaxation by soothing sore muscles, easing tension, and promoting well-being.
3. Helps detoxify the body: Bath salts are the easiest way to detoxify your body by drawing out impurities and toxins in the skin.
4. Improves skin health: Bath salts can improve skin health by exfoliating dead skin cells and promoting skin hydration.
5. Enhances blood circulation: Bath salts can enhance blood circulation, which can help to reduce inflammation, promote wound healing, and improve skin health.
6. Reduces muscle pain: Bath salts can help to relieve muscle pain by reducing inflammation, increasing circulation, and promoting relaxation.
7. Promotes a good night's sleep: Bath salts can help to promote a good night's sleep by calming the body and promoting relaxation. Epsom salt has magnesium, which can help your body produce melatonin naturally.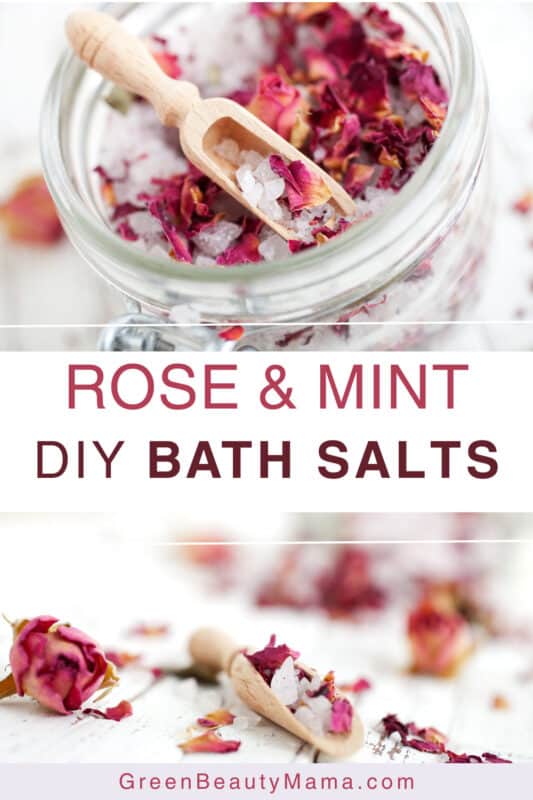 BENEFITS OF ROSE BATH SALTS
Roses have plenty of healing and cleansing properties, making them the perfect addition to a jar of bath salts. Some benefits of using roses, whether dried or in essential oil form, include:
Relaxing: Bathing is relaxing, but this homemade rose bath soak takes a few notches. A great choice to unwind after a stressful day and treat yourself to a bit of luxury!
Nourishing: Although more research is needed, some say that mineral baths may replenish the minerals in your body and relieve symptoms of acne, eczema, itchiness, and dryness.
Aromatherapy: I don't know about you, but roses smell like LOVE. The romantic scent of roses makes me dream of hearth-shaped chocolate treats. In addition, the fragrance of roses can have a soothing effect that can help calm emotions and promote relaxation during stress or unease.
Rejuvenating: Roses are high in antioxidants and can have a rejuvenating effect.
You can grow it at home – perhaps the most fun thing about roses is that you can grow them right in your backyard! It also happens to be an excellent way to attract beneficial pollinators to your yard, too.
Great for Gifts – Putting in the time and effort to make a beautiful, wonderful-smelling gift for someone makes them feel special.
Homemade bath salts are cost-effective.
All in all, for this bath salts recipe (about 5 cups total), I paid around $2 or less for each ingredient averaged out! That's roughly $5 or less per batch, making this option way more affordable than store-bought bath salts.
Here's a breakdown of the cost of ingredients (Amazon):
$17 for an entire bag (at least 12 cups) of Epsom salt (Sky Organics brand)
$4.33 for a 2-cup bag of dried rose petals. Unfortunately, only 2 tablespoons are in the recipe.
$1.50 for a box of baking soda
I already had the essential oils, but they cost around $25-30 each and last forever.
Homemade rose bath salts ingredients
Even though Epsom Salt, also known as magnesium sulfate, is not a type of salt, we call Epsom salt 'salt' for the purposes f bath salts. When dissolved in hot water, Epsom salt releases magnesium and sulfate ions that some belief are absorbed through the skin, potentially aiding in relieving muscle tension. Although no scientific research supports this claim, numerous personal accounts suggest it may be effective.
You can use dead sea salt or coarse sea salt. In addition, you can include Himalayan pink salt or magnesium flakes or opt for just one salt variety.
Goat's milk powder
Goat's milk powder is naturally high in fat content, making it a good skin moisturizer. Goat's milk is used to hydrate and nourish the skin. Vitamins B6 & B12 also aid in adding moisture. Triglycerides enhance skin elasticity and reinforce the skin's hydro-lipid barrier.
If you don't have goat's milk powder, you can use bicarbonate of soda.
Baking soda helps dissolve oils on your skin and adds to a hot bath. Make sure you're using baking soda (it's cheap!), NOT baking powder.
It also helps absorb essential oils to keep your bath salts smelling great.
Peppermint essential oil soothes inflammation, irritation, and itchiness on the skin and scalp. In addition, the menthol in peppermint helps cool the skin and brighten dull skin.
Rose absolute essential oil (optional)
The rose absolute has a natural fragrance of roses, which is indulgent due to its high price. Its rich floral scent and skin-revitalizing properties make it a luxury. If you're looking for a budget-friendly option, consider trying a safe-to-use rose fragrance or rose geranium essential oil.
You can use rose otto essential oil instead of rose absolute. I love this diluted rose otto essential oil from Plant Therapy.
Add a few tablespoons of dried rose petals to make your bath salts even more beautiful.
It's an extra thing you'll need to clean up in the tub after the bath, but they do make a beautiful addition to this if you're giving it as a gift.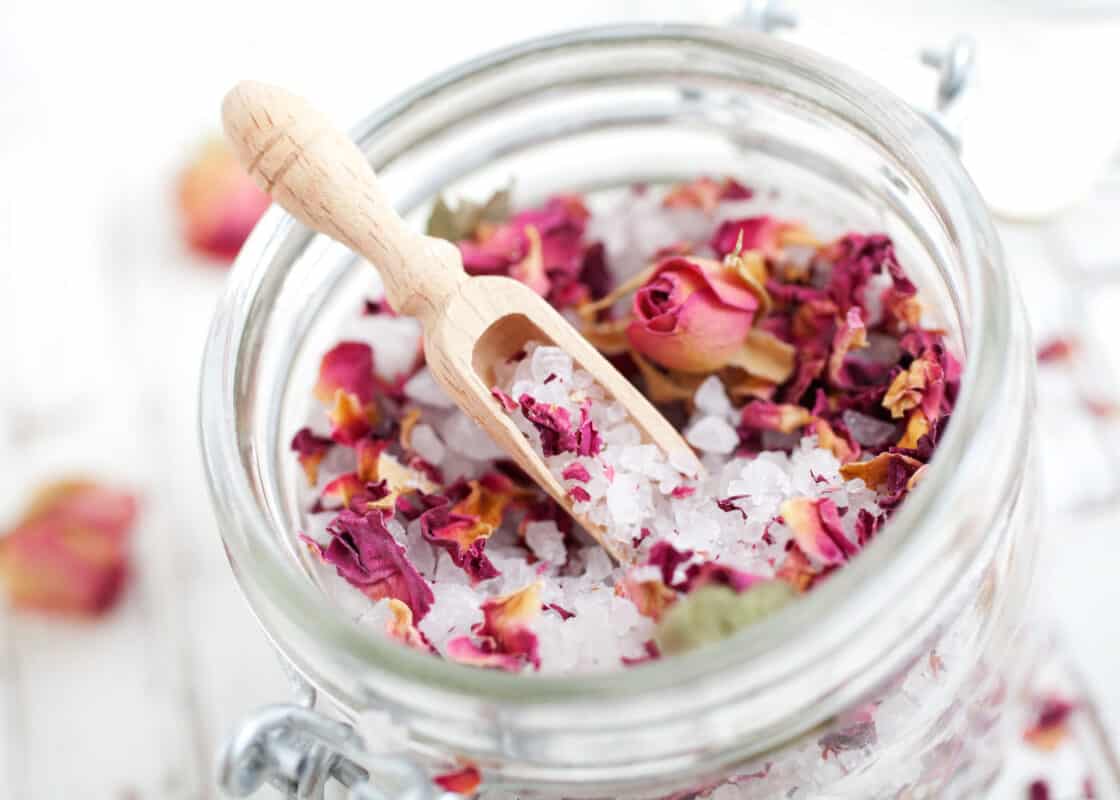 How to make rose bath salts
Okay, let's talk about how to make the bath salts! It only takes a few minutes to make, so you'll be soaking in the tub quickly!
Ingredients
To make: This is super simple to make, mix all ingredients well and store in an air-tight container.
To use: Dissolve two tablespoons in a bowl of warm water, soak your feet for 10 minutes, and relax!
Follow with a pumice stone to remove any dry or rough skin. Then move on to part two.
Store in a cool, dry place and use about 1/2 cup in each hot bath. Again, print the recipe below.
IMPORTANT! Baking soda in glass jars can develop high air pressure in humidity or at high elevations. A reader mentioned that a glass jar of her bath salts exploded after sitting in her cabinet in a glass jar.
Punch a few holes in the top of your lid if you store this in a glass jar or air-tight container to avoid exploding bath salts. Or, store these in a plastic bag or container that is not air-tight to prevent air pressure from building up.
How to use rose petal bath soak
Begin by filling your tub with water that is comfortably warm to you. Once the water is halfway up the tub, sprinkle the rose bath salts and use your hands to mix it in thoroughly. Allow the salts to dissolve briefly, then enjoy in the calming and fragrant rose bath. Be mindful that the tub may become slick, so be cautious. Additionally, remember that rose petals will not dissolve, so it's advisable to cover the drain with a drain cover to catch them before they cause any pipe blockages.
How to dry rose petals for bath salts
The easiest way to dry rose petals at home is in a conventional oven. Just be sure to watch closely and rotate often.
1. Place Petals on a Baking Sheet
Evenly space your rose petals across a standard baking or cookie sheet. You may choose to use multiple sheets to dry more rose petals.
2. Preheat the oven to 180°
Preheat your oven to between 180°. Some ovens are more reliable than others, so monitor the rose petals and their condition rather than concentrating too much on the temperature.
3. Heat Petals for 10-30 Minutes
Place the sheets of rose petals into the oven. Start with a minimal time — in the 10-minute range — to determine how the rose petals will do in your oven. If you have multiple levels, we suggest keeping them at a low setting and rotating them once every 10 minutes.
4. Check Regularly for Crisp Petals
Continuously monitor your rose petals in the oven. It's time to remove them once they appear dry or feel slightly crisp. Keep in mind that leaving them in the oven too long will result in very crisp, even burned rose petals — but if that's the look you're going for and are willing to watch closely, go for it.
More rose recipes….
Luxurious Homemade Rose Lotion